Posts Tagged '31'
Last episode, we took one last look at 2015, and this time out, we're looking ahead at the year to come, as we discuss new releases we're looking forward to (and some we're not.)
While we're at it, we also talk a little bit about what we'd like to see from horror movies in general, and we talk about other things we enjoyed in 2015 that didn't qualify for last episode's topic. Also, Jennifer talks about why she's not that crazy about Benedict Cumberbatch; Michael discusses his love of horror movies that clearly spell out a rigid set of rules, and oh so much more.
_____
Bonus Pictures
The Shirtless Jeff Goldblum mug that Michael bought Jennifer for Christmas, because he knows what she likes: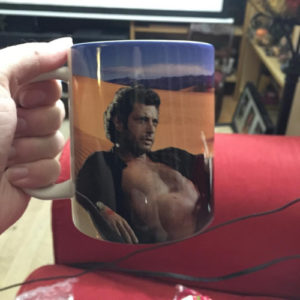 And some images from Over the Garden Wall:
Podcast: Play in new window | Download
Subscribe: RSS
"It's not like [Rob Zombie] is out there strong-arming small children for their candy money."
"Although — you can kinda picture that, can't you?"
"I kinda can, yeah."
Felicitations, fright fans! Are you ready to face a fantastic festival of fearsome found footage films?
…. All right, that's enough alliteration for one post. Welcome to another episode with your hosts Jennifer Lovely and Michael Montoure, as we bring you the skinny on horror cinema's fastest-growing sub-genre, and discuss its strengths and limitations.
Expect chills, thrills, and more:
Why found footage films don't try to emulate Blair Witch's improvised scenes
Scooby Doo as a gateway drug to horror
Our guilty fondness for the recent Scooby Doo: Mystery Incorporated series
How The Blair Witch Project lead the way for small-budget productions like The Battery and Jug Face
Jennifer rants entertainingly about Rob Zombie, Amanda Palmer, and crowdfunding
A blink-and-you'll-miss-it LMFAO reference, and a mention of Christian Bale's spectacular on-set meltdown
Montoure has this episode's "Fuck This Noise" moment, with the indie horror feature "All Cheerleaders Die"
Let us know what you think, and thanks for listening!
Podcast: Play in new window | Download
Subscribe: RSS