Behind the Mask: The Rise of Leslie Vernon
---
Episodes about Behind the Mask: The Rise of Leslie Vernon :
DRtL Episode 59: Favorite Horror Actors!
[ 1:20:59 | 74.14 MB ]
Play in Popup
|
Download
Welcome back to Don't Read the Latin, where in this episode, we're talking about our favorite horror movie actors — the scream queens, sinister villains, and creepy little character actors who populate the films we love. These are the people we love to watch over and over again, the performances that can get us into the theater every time. We're sure you'll know and love many of these screen icons as well, and hope that you'll learn some new names you should be looking out for, as well. Let us know if there's anyone else you think we should have mentioned!
(Thanks for your patience with our slight delay in getting this episode to you, and we ask your patience with the weird little pop-and-hiss that crept into the audio of this episode. It's pretty mystifying — we used the exact same audio setup as we have for the past couple of episodes, and we didn't have this trouble then. Perhaps you could pretend we're having this conversation while sitting next to a crackling campfire? Or not. Suit yourselves.)
DRtL Episode FIFTY: Our Top Fifty Favorite Horror Movies!
[ 1:17:30 | 70.95 MB ]
Play in Popup
|
Download
"Let's make this bullshit happen!"
" …. Is that going to be our new motto from now on? Actually, that might look good on stickers, now that I think about it."
So hey, check us out! Fifty episodes! That's kind of a lot! And to celebrate, we are counting down the TOP FIFTY HORROR MOVIES OF ALL TIME!
Okay, well, no. We're not going to pretend that we're being at all objective. What we're actually doing is our Our Top Fifty Favorite Horror Movies! You're actually getting more than fifty, because Jennifer and Michael have each brought their own lists, so listen in as they compare the movies they love the most. (Presented in chronological order, so as not to descend into complete chaos.) Just in time for you to figure out what you want to watch for Halloween!
All this and more, as Jen tells us about a recent unpleasant incident in a movie theater, a documentary on the murder of Kitty Genovese, and completely spoils the ending of "The Changeling!"
We also talk about movies we've seen recently, including Blair Witch. If you just want to skip directly ahead to the Top Fifty goodness, you will find it at the 27-minutes-and-15-seconds mark.
Hope you enjoy this one!
_____
Please rate our podcast on iTunes!
The more reviews and ratings we have, the easier it is for people to find us. If you'd like to hear another fifty episodes of Don't Read the Latin and would like to help us reach more people, please click here to rate our podcast on iTunes and leave your comments. It will only take a few minutes out of your day, but your feedback can make a huge difference to us. Thanks for everything, you guys.
DRtL Episode 30: Wes Craven Retrospective
[ 1:33:41 | 64.33 MB ]
Play in Popup
|
Download
Apologies for the delay with this episode — it's even later than we said it was going to be when we said it was going to be late.
We needed a little extra time to pull this one together. We were both saddened to learn of the recent passing of Wes Craven, who pretty much single-handedly reinvented the horror movie genre over the course of his career — not just once, but three times.
Montoure talks about movies that make you feel unsafe, Jennifer talks about getting to meet Robert Englund, and so much more.
______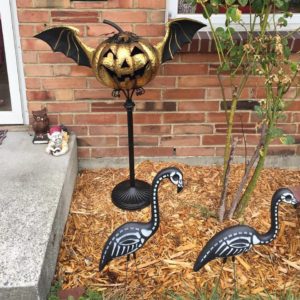 Guest Cat: Abby, Jennifer's grumpy old lady kitty
Official Drink of this Episode: Woodchuck Fall Harvest Hard Cider with cinnamon whiskey. It's ridiculously good. You should try it.
Pumpkin Bat: Pumpkin Bat! Here's a picture, as promised.
Don't Read the Latin! Episode Eleven: Horror Comedies
[ 1:02:54 | 14.46 MB ]
Play in Popup
|
Download
Welcome to another Halloween season episode of your favorite horror movie podcast! (At least, we assume we're your favorite horror movie podcast. If we're not, please don't tell us.)
In this episode, Jennifer rants about Kevin Smith, whose recent film, "Tusk," seems to be one inside joke aimed at the fans of podcast. (We here at Don't Read the Latin promise that if we ever make a movie of our own, we're not going to just pander to our existing fanbase — we intend to pander to everyone.)
We also talk about economy of storytelling, Harlan Ellison, Jen's Big Black Gothic Yard Sale, and Michael's upcoming Halloween reading!
No Context For You
"Speaking of soft-core pornography …. "
"I'm Aware I'm making poor choices."
"I have a whole bunch of 'Night of the … ' movies."
Speaking of Michael's Halloween reading:
Don't Read the Latin! Episode Ten: It Happened On Halloween!
[ 1:14:16 | 17 MB ]
Play in Popup
|
Download
"Welcome to DRTL, the podcast that is not about Beastmaster."
It's October! It's October! That means that this whole next month is, effectively, Halloween. We got a little excited.
This time, we're talking about movies that take place on or around Halloween.  (Yes, including the original Halloween.) How many of them do you think you can watch this month?
Finally here's a …. a …. Call it a "bonus video." (It will make sense once you listen to the episode, honestly.)
Don't Read The Latin! Episode Eight: Found Footage
[ 1:11:34 | 32.83 MB ]
Play in Popup
|
Download
"It's not like [Rob Zombie] is out there strong-arming small children for their candy money."
"Although — you can kinda picture that, can't you?"
"I kinda can, yeah."
Felicitations, fright fans! Are you ready to face a fantastic festival of fearsome found footage films?
…. All right, that's enough alliteration for one post. Welcome to another episode with your hosts Jennifer Lovely and Michael Montoure, as we bring you the skinny on horror cinema's fastest-growing sub-genre, and discuss its strengths and limitations.
Expect chills, thrills, and more:
Why found footage films don't try to emulate Blair Witch's improvised scenes
Scooby Doo as a gateway drug to horror
Our guilty fondness for the recent Scooby Doo: Mystery Incorporated series
How The Blair Witch Project lead the way for small-budget productions like The Battery and Jug Face
Jennifer rants entertainingly about Rob Zombie, Amanda Palmer, and crowdfunding
A blink-and-you'll-miss-it LMFAO reference, and a mention of Christian Bale's spectacular on-set meltdown
Montoure has this episode's "Fuck This Noise" moment, with the indie horror feature "All Cheerleaders Die"
Let us know what you think, and thanks for listening!
Don't Read The Latin! Episode Seven: Mid-Year Review (with Fanboy News Network!)
[ 1:16:21 | 35.01 MB ]
Play in Popup
|
Download
Welcome back, fellow fear fanatics! This time, we've got a special crossover episode for you with Jeff Harris from our sibling podcast, Fanboy News Network!
Since we're already halfway through 2014, we sit down and take a few minutes (seventy-six of them, to be exact) to talk about what the first half of the year has brought us in horror.
Join us as we debate the merits of watching horror movies in the theatre vs. watching them in more intimate settings, find out why Montoure enjoys going to preview screenings most of all, and as we praise theatre/restaurant/bar combos like Cinebarre. We talk about the renaissance of short films, and how they can be the new calling card for up-and-coming directors.
Aside from our usual horror movie fare, we talk about the recent proliferation of horror on television, including Hannibal, True Detective, Sleepy Hollow, American Horror Story, Dexter, Penny Dreadful, and The Strain! And finally, we touch briefly on immersive real-world horror events such as The Great Horror Campout (which you couldn't pay us enough to go to, honestly) and Halloween Horror Nights!
Sit back and enjoy the episode that nearly caused Fanboy News Network's first use of the explicit tag! "We love swearing!"
Don't Read The Latin, Episode Four: Women Directing Horror
[ 1:05:08 | 29.88 MB ]
Play in Popup
|
Download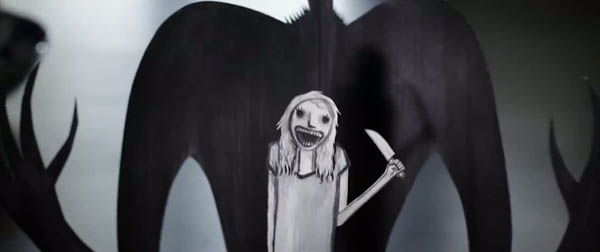 We're back, and we're talking about some of the best horror films you might not even know were directed by women! Join us again for all this and more:
We babble about The Babadook and examine Jennifer's Body. (What? Wait, no — not Jennifer's body, that would be an entirely different podcast …. )
Jennifer talks about what it was like to watch American Psycho for the first time recently
We declare our love for the 80's classic Near Dark and the 80's maybe-not-so-classic Freddy's Dead: The Final Nightmare
We talk about why we were disappointed in American Mary but still can't wait to see what's next from the Soska Sisters
Michael explains why he can't wait to show Jennifer Ravenous, and he finds out something he'd rather not know about one of the actors in it
Standard Podcast
[ 1:05:31 | 30.06 MB ]
Play in Popup
|
Download
Ever had a horror movie that you watched and hated, only to watch it again later and discover that it's actually pretty good? Or, worse, you watch a movie you once liked and now you realize it's terrible? Well, that's what Episode Three is all about! Join us as we also talk about the season finale of Hannibal (don't worry, no spoilers!), why we like Japanese horror films until they get too damn weird, why Jennifer doesn't like to do negative reviews, and her changing opinion of Woody Harrelson and Matthew McConaughey. Don't miss it!