Cat People (1942)
---
Episodes about Cat People (1942) :
Don't Read the Latin! Episode 60: Horror Movies 101!
[ 1:21:58 | 75.05 MB ]
Play in Popup
|
Download
If you're a regular listener of Don't Read the Latin, you're probably pretty well versed in horror movies — you know your classics backwards and forwards. But if you're a new listener, or if you have friends you would like to help get into horror, then we've got you covered with our latest episode — Horror Movies 101! Your horror hosts Jennifer Lovely and Michael Montoure walk you through the most significant movies in horror history to give you a solid grounding in all the basics. Check it out and let us know what you think! And be sure to let us know if there's anything you think we missed!
DRtL Episode 46: Horror Double Features!
[ 1:29:45 | 82.17 MB ]
Play in Popup
|
Download
If you're starting to plan your Halloween party — and if you're not, you'd better get on that, you only have 104 days left — we have totally got you covered this episode. Want to show your friends a couple of movies? This episode we talk about Horror Double Features and give our picks for what movies pair together well, like pairing cheeses and fine wines. While we're at it, we talk about just what exactly makes two movies go together well as a single viewing.
Spoiler Warnings
We discuss the endings of both 10 Cloverfield Lane and Ex Machina. If you don't want to hear the details, skip forward a couple of minutes when you hear us mention those titles.
Technical Notes:
We mention at the beginning of this episode that we were recording it on our laptop and on our new audio recorder, because Montoure didn't trust that the recording was actually, you know, recording. And it's a damn good thing he's paranoid, because it turns out that the recorder did not save a file at all. The quality the first time we used it was great, and it will be a fine tool to add to our podcasting arsenal if we can ever figure out how to use the damn thing.
The Bag of Fucks
We mention in passing The Bag of Fucks, which is an awesome hand-made creation by our friend Dmitri Arbacauskas at Tormented Artifacts. When you have just run out of fucks to give, here's the bag you could load some more into. (Or you can just open the bag if you want to show people that it is, indeed, empty.) You can get one of these beauties here if you are so inclined.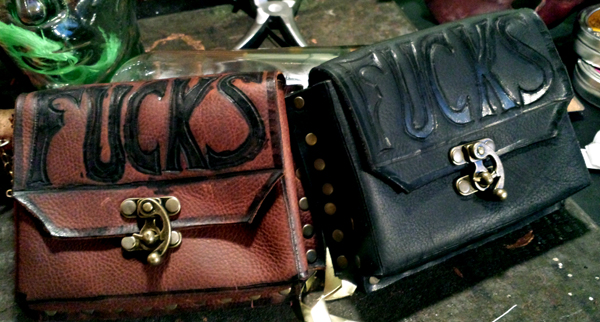 Other Podcasts
Jennifer mentions a few of her new favorites among the podcasts she listens to, so if you'd like to check those out, here they are:
In the News
Since we brought up Chopping Mall, a movie about security robots gone rogue in a shopping center, we naturally talked about a related story in the news recently, and in case you missed it, here it is: A mall security robot has knocked down and run over a toddler in Silicon Valley.
Thanks for Listening!
If you like the show, don't forgot to follow us and rate us on iTunes! You can also subscribe to the podcast on Stitcher, and you can follow us on Facebook, Twitter, and Tumblr. Remember that we love you and that we think you look adorable when you're sleeping.
Standard Podcast
[ 1:09:32 | 47.74 MB ]
Play in Popup
|
Download
---
Wooo-hooo, look at us! We swore we would have a new episode ready in two weeks and by God we actually did it.
Inspired by our recent viewing of Crimson Peak, this time we're taking a look at Horror Romances! Even though the course of true love never quite runs smooth in a horror movie — it's hard to give someone your heart when they really do want your heart, and they're willing to use their sharpest knives to get it — we're cuddling up as close to this topic as we can get. Do join us, won't you, dear?
DRtL Episode 22: Curses and Premonitions!
[ 1:14:02 | 33.89 MB ]
Play in Popup
|
Download
Welcome back — finally — to Don't Read the Latin! We're back after something like a solid month of not-podcasting, so let's see if we still remember how to do this! We would have had this episode done much sooner, but we were delayed by Michael's illness and then Jennifer's surgery, almost as if we were …. cursed. Hmmm.
Anyway! Join us as we wax rhapsodic about It Follows, visit Jen's Documentary Corner, and talk about the renaissance of excellent synthesizer-based horror soundtracks we've been getting lately. (And, not coincidentally, talk about Jen's love of collecting movie soundtracks on vinyl.)
_____
Music Bonus!
Here are a couple of links to the albums that Michael mentions this episode:
That second one is pay-what-you-want over at Bandcamp, so definitely check both of them out for retro synth-y goodness.
_____
Shout-Outs!
There are a couple of listeners we wanted to thank — first of all, thanks to commenter Kylie for her suggestion of Noroi: The Curse, which Michael watched based on her recommendation. Fun movie!
Secondly, many thanks to the listener who ran into Michael at Emerald City Comicon and told him this was her favorite podcast! Very, very cool. You made our month. (He didn't catch your name, though! Let us know who you are!)
Don't Read The Latin, Episode Four: Women Directing Horror
[ 1:05:08 | 29.88 MB ]
Play in Popup
|
Download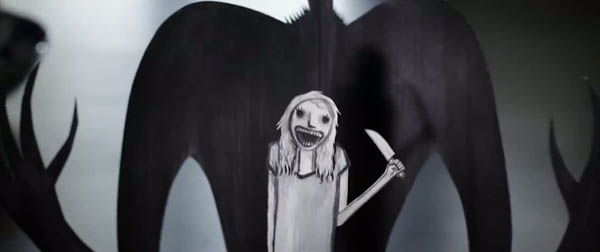 We're back, and we're talking about some of the best horror films you might not even know were directed by women! Join us again for all this and more:
We babble about The Babadook and examine Jennifer's Body. (What? Wait, no — not Jennifer's body, that would be an entirely different podcast …. )
Jennifer talks about what it was like to watch American Psycho for the first time recently
We declare our love for the 80's classic Near Dark and the 80's maybe-not-so-classic Freddy's Dead: The Final Nightmare
We talk about why we were disappointed in American Mary but still can't wait to see what's next from the Soska Sisters
Michael explains why he can't wait to show Jennifer Ravenous, and he finds out something he'd rather not know about one of the actors in it