Posts Tagged 'Donnie Darko'
Happy Halloween, Latin Club! We're excited to get to bring you a new episode on our favorite holiday of the year. This time (ha! Get it?), we're talking about Time Loops and Time Travel! (And amazingly enough, Michael somehow gets through the entire episode without mentioning Doctor Who even once!) Also, Jen talks about taking the Scarecrow Video Psychotronic Challenge, and about Shudder, the curated Amazon Video horror-movie channel!
Spoiler Warnings — Usually, we try not to give away crucial plot elements of the movies we discuss on DRtL, but that was a little tricky with this episode — since with a lot of the films we mention here, the very fact that the plot does involve time-travel shenanigans is actually meant to be a surprise. So if you are particularly spoiler-sensitive, you might want to skip this episode, and you maybe shouldn't even look at the tags on the blog post. Sorry!
Alternately, if you encounter any spoilers you wish you hadn't heard — just go back in time and warn yourself not to listen! Problem solved.
(Looking for something a little more seasonally-themed? Hop in our time machine and travel all the way back to 2014's Episode 10: It Happened on Halloween! for an episode that's all about movies set on or around Halloween!)
_______
Please rate our podcast on iTunes!
The more reviews and ratings we have, the easier it is for people to find us. If you enjoy listening to Don't Read the Latin and would like to help us reach more people, please click here to rate our podcast on iTunes and leave your comments. It will only take a few minutes out of your day, but your feedback can make a huge difference to us. Thanks for everything, and we hope you get nothing but the very best full-size candy bars in your trick-or-treat bags this year.
Podcast: Play in new window | Download
Subscribe: RSS
If you're starting to plan your Halloween party — and if you're not, you'd better get on that, you only have 104 days left — we have totally got you covered this episode. Want to show your friends a couple of movies? This episode we talk about Horror Double Features and give our picks for what movies pair together well, like pairing cheeses and fine wines. While we're at it, we talk about just what exactly makes two movies go together well as a single viewing.
Spoiler Warnings
We discuss the endings of both 10 Cloverfield Lane and Ex Machina. If you don't want to hear the details, skip forward a couple of minutes when you hear us mention those titles.
Technical Notes:
We mention at the beginning of this episode that we were recording it on our laptop and on our new audio recorder, because Montoure didn't trust that the recording was actually, you know, recording. And it's a damn good thing he's paranoid, because it turns out that the recorder did not save a file at all. The quality the first time we used it was great, and it will be a fine tool to add to our podcasting arsenal if we can ever figure out how to use the damn thing.
The Bag of Fucks
We mention in passing The Bag of Fucks, which is an awesome hand-made creation by our friend Dmitri Arbacauskas at Tormented Artifacts. When you have just run out of fucks to give, here's the bag you could load some more into. (Or you can just open the bag if you want to show people that it is, indeed, empty.) You can get one of these beauties here if you are so inclined.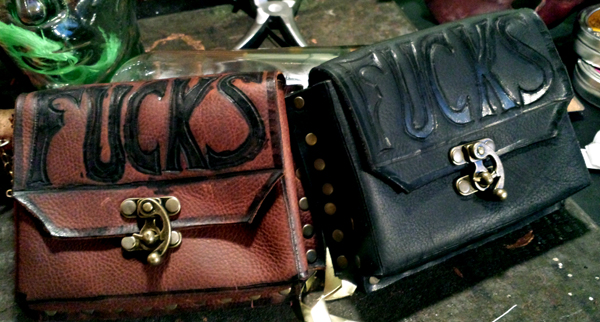 Other Podcasts
Jennifer mentions a few of her new favorites among the podcasts she listens to, so if you'd like to check those out, here they are:
In the News
Since we brought up Chopping Mall, a movie about security robots gone rogue in a shopping center, we naturally talked about a related story in the news recently, and in case you missed it, here it is: A mall security robot has knocked down and run over a toddler in Silicon Valley.
Thanks for Listening!
If you like the show, don't forgot to follow us and rate us on iTunes! You can also subscribe to the podcast on Stitcher, and you can follow us on Facebook, Twitter, and Tumblr. Remember that we love you and that we think you look adorable when you're sleeping.
Podcast: Play in new window | Download
Subscribe: RSS
"Welcome to DRTL, the podcast that is not about Beastmaster."
It's October! It's October! That means that this whole next month is, effectively, Halloween. We got a little excited.
This time, we're talking about movies that take place on or around Halloween. (Yes, including the original Halloween.) How many of them do you think you can watch this month?
Finally here's a …. a …. Call it a "bonus video." (It will make sense once you listen to the episode, honestly.)
Podcast: Play in new window | Download
Subscribe: RSS