Posts Tagged 'Dune'
Hey, Latin Illiterates, it's our big one-oh-oh, and for this extra-sized centennial episode Jennifer Lovely and Rhias Hall had the wonderful idea to get their friends together and talk about the 5 movies that most influenced their lives.
To that end, they gathered Jillian Venters of Gothic Charm School , Monty Ashley of The Incomparable Podcast Network, Jeff Harris of Fanboy News Network , and lil' ol' me, Handsome Husband Jim.
You'll learn a lot about us as people, how kids are sheltered from violent media unlike in our day (also get off our lawns), movies that were made by piles of cocaine, and hear the shriek of the Man-Bat.
Thanks for listening, folks, and here's to another 100!
Podcast: Play in new window | Download
Subscribe: RSS
Jennifer Lovely was unable to make it to a recording session this week, since she is in the process of moving and is busy doing All the Things, so instead Michael Montoure is joined by horror movie aficionado Miranda Wolf! We've been meaning to have Miranda on the podcast for ages, and this seemed like a good time to do it.
We kind of flirt with the idea of having an overall theme for the episode, such as Slasher Movies, but it never quite happens. Join us as we talk instead about 80's slasher movies; Star Trek and Babylon 5 fans fighting in the streets; Montoure's literal scar from a science fiction convention; differences between the Hannibal TV series, books, and films; ideas for slasher movie role-playing games and the horror board game Betrayal at House on the Hill; puns about feet (so very, very many puns about feet); the literal and figurative horrors that are lurking within Miranda's Netflix queue; and so much more!
Podcast: Play in new window | Download
Subscribe: RSS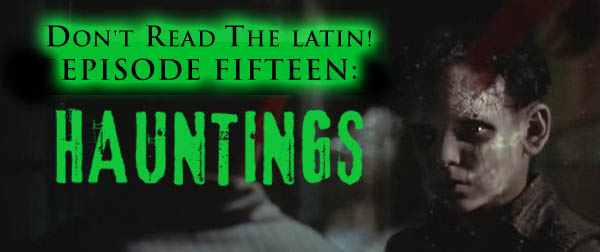 It's almost Christmas, and you know what that means — ghost stories! (Well, according to Charles Dickens, anyway.)
We already covered Haunted Houses back in Episode Nine, but this time we're getting out of the house and exploring haunted apartment buildings, orphanages, and more! Remember, kids, ghosts can strike anywhere at any time. Happy Holidays!
Podcast: Play in new window | Download
Subscribe: RSS