Posts Tagged 'From Dusk Till Dawn'
Welcome back, sugar — won't you set down for a spell? There you are, settle right in, bless your heart. Thank you so much for joining us for a little Southern hospitality as we sit by the fire and talk about Southern Horror!
We will also be talking about the related-but-slightly-separate Southern Gothic genre, which Tennessee Williams described as writing fiction that captures "an intuition, of an underlying dreadfulness in modern experience." Which is something we can all relate to, don't you think?
Join us as we break down our favorite horror films that take place deep in the American South, including some that could only tenuously be said to take place in the South, including one that we were just straight up completely wrong about. (Michael brings up The Others, which, in fact, takes place in freakin' England. DRtL regrets the error.)
_______
Bonus Features
Jennifer talks about her subscription to Horror Block, Nerd Block's horror box subscription that provides her with hand-selected toys, T-shirts, and more surprises every month. (We are not affiliated with this site — Jennifer is just a happy customer.) You can sign up for Horror Block here, if you are so inclined.
We mention "Mama," the original short film that Guillermo del Toro helped turn into a . . . well, sadly-inferior feature film. But the original hasn't lost any of its intensity. You can watch it here:
Michael makes fun of the "Look at me, I'm burning" line from Silent Hill, because — well, just watch:
Finally, courtesy of Jim Cartwright, we have this article that's right up our allery: Report: Leading Cause Of Death Still Venturing Beyond The Pines.
Podcast: Play in new window | Download
Subscribe: RSS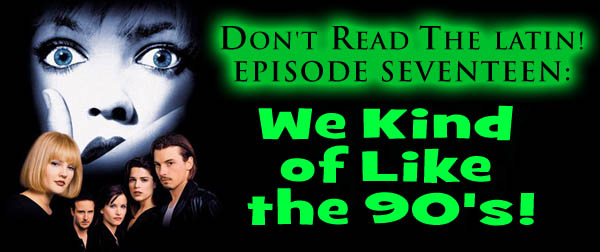 Hello, boys and ghouls, welcome back once again to another episode of Don't Read the Latin! This time, after our in-depth two-part episode on the 80's, we're going to dive into a, well, slightly less-loved decade, but one that still has more than a few gems in it. Join us, won't you? You'll learn more about Jennifer's seemingly random Hollywood crushes, the too-cool-for-film-school pretentiousness of The Addiction and The Prophecy, and which movie features Billy Zane at his Billy Zaniest!
Bonus YouTube Videos!
In our discussion of Stigmata (oh, Stigmata, you're not a good movie, but we kind of like you anyway), Jennifer brings up a Chumbawumba song from the soundtrack that's really kind of awesome. If you've only ever heard that "I get knocked down" drinking song of theirs, you really need to put this in your ear-holes.
https://www.youtube.com/watch?v=__YHRv5VuDI
Finally, here's the channel introduction for Count Jackula, the horror review show that we mention:
Podcast: Play in new window | Download
Subscribe: RSS
Oh my God, you guys, you guys — Halloween is coming!
Or at least, it was when we recorded this episode, but now it's November 1st. A little anticlimactic, we realize.
This time out, we discuss those bloodsucking fiends, those children of the night, those stalwart standbys of the Halloween silver screen: vampires! From the good, the bad, to the ridiculous, we discuss all the vampires we have known and loved.
Podcast: Play in new window | Download
Subscribe: RSS