Horâ hausu: Mujaki samenai akumu
---
Episodes about Hausu :
Don't Read The Latin! Episode 61: Witches!
[ 1:21:23 | 82.26 MB ]
Play in Popup
|
Download
Welcome back! This episode marks a new, exciting time for Don't Read the Latin, as Michael Montoure has decided to step back from co-hosting for now as he has a lot on his plate at the moment. Jennifer Lovely is still happily here, though, discussing horror movies and her love of them, and each episode will have a rotating cast of co-hosts joining her. There will be many of the voices you've heard in previous episodes, and we can all look forward to some new ones joining the mix, too!
In this episode she is joined by Jillian Venters of Gothic Charm School (http://www.gothic-charm-school.com/) and they are discussing witches and witchcraft, although we know it's simply taboo!
Onward to an all-new era of Don't Read the Latin adventures!
Don't Read the Latin Episode 53: Horror Anthologies!
[ 1:07:37 | 61.91 MB ]
Play in Popup
|
Download
Welcome back to Don't Read the Latin, as Michael and Jennifer delve into the world of Horror Anthologies — only to realize that they don't actually like them very much. But, as always, we accentuate the positive, and concentrate on talking about the ones we do like. So if you like your horror movies in bite-sized chunks, this is the episode for you!
We also end up talking about reboots, why we actually like them, and why they work so well on television. Check it out!
____
Bonus Video
Here's a great little animation sent to us by our Tumblr follower circa1891!
Don't Read the Latin! Episode 49: Japanese Horror!
[ 1:48:38 | 99.45 MB ]
Play in Popup
|
Download
Pay no attention to the creepy little girl in the corner whose long, wet black hair is covering her face — she's not bothering anyone, we're sure she'll be fine. We're back for our Japanese Horror episode! Tune in as we talk about the passing of Gene Wilder, and as we examine how things like the financial crisis Japan had in the 90s affected their horror movies, and the long shadow cast by the nuclear bomb while we talk about our favorite J-horror.
_____
Bonus Features!
Podcasts mentioned by Jennifer:
Creepy Japanese Comics Stories by Junji Ito (super, super weird — don't say we didn't warn you):
Miscellaneous Links:
_____
Please rate our podcast on iTunes!
The more reviews and ratings we have, the easier it is for people to find us. If you enjoy Don't Read the Latin and would like to help us reach more people, please click here to rate our podcast on iTunes and leave your comments. It will just take a moment of your time, but your feedback can make a huge difference to us. Thanks!
DRtL Episode 29: Wolf at the Door!
[ 1:46:52 | 48.92 MB ]
Play in Popup
|
Download
Jennifer Lovely was unable to make it to a recording session this week, since she is in the process of moving and is busy doing All the Things, so instead Michael Montoure is joined by horror movie aficionado Miranda Wolf! We've been meaning to have Miranda on the podcast for ages, and this seemed like a good time to do it.
We kind of flirt with the idea of having an overall theme for the episode, such as Slasher Movies, but it never quite happens. Join us as we talk instead about 80's slasher movies; Star Trek and Babylon 5 fans fighting in the streets; Montoure's literal scar from a science fiction convention; differences between the Hannibal TV series, books, and films; ideas for slasher movie role-playing games and the horror board game Betrayal at House on the Hill; puns about feet (so very, very many puns about feet); the literal and figurative horrors that are lurking within Miranda's Netflix queue; and so much more!
Don't Read the Latin Episode 28: Comfort Movies!
[ 1:25:21 | 39.07 MB ]
Play in Popup
|
Download
You know what we're talking about — you're home for a sick day, or maybe you've just straight-up run out of fucks. In either case, it's time to crash on the couch with a pint of ice cream. Or maybe not — maybe it's just time to try to get something done around the house that you've been putting off, like tackling that mountain of laundry, and you just want a movie to put on that won't demand your full attention.
However it goes, you reach for a comfort movie — something you've already seen a zillion times, but just don't get tired of. The cinematic equivalent of comfort food. A big ol' audio-visual bowl of macaroni and cheese. Maybe with the emphasis on "cheese." (As such, this episode sometimes strays way, way far out of strict horror movie territory. We promise you'll be entertained anyway.)
We are joined this time by the always-charming Jillian Venters, the Lady of the Manners herself, from Gothic Charm School!
DRtL Episode 26: Brains! I Mean, Zombies!
[ 1:22:53 | 37.94 MB ]
Play in Popup
|
Download
Welcome back to Don't Read the Latin, the podcast that brings you horror movie news, reviews, and opinions every two weeks! Or three weeks. Or thereabouts. (I'd swear we used to be better at this.)
Anyway, join us as we come lurching back from the grave to discuss zombies! Even though neither Michael nor Jen consider ourselves zombie fans, per se, it turns out there are a ton of zombie films we really like. A whole horde of them, you might say. Although it turns out we have our disagreements as to just what, exactly, constitutes a zombie film ….
Look At Our Shorts!
Curious about the zombie kangaroo short film Michael mentions? Well, of course you are, right? Here it is — WATERBORNE:
Also, just to round things out, here's another short film that we didn't remember to mention during the podcast, but a couple of listeners had recommended it to us and it's pretty damn awesome — THRESHER.
_____
Spread the Word!
A zombie outbreak spreads pretty quickly. But word-of-mouth about a podcast doesn't go quite so far and wide. If you love Don't Read the Latin — and we sure hope you do — won't you take a minute to help other horror fans find us by clicking one of the social sharing buttons below, or leave us a review on iTunes? It means the world to us. Thanks!
DrTL Episode 23: Werewolves!
[ 1:26:13 | 39.47 MB ]
Play in Popup
|
Download
Welcome back, and thanks for listening to one whole year of Don't Read the Latin! It seems like only yesterday that Episode One was lovingly streamed straight to your trembling ears, but it was  way back on May 9th, 2014. So we're celebrating our podcast-iversary! Join us! Have some cake and ice cream!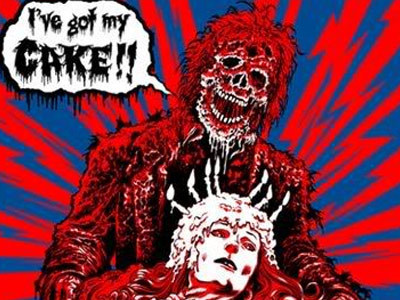 Ooookay, maybe — maybe just some ice cream.
Anyway! Yes! A new episode! We have one for you, and it didn't take a whole month this time! We are joined once again by Jeff Harris from Fanboy News Network, who practically insisted on coming along for the recording when he found out we were talking about werewolves, which turned out to be a good thing as Michael and Jennifer ended up realizing that, on the whole, they, uhhh, they don't really like werewolf movies that much. So, yeah.
But we still manage to have a good time with the subject, and Jennifer talks about rewatching The Walking Dead and about common werewolf tropes in urban fantasy, Michael tells us about a unique stage adaptation of Dr. Jekkyl and Mr. Hyde, Michael and Jeff talk about the history of werewolves in Marvel comics, and we wonder why more werewolf movies don't deal with pack dynamics.
In short, it's another fun episode, so press play above! Or download it. I mean, whatever you wanna do here. Knock yourself out.
Don't Read The Latin! Episode 20: Guilty Pleasures!
[ 1:39:11 | 45.4 MB ]
Play in Popup
|
Download
First, a word of warning. At one point during this episode, we propose a drinking game — that you drink every time we say something to the effect of, "This is not a good movie." Do not do this. You will die.
That said — join Michael and Jennifer as we drag our secret stash of schlock out from the back of our video collections into the light. First we define just exactly what it is we mean when we call something a "guilty pleasure," and then we're off and running! Expect lots of giggling in this episode.
Standard Podcast
[ 1:42:22 | 23.49 MB ]
Play in Popup
|
Download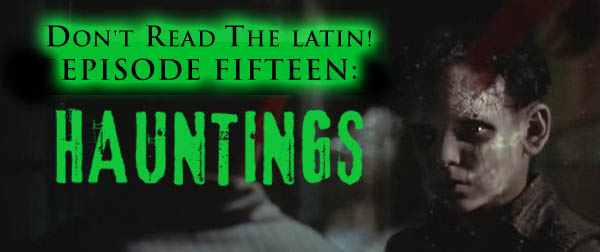 It's almost Christmas, and you know what that means — ghost stories! (Well, according to Charles Dickens, anyway.)
We already covered Haunted Houses back in Episode Nine, but this time we're getting out of the house and exploring haunted apartment buildings, orphanages, and more! Remember, kids, ghosts can strike anywhere at any time. Happy Holidays!