Here Comes the Devil
---
Episodes about Here Comes the Devil :
DRtL Episode 56: Horror En Español!
[ 1:19:37 | 72.9 MB ]
Play in Popup
|
Download
¡Hola! ¿Cómo te va todo? Welcome to the latest episode of Don't Read the Latin, where we talk about horror movies in Spanish! (And a handful of movies that are in English, but were made in Spain.) Get ready to turn on your subtitles and explore some of the best horror that the Spanish language has to offer.
Also, Jen tells us about some of the additional channels available on Amazon Prime Video, including Shudder and the British television channel Acorn TV, and about her days back when she worked in a video store! All this, the return of Jen's Documentary Corner, and much, much more.
As always, let us know what you think in the comments, and please take a minute to rate and review us on iTunes to let your fellow horror fans know we're worth checking out. Thanks!
DRtL Episode FIFTY: Our Top Fifty Favorite Horror Movies!
[ 1:17:30 | 70.95 MB ]
Play in Popup
|
Download
"Let's make this bullshit happen!"
" …. Is that going to be our new motto from now on? Actually, that might look good on stickers, now that I think about it."
So hey, check us out! Fifty episodes! That's kind of a lot! And to celebrate, we are counting down the TOP FIFTY HORROR MOVIES OF ALL TIME!
Okay, well, no. We're not going to pretend that we're being at all objective. What we're actually doing is our Our Top Fifty Favorite Horror Movies! You're actually getting more than fifty, because Jennifer and Michael have each brought their own lists, so listen in as they compare the movies they love the most. (Presented in chronological order, so as not to descend into complete chaos.) Just in time for you to figure out what you want to watch for Halloween!
All this and more, as Jen tells us about a recent unpleasant incident in a movie theater, a documentary on the murder of Kitty Genovese, and completely spoils the ending of "The Changeling!"
We also talk about movies we've seen recently, including Blair Witch. If you just want to skip directly ahead to the Top Fifty goodness, you will find it at the 27-minutes-and-15-seconds mark.
Hope you enjoy this one!
_____
Please rate our podcast on iTunes!
The more reviews and ratings we have, the easier it is for people to find us. If you'd like to hear another fifty episodes of Don't Read the Latin and would like to help us reach more people, please click here to rate our podcast on iTunes and leave your comments. It will only take a few minutes out of your day, but your feedback can make a huge difference to us. Thanks for everything, you guys.
Don't Read The Latin, Episode Four: Women Directing Horror
[ 1:05:08 | 29.88 MB ]
Play in Popup
|
Download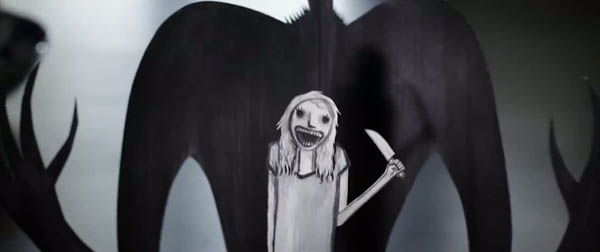 We're back, and we're talking about some of the best horror films you might not even know were directed by women! Join us again for all this and more:
We babble about The Babadook and examine Jennifer's Body. (What? Wait, no — not Jennifer's body, that would be an entirely different podcast …. )
Jennifer talks about what it was like to watch American Psycho for the first time recently
We declare our love for the 80's classic Near Dark and the 80's maybe-not-so-classic Freddy's Dead: The Final Nightmare
We talk about why we were disappointed in American Mary but still can't wait to see what's next from the Soska Sisters
Michael explains why he can't wait to show Jennifer Ravenous, and he finds out something he'd rather not know about one of the actors in it
Standard Podcast
[ 1:05:31 | 30.06 MB ]
Play in Popup
|
Download
Ever had a horror movie that you watched and hated, only to watch it again later and discover that it's actually pretty good? Or, worse, you watch a movie you once liked and now you realize it's terrible? Well, that's what Episode Three is all about! Join us as we also talk about the season finale of Hannibal (don't worry, no spoilers!), why we like Japanese horror films until they get too damn weird, why Jennifer doesn't like to do negative reviews, and her changing opinion of Woody Harrelson and Matthew McConaughey. Don't miss it!