Posts Tagged 'Jessica Jones [TV]'
Welcome back! Now that hosts Jennifer and Rhias are back from the dead, they want to talk about how to get your kids hooked on… I mean, introduced to horror! Listen them both try to give good recommendations AND keep the show PG!
Podcast: Play in new window | Download
Subscribe: RSS
"I've never seen the 50's Vincent Price version . . . or, now that I stop to think about it, I don't think I've seen the 60's version, either . . . and I'm not sure I saw I Am Legend . . . . "
"Oh, my God — move on!"
Welcome to our only slightly late episode! This time, we're exploring that strange territory where the silver screen and your local bookstore collide. That's right, this episode is all about horror movies based on books! Bad movies based on good novels, good movies based on bad novels, and everything in between. Did we miss any of your favorites? Let us know!
Worthy of Note: Hopefully you will notice a big improvement in the sound quality over previous episodes. We're trying a totally new audio set-up, and we think it sounds a lot better. Let us know what you think of that, too. We're still experimenting and learning, and after two years of doing this, we're finally making a little progress! Eventually, we catch on.
Speaking of which, also Worthy of Note — we've missed it by just a few days, but May 9th was the second anniversary of our very first episode! I know, we can't believe it, either! For those who have been with us from the beginning, thank you so much for listening and for your comments and support, and for telling your friends about us. For those of you just joining — welcome! Grab some popcorn and settle in, because we're not going to stop watching horror movies any time soon. See you in two weeks!
Podcast: Play in new window | Download
Subscribe: RSS
Last episode, we took one last look at 2015, and this time out, we're looking ahead at the year to come, as we discuss new releases we're looking forward to (and some we're not.)
While we're at it, we also talk a little bit about what we'd like to see from horror movies in general, and we talk about other things we enjoyed in 2015 that didn't qualify for last episode's topic. Also, Jennifer talks about why she's not that crazy about Benedict Cumberbatch; Michael discusses his love of horror movies that clearly spell out a rigid set of rules, and oh so much more.
_____
Bonus Pictures
The Shirtless Jeff Goldblum mug that Michael bought Jennifer for Christmas, because he knows what she likes: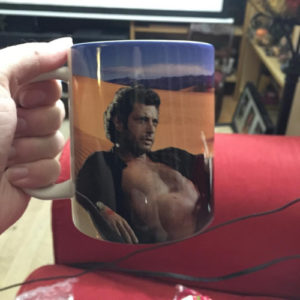 And some images from Over the Garden Wall:
Podcast: Play in new window | Download
Subscribe: RSS