Posts Tagged 'Lights Out'
Okay, it's not actually a new decade, but there certainly has been A decade, so we're going over our favorites of the last ten years! Join your hosts Jennifer Lovely and Rhias Hall along with special guests Jillian Venters of Gothic Charm School, and me, Handsome Husband Jim. let the countdowns begin!
Here's the movies that were on our various honorable mentions lists but didn't make the show:
Train to Busan
Let Us Prey
The Shallows
10 Cloverfield Lane
Hush
Trollhunter
What We Do In The Shadows
Late Phases
The Bay
Devil's Candy
Grave Encounters
A Quiet Place
Annihilation
Halloween (2019)
Tigers Are Not Afraid
Cabin In The Woods
(whew, that's a lot of movies, just think how many are in the actual episode!)
Podcast: Play in new window | Download
Pay no attention to the creepy little girl in the corner whose long, wet black hair is covering her face — she's not bothering anyone, we're sure she'll be fine. We're back for our Japanese Horror episode! Tune in as we talk about the passing of Gene Wilder, and as we examine how things like the financial crisis Japan had in the 90s affected their horror movies, and the long shadow cast by the nuclear bomb while we talk about our favorite J-horror.
_____
Bonus Features!
Podcasts mentioned by Jennifer:
Creepy Japanese Comics Stories by Junji Ito (super, super weird — don't say we didn't warn you):
Miscellaneous Links:
_____
Please rate our podcast on iTunes!
The more reviews and ratings we have, the easier it is for people to find us. If you enjoy Don't Read the Latin and would like to help us reach more people, please click here to rate our podcast on iTunes and leave your comments. It will just take a moment of your time, but your feedback can make a huge difference to us. Thanks!
Podcast: Play in new window | Download
Last episode, we took one last look at 2015, and this time out, we're looking ahead at the year to come, as we discuss new releases we're looking forward to (and some we're not.)
While we're at it, we also talk a little bit about what we'd like to see from horror movies in general, and we talk about other things we enjoyed in 2015 that didn't qualify for last episode's topic. Also, Jennifer talks about why she's not that crazy about Benedict Cumberbatch; Michael discusses his love of horror movies that clearly spell out a rigid set of rules, and oh so much more.
_____
Bonus Pictures
The Shirtless Jeff Goldblum mug that Michael bought Jennifer for Christmas, because he knows what she likes: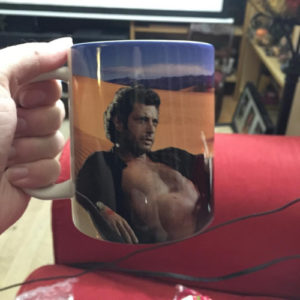 And some images from Over the Garden Wall:
Podcast: Play in new window | Download