Nightbreed
---
Episodes about Nightbreed :
DRtL Episode 59: Favorite Horror Actors!
[ 1:20:59 | 74.14 MB ]
Play in Popup
|
Download
Welcome back to Don't Read the Latin, where in this episode, we're talking about our favorite horror movie actors — the scream queens, sinister villains, and creepy little character actors who populate the films we love. These are the people we love to watch over and over again, the performances that can get us into the theater every time. We're sure you'll know and love many of these screen icons as well, and hope that you'll learn some new names you should be looking out for, as well. Let us know if there's anyone else you think we should have mentioned!
(Thanks for your patience with our slight delay in getting this episode to you, and we ask your patience with the weird little pop-and-hiss that crept into the audio of this episode. It's pretty mystifying — we used the exact same audio setup as we have for the past couple of episodes, and we didn't have this trouble then. Perhaps you could pretend we're having this conversation while sitting next to a crackling campfire? Or not. Suit yourselves.)
DRtL Episode FIFTY: Our Top Fifty Favorite Horror Movies!
[ 1:17:30 | 70.95 MB ]
Play in Popup
|
Download
"Let's make this bullshit happen!"
" …. Is that going to be our new motto from now on? Actually, that might look good on stickers, now that I think about it."
So hey, check us out! Fifty episodes! That's kind of a lot! And to celebrate, we are counting down the TOP FIFTY HORROR MOVIES OF ALL TIME!
Okay, well, no. We're not going to pretend that we're being at all objective. What we're actually doing is our Our Top Fifty Favorite Horror Movies! You're actually getting more than fifty, because Jennifer and Michael have each brought their own lists, so listen in as they compare the movies they love the most. (Presented in chronological order, so as not to descend into complete chaos.) Just in time for you to figure out what you want to watch for Halloween!
All this and more, as Jen tells us about a recent unpleasant incident in a movie theater, a documentary on the murder of Kitty Genovese, and completely spoils the ending of "The Changeling!"
We also talk about movies we've seen recently, including Blair Witch. If you just want to skip directly ahead to the Top Fifty goodness, you will find it at the 27-minutes-and-15-seconds mark.
Hope you enjoy this one!
_____
Please rate our podcast on iTunes!
The more reviews and ratings we have, the easier it is for people to find us. If you'd like to hear another fifty episodes of Don't Read the Latin and would like to help us reach more people, please click here to rate our podcast on iTunes and leave your comments. It will only take a few minutes out of your day, but your feedback can make a huge difference to us. Thanks for everything, you guys.
Standard Podcast
[ 1:22:10 | 75.22 MB ]
Play in Popup
|
Download
"I've never seen the 50's Vincent Price version . . . or, now that I stop to think about it, I don't think I've seen the 60's version, either . . . and I'm not sure I saw I Am Legend . . . . "
"Oh, my God — move on!"
Welcome to our only slightly late episode! This time, we're exploring that strange territory where the silver screen and your local bookstore collide. That's right, this episode is all about horror movies based on books! Bad movies based on good novels, good movies based on bad novels, and everything in between. Did we miss any of your favorites? Let us know!
Worthy of Note: Hopefully you will notice a big improvement in the sound quality over previous episodes. We're trying a totally new audio set-up, and we think it sounds a lot better. Let us know what you think of that, too. We're still experimenting and learning, and after two years of doing this, we're finally making a little progress! Eventually, we catch on.
Speaking of which, also Worthy of Note — we've missed it by just a few days, but May 9th was the second anniversary of our very first episode! I know, we can't believe it, either! For those who have been with us from the beginning, thank you so much for listening and for your comments and support, and for telling your friends about us. For those of you just joining — welcome! Grab some popcorn and settle in, because we're not going to stop watching horror movies any time soon. See you in two weeks!
Standard Podcast
[ 1:09:32 | 47.74 MB ]
Play in Popup
|
Download
---
Wooo-hooo, look at us! We swore we would have a new episode ready in two weeks and by God we actually did it.
Inspired by our recent viewing of Crimson Peak, this time we're taking a look at Horror Romances! Even though the course of true love never quite runs smooth in a horror movie — it's hard to give someone your heart when they really do want your heart, and they're willing to use their sharpest knives to get it — we're cuddling up as close to this topic as we can get. Do join us, won't you, dear?
Don't Read the Latin Episode 28: Comfort Movies!
[ 1:25:21 | 39.07 MB ]
Play in Popup
|
Download
You know what we're talking about — you're home for a sick day, or maybe you've just straight-up run out of fucks. In either case, it's time to crash on the couch with a pint of ice cream. Or maybe not — maybe it's just time to try to get something done around the house that you've been putting off, like tackling that mountain of laundry, and you just want a movie to put on that won't demand your full attention.
However it goes, you reach for a comfort movie — something you've already seen a zillion times, but just don't get tired of. The cinematic equivalent of comfort food. A big ol' audio-visual bowl of macaroni and cheese. Maybe with the emphasis on "cheese." (As such, this episode sometimes strays way, way far out of strict horror movie territory. We promise you'll be entertained anyway.)
We are joined this time by the always-charming Jillian Venters, the Lady of the Manners herself, from Gothic Charm School!
Don't Read the Latin! Episode Seventeen: We Kind of Like the 90's!
[ 1:38:17 | 22.56 MB ]
Play in Popup
|
Download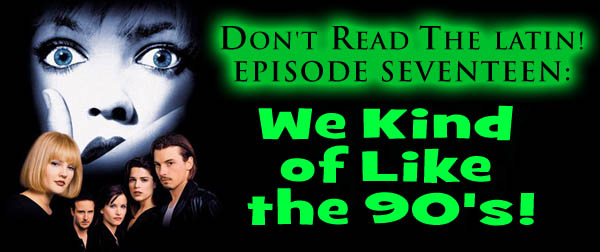 Hello, boys and ghouls, welcome back once again to another episode of Don't Read the Latin! This time, after our in-depth two-part episode on the 80's, we're going to dive into a, well, slightly less-loved decade, but one that still has more than a few gems in it. Join us, won't you? You'll learn more about Jennifer's seemingly random Hollywood crushes, the too-cool-for-film-school pretentiousness of The Addiction and The Prophecy, and which movie features Billy Zane at his Billy Zaniest!
Bonus YouTube Videos!
In our discussion of Stigmata (oh, Stigmata, you're not a good movie, but we kind of like you anyway), Jennifer brings up a Chumbawumba song from the soundtrack that's really kind of awesome. If you've only ever heard that "I get knocked down" drinking song of theirs, you really need to put this in your ear-holes.
https://www.youtube.com/watch?v=__YHRv5VuDI
Finally, here's the channel introduction for Count Jackula, the horror review show that we mention:
Don't Read the Latin! Episode Sixteen: 2014 - The Year in Horror
[ 1:57:06 | 26.86 MB ]
Play in Popup
|
Download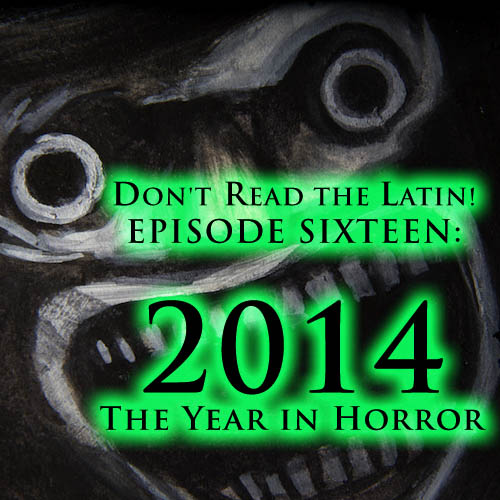 Happy New Year! 2014 was a great year for horror — if you were willing to dig for it. While there were only a mere handful of big studio releases — and they were uniformly disappointing — there were a lot of fantastic indie films out there, which generally received limited theatrical releases, assuming they didn't go straight to Netflix or VOD.
Jennifer and Michael walk you through the best this past year had to offer, with special guests Jeff Harris from Fanboy News Network and Jillian Venters from Gothic Charm School. Let us know what you think, and tell us if there are any gems we missed.
(We also recorded the "Geek Culture Review Of 2014″ episode of Fanboy News Network that day, in one long epic podcasting session. You should definitely check that out, too!)
Standard Podcast
[ 1:44:29 | 23.98 MB ]
Play in Popup
|
Download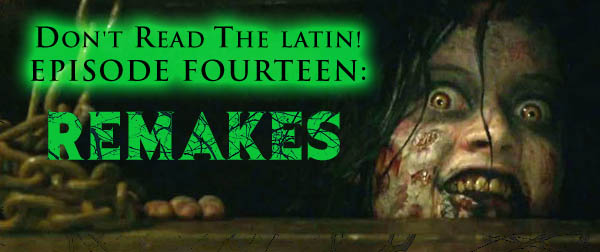 Whether you love them or hate them, the horror remake is here to stay. (Hollywood loves to feast on its own dead.) Join Jennifer and Michael as they delve into the best, the worst, and the most completely pointless.
Don't Read the Latin! Episode Thirteen: Creepy Dolls!
[ 1:38:07 | 22.52 MB ]
Play in Popup
|
Download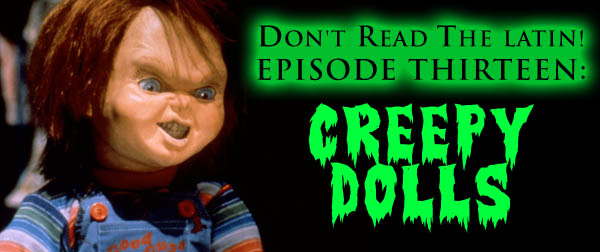 "That puppet he made – it fucking hates everybody and wants everybody to die. Good thing it's made entirely out of Nerf™."
Triskadekaphobiacs beware! This is our thirteenth episode! Spoooky!
Hopefully it won't be unlucky for you! It was a little unlucky for us, in that, for whatever reason, it took somewhat longer than normal to edit. (Around eight hours. Yes, really.) Which is why it didn't get posted last Friday. But it's finally here!
This time, we're talking about Creepy Dolls — everything from evil possessed dolls who will straight-up kill you, to simple inanimate objects someone has formed an unnatural attachment to, and everything in between.
---
Look At Our Shorts!
(Sorry, sorry. I'm twelve.) Here are the short films we mentioned over the course of the episode, for your viewing pleasure:
 Bonus Link!
All this and a bonus link? I know, we spoil you. Check out the radio dramas that Jennifer strongly recommended this episode: TALES FROM BEYOND THE PALE!
DRTL Episode 12: Vampires!
[ 1:27:35 | 20.11 MB ]
Play in Popup
|
Download
Oh my God, you guys, you guys — Halloween is coming!
Or at least, it was when we recorded this episode, but now it's November 1st. A little anticlimactic, we realize.
This time out, we discuss those bloodsucking fiends, those children of the night, those stalwart standbys of the Halloween silver screen: vampires! From the good, the bad, to the ridiculous, we discuss all the vampires we have known and loved.