Oculus
---
Episodes about Oculus :
Don't Read The Latin! Episode 61: Witches!
[ 1:21:23 | 82.26 MB ]
Play in Popup
|
Download
Welcome back! This episode marks a new, exciting time for Don't Read the Latin, as Michael Montoure has decided to step back from co-hosting for now as he has a lot on his plate at the moment. Jennifer Lovely is still happily here, though, discussing horror movies and her love of them, and each episode will have a rotating cast of co-hosts joining her. There will be many of the voices you've heard in previous episodes, and we can all look forward to some new ones joining the mix, too!
In this episode she is joined by Jillian Venters of Gothic Charm School (http://www.gothic-charm-school.com/) and they are discussing witches and witchcraft, although we know it's simply taboo!
Onward to an all-new era of Don't Read the Latin adventures!
DRTL 027: Movies You May Have Missed!
[ 1:23:38 | 38.29 MB ]
Play in Popup
|
Download
Welcome back, fiends! This time, your horror hosts are taking a look back at the last ten years of horror films and trying to bring to light the movies that may have flown under your radar when they were released. A lot of top-notch recommendations this episode.
We're posting this slightly later in the day than usual due to some audio issues that we weren't quite able to completely resolve, so we apologize for the sound quality on this one. There's kind of a background echo to it all that sounds a little like robots gargling underwater, and it was present in the original recording, so we're going to be looking into improving our microphone setup in future. Hope it's not too distracting.
Questions, comments, things you'd like to hear in future episodes? Let us know! We'd love to read your feedback on the show. And as always, don't forget to share, reblog, rate us on iTunes, or just kidnap people off the street and force them to listen to the podcast while tied up in your basement. Enjoy!
Standard Podcast
[ 1:09:46 | 31.94 MB ]
Play in Popup
|
Download
We're back from Crypticon! We had a pretty great time, and we're here to tell you about it. And Montoure has some selections from this year's Seattle International Film Festival! All of which turns out to be a good thing, because the topic we had chosen for this episode turns out to be a little thin on the ground. It sure seemed like creepy orphans and orphanages were a staple of the horror genre, but we ended up having to kind of stretch our definitions to find enough to talk about ….
Don't Read the Latin! Episode Sixteen: 2014 - The Year in Horror
[ 1:57:06 | 26.86 MB ]
Play in Popup
|
Download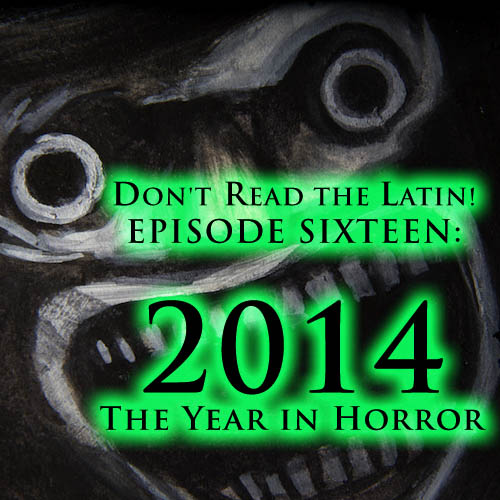 Happy New Year! 2014 was a great year for horror — if you were willing to dig for it. While there were only a mere handful of big studio releases — and they were uniformly disappointing — there were a lot of fantastic indie films out there, which generally received limited theatrical releases, assuming they didn't go straight to Netflix or VOD.
Jennifer and Michael walk you through the best this past year had to offer, with special guests Jeff Harris from Fanboy News Network and Jillian Venters from Gothic Charm School. Let us know what you think, and tell us if there are any gems we missed.
(We also recorded the "Geek Culture Review Of 2014″ episode of Fanboy News Network that day, in one long epic podcasting session. You should definitely check that out, too!)
Standard Podcast
[ 1:42:22 | 23.49 MB ]
Play in Popup
|
Download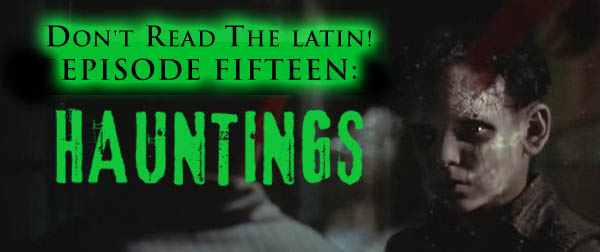 It's almost Christmas, and you know what that means — ghost stories! (Well, according to Charles Dickens, anyway.)
We already covered Haunted Houses back in Episode Nine, but this time we're getting out of the house and exploring haunted apartment buildings, orphanages, and more! Remember, kids, ghosts can strike anywhere at any time. Happy Holidays!
Standard Podcast
[ 1:44:29 | 23.98 MB ]
Play in Popup
|
Download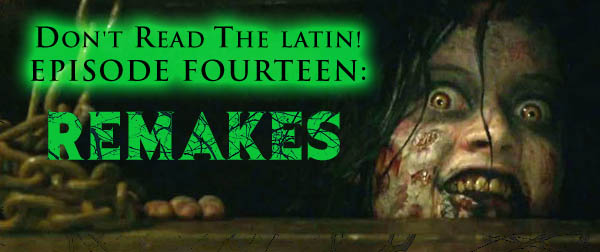 Whether you love them or hate them, the horror remake is here to stay. (Hollywood loves to feast on its own dead.) Join Jennifer and Michael as they delve into the best, the worst, and the most completely pointless.
Don't Read the Latin! Episode Eleven: Horror Comedies
[ 1:02:54 | 14.46 MB ]
Play in Popup
|
Download
Welcome to another Halloween season episode of your favorite horror movie podcast! (At least, we assume we're your favorite horror movie podcast. If we're not, please don't tell us.)
In this episode, Jennifer rants about Kevin Smith, whose recent film, "Tusk," seems to be one inside joke aimed at the fans of podcast. (We here at Don't Read the Latin promise that if we ever make a movie of our own, we're not going to just pander to our existing fanbase — we intend to pander to everyone.)
We also talk about economy of storytelling, Harlan Ellison, Jen's Big Black Gothic Yard Sale, and Michael's upcoming Halloween reading!
No Context For You
"Speaking of soft-core pornography …. "
"I'm Aware I'm making poor choices."
"I have a whole bunch of 'Night of the … ' movies."
Speaking of Michael's Halloween reading:
Don't Read the Latin! Episode Ten: It Happened On Halloween!
[ 1:14:16 | 17 MB ]
Play in Popup
|
Download
"Welcome to DRTL, the podcast that is not about Beastmaster."
It's October! It's October! That means that this whole next month is, effectively, Halloween. We got a little excited.
This time, we're talking about movies that take place on or around Halloween.  (Yes, including the original Halloween.) How many of them do you think you can watch this month?
Finally here's a …. a …. Call it a "bonus video." (It will make sense once you listen to the episode, honestly.)
Don't Read The Latin! Episode Eight: Found Footage
[ 1:11:34 | 32.83 MB ]
Play in Popup
|
Download
"It's not like [Rob Zombie] is out there strong-arming small children for their candy money."
"Although — you can kinda picture that, can't you?"
"I kinda can, yeah."
Felicitations, fright fans! Are you ready to face a fantastic festival of fearsome found footage films?
…. All right, that's enough alliteration for one post. Welcome to another episode with your hosts Jennifer Lovely and Michael Montoure, as we bring you the skinny on horror cinema's fastest-growing sub-genre, and discuss its strengths and limitations.
Expect chills, thrills, and more:
Why found footage films don't try to emulate Blair Witch's improvised scenes
Scooby Doo as a gateway drug to horror
Our guilty fondness for the recent Scooby Doo: Mystery Incorporated series
How The Blair Witch Project lead the way for small-budget productions like The Battery and Jug Face
Jennifer rants entertainingly about Rob Zombie, Amanda Palmer, and crowdfunding
A blink-and-you'll-miss-it LMFAO reference, and a mention of Christian Bale's spectacular on-set meltdown
Montoure has this episode's "Fuck This Noise" moment, with the indie horror feature "All Cheerleaders Die"
Let us know what you think, and thanks for listening!
Don't Read The Latin! Episode Seven: Mid-Year Review (with Fanboy News Network!)
[ 1:16:21 | 35.01 MB ]
Play in Popup
|
Download
Welcome back, fellow fear fanatics! This time, we've got a special crossover episode for you with Jeff Harris from our sibling podcast, Fanboy News Network!
Since we're already halfway through 2014, we sit down and take a few minutes (seventy-six of them, to be exact) to talk about what the first half of the year has brought us in horror.
Join us as we debate the merits of watching horror movies in the theatre vs. watching them in more intimate settings, find out why Montoure enjoys going to preview screenings most of all, and as we praise theatre/restaurant/bar combos like Cinebarre. We talk about the renaissance of short films, and how they can be the new calling card for up-and-coming directors.
Aside from our usual horror movie fare, we talk about the recent proliferation of horror on television, including Hannibal, True Detective, Sleepy Hollow, American Horror Story, Dexter, Penny Dreadful, and The Strain! And finally, we touch briefly on immersive real-world horror events such as The Great Horror Campout (which you couldn't pay us enough to go to, honestly) and Halloween Horror Nights!
Sit back and enjoy the episode that nearly caused Fanboy News Network's first use of the explicit tag! "We love swearing!"