Scream
---
Episodes about Scream :
Don't Read the Latin! Episode 60: Horror Movies 101!
[ 1:21:58 | 75.05 MB ]
Play in Popup
|
Download
If you're a regular listener of Don't Read the Latin, you're probably pretty well versed in horror movies — you know your classics backwards and forwards. But if you're a new listener, or if you have friends you would like to help get into horror, then we've got you covered with our latest episode — Horror Movies 101! Your horror hosts Jennifer Lovely and Michael Montoure walk you through the most significant movies in horror history to give you a solid grounding in all the basics. Check it out and let us know what you think! And be sure to let us know if there's anything you think we missed!
DRtL Episode 46: Horror Double Features!
[ 1:29:45 | 82.17 MB ]
Play in Popup
|
Download
If you're starting to plan your Halloween party — and if you're not, you'd better get on that, you only have 104 days left — we have totally got you covered this episode. Want to show your friends a couple of movies? This episode we talk about Horror Double Features and give our picks for what movies pair together well, like pairing cheeses and fine wines. While we're at it, we talk about just what exactly makes two movies go together well as a single viewing.
Spoiler Warnings
We discuss the endings of both 10 Cloverfield Lane and Ex Machina. If you don't want to hear the details, skip forward a couple of minutes when you hear us mention those titles.
Technical Notes:
We mention at the beginning of this episode that we were recording it on our laptop and on our new audio recorder, because Montoure didn't trust that the recording was actually, you know, recording. And it's a damn good thing he's paranoid, because it turns out that the recorder did not save a file at all. The quality the first time we used it was great, and it will be a fine tool to add to our podcasting arsenal if we can ever figure out how to use the damn thing.
The Bag of Fucks
We mention in passing The Bag of Fucks, which is an awesome hand-made creation by our friend Dmitri Arbacauskas at Tormented Artifacts. When you have just run out of fucks to give, here's the bag you could load some more into. (Or you can just open the bag if you want to show people that it is, indeed, empty.) You can get one of these beauties here if you are so inclined.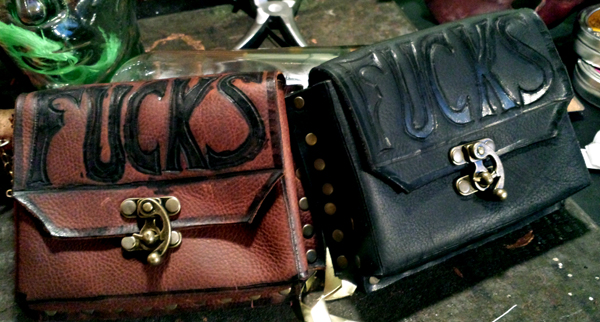 Other Podcasts
Jennifer mentions a few of her new favorites among the podcasts she listens to, so if you'd like to check those out, here they are:
In the News
Since we brought up Chopping Mall, a movie about security robots gone rogue in a shopping center, we naturally talked about a related story in the news recently, and in case you missed it, here it is: A mall security robot has knocked down and run over a toddler in Silicon Valley.
Thanks for Listening!
If you like the show, don't forgot to follow us and rate us on iTunes! You can also subscribe to the podcast on Stitcher, and you can follow us on Facebook, Twitter, and Tumblr. Remember that we love you and that we think you look adorable when you're sleeping.
Standard Podcast
[ 1:09:09 | 63.31 MB ]
Play in Popup
|
Download
…. And once again after slightly too long a hiatus, we return once more with another episode of Don't Read the Latin!
This time out, we're talking about heroines in horror. Horror movies tend to have more female protagonists than practically any other genre, which is something we both love about them. At some point, we plan on having a Feminism in Horror episode where we'll delve into why we think that is and examine just how horror treats its female characters. But for now, we just want to talk about some scream queens we've known and loved, from our favorite classic final girls all the way to, well, The Final Girls. Give it a listen, tell your friends, and as always, we look forward to your comments.
DRtL Episode 38: Horror Soundtracks!
[ 1:14:15 | 67.98 MB ]
Play in Popup
|
Download
Listen! What's that sound? Does that eerie pulsing synthesizer music mean that there's a killer lurking in the shadows? No — it's just the latest episode of Don't Read the Latin!
This time out, we're talking about horror soundtracks and scores that we love — even when they're from films we don't.
Montoure goes all film-school on us and starts talking about diegetic vs. non-diegetic music, Jennifer carefully side-steps around the subject of a mysterious competition in her youth, and so much more!
—
Stuff We Mentioned
At one point, Montoure mentions that the film He Never Died (he couldn't remember the title at the time, but that's the one) reminded him of a novel called Sandman Slim, by Richard Kadrey, so here's a link to that book on Amazon. (Or click on the cover image, here, if you're more visually inclined.) It's a fun read and you should check it out!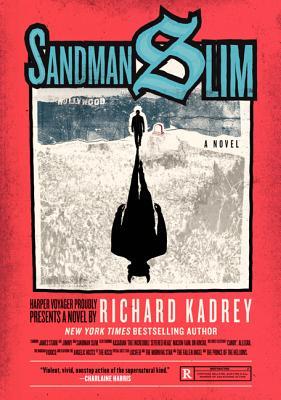 He also mentioned the unused soundtrack for Hellraiser by the band Coil, and said that the whole thing was probably on YouTube. It is! You can give it a listen here. It's very different from the soundtrack that actually got used!
And finally, he also also mentioned a haunting little comic by Ehud Lavski about a mysterious radio station. He reblogged that one on his Tumblr. You can click on the thumbnail below to read the whole comic.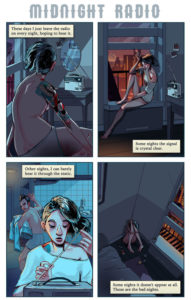 DRtL Episode 35: The Best of 2015!
[ 1:28:37 | 81.13 MB ]
Play in Popup
|
Download
Wait a minute, what's that? Peeking out from under the branches of the Christmas tree that's starting to drop needles onto your living room floor? Why, it looks like Satan — excuse me, I mean Santa — has left you one last Christmas present! And it's just what you wanted — a brand new episode of Don't Read the Latin! You must have been good this year.
This time out, we look back at 2015's crop of horror movies — what was great, what was terrible (although we don't waste much time talking about that), and which movies merely deserved our 2015 "You Tried" Participation Medal. Jennifer and Michael are joined by special guests Jeff Harris of Fanboy News Network and Jillian Venters of Gothic Charm School!
Special thanks to AFK Tavern for actually being open at the godforsaken hours of the procrastination-driven, insomnia-fueled editing of this episode!
And that's it for us for this year! We will talk to you all in 2016! Happy holidays!
____
P.S. For reference, here is the XXXenophile cover we talk about in the beginning of the episode. (Even though it's for an "adult" comic, the cover itself is more-or-less safe for work.) Click to embiggen.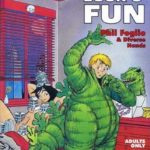 DRtL Episode 30: Wes Craven Retrospective
[ 1:33:41 | 64.33 MB ]
Play in Popup
|
Download
Apologies for the delay with this episode — it's even later than we said it was going to be when we said it was going to be late.
We needed a little extra time to pull this one together. We were both saddened to learn of the recent passing of Wes Craven, who pretty much single-handedly reinvented the horror movie genre over the course of his career — not just once, but three times.
Montoure talks about movies that make you feel unsafe, Jennifer talks about getting to meet Robert Englund, and so much more.
______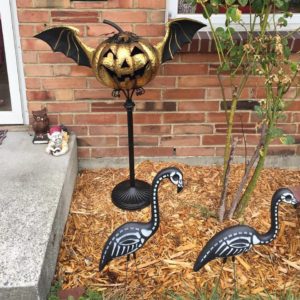 Guest Cat: Abby, Jennifer's grumpy old lady kitty
Official Drink of this Episode: Woodchuck Fall Harvest Hard Cider with cinnamon whiskey. It's ridiculously good. You should try it.
Pumpkin Bat: Pumpkin Bat! Here's a picture, as promised.
Don't Read the Latin! Episode Seventeen: We Kind of Like the 90's!
[ 1:38:17 | 22.56 MB ]
Play in Popup
|
Download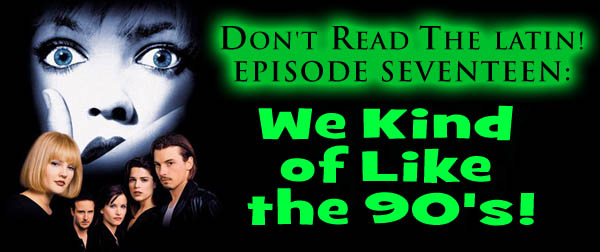 Hello, boys and ghouls, welcome back once again to another episode of Don't Read the Latin! This time, after our in-depth two-part episode on the 80's, we're going to dive into a, well, slightly less-loved decade, but one that still has more than a few gems in it. Join us, won't you? You'll learn more about Jennifer's seemingly random Hollywood crushes, the too-cool-for-film-school pretentiousness of The Addiction and The Prophecy, and which movie features Billy Zane at his Billy Zaniest!
Bonus YouTube Videos!
In our discussion of Stigmata (oh, Stigmata, you're not a good movie, but we kind of like you anyway), Jennifer brings up a Chumbawumba song from the soundtrack that's really kind of awesome. If you've only ever heard that "I get knocked down" drinking song of theirs, you really need to put this in your ear-holes.
https://www.youtube.com/watch?v=__YHRv5VuDI
Finally, here's the channel introduction for Count Jackula, the horror review show that we mention: