Posts Tagged 'Super 8'
Horror movies with kid heroes. It's a natural. How better to make an audience scared for your protagonist than to make him (or her) a young, vulnerable, innocent child? Throw in the "your parents will never believe you" trope, and you're set for some real scares. This episode, we salute the best child protagonists the horror genre has to offer.
Join Michael and Jennifer as they dissect the casting and plot direction of Hannibal's third season, play with an Angel puppet, talk about the Paul Stanley / Dee Snyder feud, and reveal the secret of how to get Jennifer's daughter to watch a movie that might be slightly scary. Listen in amazement as Michael fucks up immediately! (We talked about People Under the Stairs during the Wes Craven episode, not the Stephen King episode. Obviously.)
We apologize once more, I'm afraid, for the sound quality of this episode. We forgot to set up the powered USB port for the microphone, and therefore that "robots gargling underwater" background echo is back. Yay. Also you can hear traffic outside and Jennifer's cat meowing, although hopefully that last part is endearing. Anyway. We'll try to set things up a little better next time.
_______
Bonus Video
Here's a fan-made music video for the Scissor Sisters song Return to Oz that Michael mentioned:

_____
Bonus Tumblr Meme
For those who haven't seen it, here's the "Public Service Announcement" Michael mentions making on Tumblr, in a post that's received over 25,000 notes so far: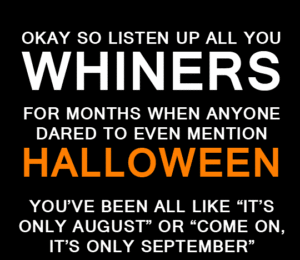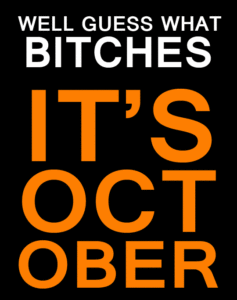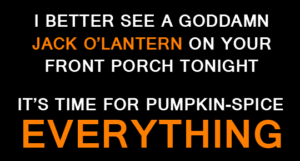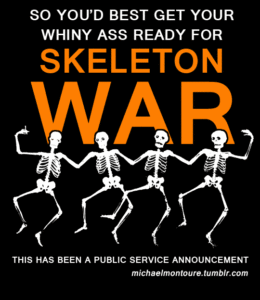 Podcast: Play in new window | Download
Subscribe: RSS
"Two possibilities exist: either we are alone in the Universe or we are not. Both are equally terrifying." ― Arthur C. Clarke
Lock all your windows, grab your tinfoil hats and your shotguns, and get ready to hide in your closets, because they're almost here! The aliens are coming!
…. Okay, well, no. Probably not. But the latest episode of Don't Read the Latin! is here, and that's almost as scary! You can put your shotgun down, but you might want to hold on to that tinfoil hat.
Join Jennifer and Michael as they talk about their favorite alien horrors, a heaping handful of guilty pleasures, and a few movies that just didn't work for them. And stick around for the end, for a discussion of just why movies about aliens scare us so much, and for a few words about Michael's experiences with UFOs in his childhood!
Put on the headphones, lean back, and try to ignore the strange tall figures and the blinding bright light — the experiment is about to begin ….
Podcast: Play in new window | Download
Subscribe: RSS