The Changeling
---
Episodes about The Changeling :
Don't Read The Latin! Episode 62: Rock and Roll Horror!
[ 1:32:13 | 69.35 MB ]
Play in Popup
|
Download
Hello Don't Read the Latin fans!
Thank you for joining us for our latest episode ROCK AND ROLL HORROR! Where I promise not to call Stephen King an asshole but we will share at length all our favorite horror movies with a side of metal! This episode contains these guest stars: Jillian Venters of Gothic Charm School, Jeff Harris of Fanboy News Network, Handsome Boyfriend Jim of Fire When Ready, and last but absolutely not least, Rhias Hall of  The Villain Edit.
And like Lemmy said, "It's fast and it's aggressive and it's rebellious and their parents hate it, which has always been the mark of good rock and roll. If your parents don't like it, it's good."
DRtL Episode FIFTY: Our Top Fifty Favorite Horror Movies!
[ 1:17:30 | 70.95 MB ]
Play in Popup
|
Download
"Let's make this bullshit happen!"
" …. Is that going to be our new motto from now on? Actually, that might look good on stickers, now that I think about it."
So hey, check us out! Fifty episodes! That's kind of a lot! And to celebrate, we are counting down the TOP FIFTY HORROR MOVIES OF ALL TIME!
Okay, well, no. We're not going to pretend that we're being at all objective. What we're actually doing is our Our Top Fifty Favorite Horror Movies! You're actually getting more than fifty, because Jennifer and Michael have each brought their own lists, so listen in as they compare the movies they love the most. (Presented in chronological order, so as not to descend into complete chaos.) Just in time for you to figure out what you want to watch for Halloween!
All this and more, as Jen tells us about a recent unpleasant incident in a movie theater, a documentary on the murder of Kitty Genovese, and completely spoils the ending of "The Changeling!"
We also talk about movies we've seen recently, including Blair Witch. If you just want to skip directly ahead to the Top Fifty goodness, you will find it at the 27-minutes-and-15-seconds mark.
Hope you enjoy this one!
_____
Please rate our podcast on iTunes!
The more reviews and ratings we have, the easier it is for people to find us. If you'd like to hear another fifty episodes of Don't Read the Latin and would like to help us reach more people, please click here to rate our podcast on iTunes and leave your comments. It will only take a few minutes out of your day, but your feedback can make a huge difference to us. Thanks for everything, you guys.
DRtL Episode 32: The 70's, Baby!
[ 1:20:11 | 36.71 MB ]
Play in Popup
|
Download
Welcome to the latest, almost hilariously overdue episode of Don't Read the Latin, with your hosts, shiftless ne'er-do-well Michael Montoure and Magical Girl Jennifer Lovely! I know we keep saying this, but we will, hell-or-high-water, be going back to our normal bi-weekly schedule following this, even if someone has to die. (Not one of us, ideally. It'll be no one you know, don't worry.)
This time out, grab your bell-bottoms and your disco shoes, because we're going back to the 70's! Even though the 70's are not our favorite horror movie decade (that would be the 80's), you could make a strong claim that it was the best, with a high number of standout classics. Give it a listen and let us know what you think.
Recommended! As far as new movies go, there are two we've seen lately that are both super, super-fun, and we highly suggest you give these two a watch ASAP: Tales of Halloween and The Final Girls. Four thumbs up. (That's two from each of us.)
Don't Read the Latin! Episode Thirteen: Creepy Dolls!
[ 1:38:07 | 22.52 MB ]
Play in Popup
|
Download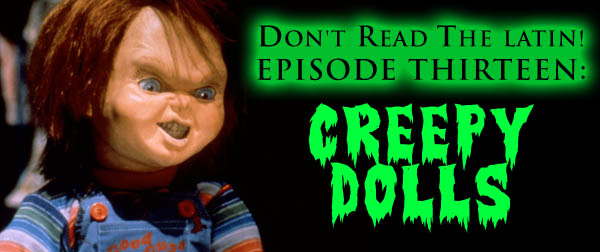 "That puppet he made – it fucking hates everybody and wants everybody to die. Good thing it's made entirely out of Nerf™."
Triskadekaphobiacs beware! This is our thirteenth episode! Spoooky!
Hopefully it won't be unlucky for you! It was a little unlucky for us, in that, for whatever reason, it took somewhat longer than normal to edit. (Around eight hours. Yes, really.) Which is why it didn't get posted last Friday. But it's finally here!
This time, we're talking about Creepy Dolls — everything from evil possessed dolls who will straight-up kill you, to simple inanimate objects someone has formed an unnatural attachment to, and everything in between.
---
Look At Our Shorts!
(Sorry, sorry. I'm twelve.) Here are the short films we mentioned over the course of the episode, for your viewing pleasure:
 Bonus Link!
All this and a bonus link? I know, we spoil you. Check out the radio dramas that Jennifer strongly recommended this episode: TALES FROM BEYOND THE PALE!
Don't Read the Latin! Episode Ten: It Happened On Halloween!
[ 1:14:16 | 17 MB ]
Play in Popup
|
Download
"Welcome to DRTL, the podcast that is not about Beastmaster."
It's October! It's October! That means that this whole next month is, effectively, Halloween. We got a little excited.
This time, we're talking about movies that take place on or around Halloween.  (Yes, including the original Halloween.) How many of them do you think you can watch this month?
Finally here's a …. a …. Call it a "bonus video." (It will make sense once you listen to the episode, honestly.)