The Gate
---
Episodes about The Gate :
Don't Read The Latin! Episode 62: Rock and Roll Horror!
[ 1:32:13 | 69.35 MB ]
Play in Popup
|
Download
Hello Don't Read the Latin fans!
Thank you for joining us for our latest episode ROCK AND ROLL HORROR! Where I promise not to call Stephen King an asshole but we will share at length all our favorite horror movies with a side of metal! This episode contains these guest stars: Jillian Venters of Gothic Charm School, Jeff Harris of Fanboy News Network, Handsome Boyfriend Jim of Fire When Ready, and last but absolutely not least, Rhias Hall of  The Villain Edit.
And like Lemmy said, "It's fast and it's aggressive and it's rebellious and their parents hate it, which has always been the mark of good rock and roll. If your parents don't like it, it's good."
DRtL Episode 31: The Kids Are Alright
[ 1:04:14 | 29.4 MB ]
Play in Popup
|
Download
Horror movies with kid heroes. It's a natural. How better to make an audience scared for your protagonist than to make him (or her) a young, vulnerable, innocent child? Throw in the "your parents will never believe you" trope, and you're set for some real scares. This episode, we salute the best child protagonists the horror genre has to offer.
Join Michael and Jennifer as they dissect the casting and plot direction of Hannibal's third season, play with an Angel puppet, talk about the Paul Stanley / Dee Snyder feud, and reveal the secret of how to get Jennifer's daughter to watch a movie that might be slightly scary. Listen in amazement as Michael fucks up immediately! (We talked about People Under the Stairs during the Wes Craven episode, not the Stephen King episode. Obviously.)
We apologize once more, I'm afraid, for the sound quality of this episode. We forgot to set up the powered USB port for the microphone, and therefore that "robots gargling underwater" background echo is back. Yay. Also you can hear traffic outside and Jennifer's cat meowing, although hopefully that last part is endearing. Anyway. We'll try to set things up a little better next time.
_______
Bonus Video
Here's a fan-made music video for the Scissor Sisters song Return to Oz that Michael mentioned:

_____
Bonus Tumblr Meme
For those who haven't seen it, here's the "Public Service Announcement" Michael mentions making on Tumblr, in a post that's received over 25,000 notes so far: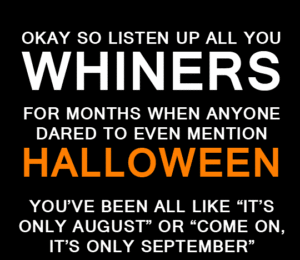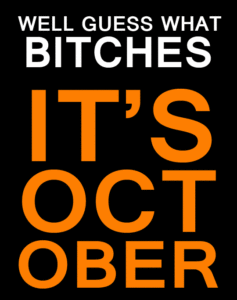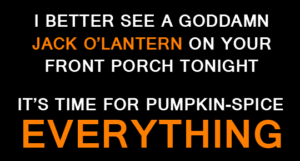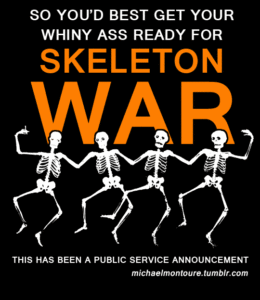 DRtL Episode 29: Wolf at the Door!
[ 1:46:52 | 48.92 MB ]
Play in Popup
|
Download
Jennifer Lovely was unable to make it to a recording session this week, since she is in the process of moving and is busy doing All the Things, so instead Michael Montoure is joined by horror movie aficionado Miranda Wolf! We've been meaning to have Miranda on the podcast for ages, and this seemed like a good time to do it.
We kind of flirt with the idea of having an overall theme for the episode, such as Slasher Movies, but it never quite happens. Join us as we talk instead about 80's slasher movies; Star Trek and Babylon 5 fans fighting in the streets; Montoure's literal scar from a science fiction convention; differences between the Hannibal TV series, books, and films; ideas for slasher movie role-playing games and the horror board game Betrayal at House on the Hill; puns about feet (so very, very many puns about feet); the literal and figurative horrors that are lurking within Miranda's Netflix queue; and so much more!