Posts Tagged 'The Resurrected'
With a punny title like that, I feel like the opening here should be, "Hello, kiddies, welcome to another episode of Tales From The Crypt Don't Read The Latin!"
This time, Jennifer Lovely and Rhias Hall are joined by Jillian Venters of Gothic Charm School to talk about their favorite books turned into movies. Spoiler: A fair number of them are vampire ones for some reason *cough*Jillian*cough*
And check out Rhias' and Jillian's podcast The Night Library for more book-related content!
(Note: the pun in the title wasn't me, for once. It was Rhias.)
Podcast: Play in new window | Download
Subscribe: RSS
A new episode appears! Your hostesses Jennifer and Rhias discuss horror with a religious bent. While we've done shows on the devil and exorcisms, this covers the general topic more broadly, hitting things like pagan religions and angels.
On a technical note, I'd like to apologize for the sound quality on this one, I hit the wrong switch on the mic so it's really crackly. I did the best I could, but it's definitely not my best work. However, without further ado, here's the picture of Rhias, Jillian Venters, and me, Handsome FIANCE Jim as we ride the Haunted Mansion all alone.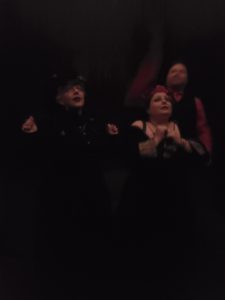 Podcast: Play in new window | Download
Subscribe: RSS