Posts Tagged 'Thinner'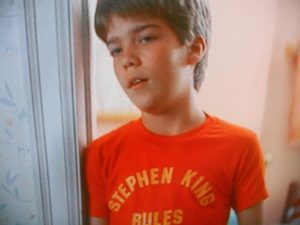 Hail to the King — namely, Stephen King, that household name of horror, the Maine Man himself! As any horror fan will tell you, Stephen King has had more than his fair share of movie adaptations, not all of them good. Well — maybe, most of them really not that good. But! We persevered here at DRtL, and dove right into our retrospective. We mostly remembered King's films as being fairly light, fun, popcorn movies — but join us as we realize how wrong we were, and just how many of the genuinely horrifying aspects of human nature are lurking under the surface of King's work, like a clown in a sewer.
Not to say we didn't have fun with the topic. See for yourself. Or, I guess, hear for yourself!
Podcast: Play in new window | Download
Subscribe: RSS
Welcome back — finally — to Don't Read the Latin! We're back after something like a solid month of not-podcasting, so let's see if we still remember how to do this! We would have had this episode done much sooner, but we were delayed by Michael's illness and then Jennifer's surgery, almost as if we were …. cursed. Hmmm.
Anyway! Join us as we wax rhapsodic about It Follows, visit Jen's Documentary Corner, and talk about the renaissance of excellent synthesizer-based horror soundtracks we've been getting lately. (And, not coincidentally, talk about Jen's love of collecting movie soundtracks on vinyl.)
_____
Music Bonus!
Here are a couple of links to the albums that Michael mentions this episode:
That second one is pay-what-you-want over at Bandcamp, so definitely check both of them out for retro synth-y goodness.
_____
Shout-Outs!
There are a couple of listeners we wanted to thank — first of all, thanks to commenter Kylie for her suggestion of Noroi: The Curse, which Michael watched based on her recommendation. Fun movie!
Secondly, many thanks to the listener who ran into Michael at Emerald City Comicon and told him this was her favorite podcast! Very, very cool. You made our month. (He didn't catch your name, though! Let us know who you are!)
Podcast: Play in new window | Download
Subscribe: RSS