Posts Tagged 'Ghostbusters II'
Welcome back! The whole gang is back — your hosts Michael Montoure and Jennifer Lovely and our guests Jillian Venters, Jeff Harris, and Handsome Boyfriend Jim — for part two of our special Ghostbusters episode! (Hopefully, this will be a less disappointing sequel than Ghostbusters II was.)
Last time, we talked about the original Ghostbusters films and the animated series — this time out, we're discussing the Xbox videogame and the 2016 reboot movie. And about the fanboys who came after the reboot with pitchforks and torches before the first trailer even came out. We've got some opinions. Hold on to your butts. (Yes, that's a Jurassic Park reference in a post about Ghostbusters. Sorry, purists.)
_____
Bonus Materials
Here's a photo of Jim's well-loved copy of the Ghostbusters table-top role-playing-game. (We're pretty sure we actually discussed the RPG last episode, but we forgot to post this picture then. Whooops.)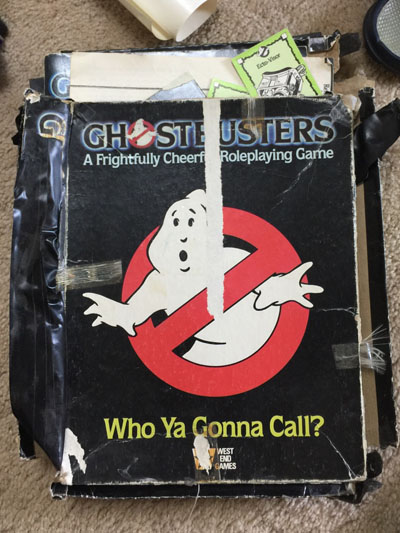 Finally, here's a screenshot of Montoure's Tumblr post that that went a little bit viral, and was partly the impetus for making this two-part episode in the first place:
Podcast: Play in new window | Download
Subscribe: RSS
"Peter Venkman has a lot to answer for in modern society."
Who ya gonna call?! Well — you can't call us, exactly, because this is all pre-recorded. (But you can always post comments at our website, and review us on iTunes!)
That's right, ghosts and ghoulies — Don't Read the Latin is back with a special two-part episode! For the first time in the entire history of ever, we're devoting an entire episode to a single franchise! We were so excited by the new Ghostbusters movie, we decided it was time to sit down with some of our favorite guests and talk about Ghostbusters in all media past and present.
Join your hosts Michael Montoure and Jennifer Lovely and our guests Jillian Venters, Jeff Harris, and Handsome Boyfriend Jim for a look at the original films and the animated series! (But first, a discussion of the horror movies we've seen lately! If you just want to skip ahead to the Ghostbusters content, it starts at the 24 minute, 27 second mark.)
Then join us in two weeks for Part Two as we discuss the videogame and the 2016 reboot — and the Internet controversy it's spawned!
________
Bonus Features
Podcast: Play in new window | Download
Subscribe: RSS