Green Room
---
Episodes about Green Room :
Don't Read The Latin! Episode 62: Rock and Roll Horror!
[ 1:32:13 | 69.35 MB ]
Play in Popup
|
Download
Hello Don't Read the Latin fans!
Thank you for joining us for our latest episode ROCK AND ROLL HORROR! Where I promise not to call Stephen King an asshole but we will share at length all our favorite horror movies with a side of metal! This episode contains these guest stars: Jillian Venters of Gothic Charm School, Jeff Harris of Fanboy News Network, Handsome Boyfriend Jim of Fire When Ready, and last but absolutely not least, Rhias Hall of  The Villain Edit.
And like Lemmy said, "It's fast and it's aggressive and it's rebellious and their parents hate it, which has always been the mark of good rock and roll. If your parents don't like it, it's good."
Don't Read the Latin! Episode 54: Our 2016 Review!
[ 1:53:29 | 103.9 MB ]
Play in Popup
|
Download
Well, 2016 has certainly been a year that most of us will be glad to put behind us, but there were some pretty damn fine horror movies that came out this year, and we're here to talk about them! Join your hosts Michael Montoure and Jennifer Lovely and their special guests Handsome Boyfriend Jim, Jeff Harris, and Jillian Venters as we run down our top ten lists for the year! (Well — not everyone had a top ten list, strictly speaking. But you'll see what we mean when you hear the episode.)
This was kind of a strange year for horror, as we had several good solid movies but no real stand-outs, and no real fun thrill-rides. But still, there are some gems you might have missed, and we'll walk you through them.
Thanks for listening in 2016, and many many thanks to our listeners who have rated our podcast on iTunes and left reviews! The more reviews and ratings we have, the easier it is for people to find us. If you enjoy listening to Don't Read the Latin and you haven't rated us yet, please take a minute to do so to help us reach more people in 2017 and beyond. Happy New Year!
Don't Read the Latin Episode 53: Horror Anthologies!
[ 1:07:37 | 61.91 MB ]
Play in Popup
|
Download
Welcome back to Don't Read the Latin, as Michael and Jennifer delve into the world of Horror Anthologies — only to realize that they don't actually like them very much. But, as always, we accentuate the positive, and concentrate on talking about the ones we do like. So if you like your horror movies in bite-sized chunks, this is the episode for you!
We also end up talking about reboots, why we actually like them, and why they work so well on television. Check it out!
____
Bonus Video
Here's a great little animation sent to us by our Tumblr follower circa1891!
DRtL Episode 47: Ghostbusters! (Part One!)
[ 1:09:15 | 63.4 MB ]
Play in Popup
|
Download
"Peter Venkman has a lot to answer for in modern society."
Who ya gonna call?! Well — you can't call us, exactly, because this is all pre-recorded. (But you can always post comments at our website, and review us on iTunes!)
That's right, ghosts and ghoulies — Don't Read the Latin is back with a special two-part episode! For the first time in the entire history of ever, we're devoting an entire episode to a single franchise! We were so excited by the new Ghostbusters movie, we decided it was time to sit down with some of our favorite guests and talk about Ghostbusters in all media past and present.
Join your hosts Michael Montoure and Jennifer Lovely and our guests Jillian Venters, Jeff Harris, and Handsome Boyfriend Jim for a look at the original films and the animated series! (But first, a discussion of the horror movies we've seen lately! If you just want to skip ahead to the Ghostbusters content, it starts at the 24 minute, 27 second mark.)
Then join us in two weeks for Part Two as we discuss the videogame and the 2016 reboot — and the Internet controversy it's spawned!
________
Bonus Features
DRtL Episode 40: Southern Horror!
[ 1:19:04 | 72.39 MB ]
Play in Popup
|
Download
Welcome back, sugar — won't you set down for a spell? There you are, settle right in, bless your heart. Thank you so much for joining us for a little Southern hospitality as we sit by the fire and talk about Southern Horror!
We will also be talking about the related-but-slightly-separate Southern Gothic genre, which Tennessee Williams described as writing fiction that captures "an intuition, of an underlying dreadfulness in modern experience." Which is something we can all relate to, don't you think?
Join us as we break down our favorite horror films that take place deep in the American South, including some that could only tenuously be said to take place in the South, including one that we were just straight up completely wrong about. (Michael brings up The Others, which, in fact, takes place in freakin' England. DRtL regrets the error.)
_______
Bonus Features
Jennifer talks about her subscription to Horror Block, Nerd Block's horror box subscription that provides her with hand-selected toys, T-shirts, and more surprises every month. (We are not affiliated with this site — Jennifer is just a happy customer.) You can sign up for Horror Block here, if you are so inclined.
We mention "Mama," the original short film that Guillermo del Toro helped turn into a . . . well, sadly-inferior feature film. But the original hasn't lost any of its intensity. You can watch it here:
Michael makes fun of the "Look at me, I'm burning" line from Silent Hill, because — well, just watch:
Finally, courtesy of Jim Cartwright, we have this article that's right up our allery: Report: Leading Cause Of Death Still Venturing Beyond The Pines.
Standard Podcast
[ 1:09:09 | 63.31 MB ]
Play in Popup
|
Download
…. And once again after slightly too long a hiatus, we return once more with another episode of Don't Read the Latin!
This time out, we're talking about heroines in horror. Horror movies tend to have more female protagonists than practically any other genre, which is something we both love about them. At some point, we plan on having a Feminism in Horror episode where we'll delve into why we think that is and examine just how horror treats its female characters. But for now, we just want to talk about some scream queens we've known and loved, from our favorite classic final girls all the way to, well, The Final Girls. Give it a listen, tell your friends, and as always, we look forward to your comments.
DRtL Episode 36: What We Want To See In 2016!
[ 1:04:05 | 58.67 MB ]
Play in Popup
|
Download
Last episode, we took one last look at 2015, and this time out, we're looking ahead at the year to come, as we discuss new releases we're looking forward to (and some we're not.)
While we're at it, we also talk a little bit about what we'd like to see from horror movies in general, and we talk about other things we enjoyed in 2015 that didn't qualify for last episode's topic. Also, Jennifer talks about why she's not that crazy about Benedict Cumberbatch; Michael discusses his love of horror movies that clearly spell out a rigid set of rules, and oh so much more.
_____
Bonus Pictures
The Shirtless Jeff Goldblum mug that Michael bought Jennifer for Christmas, because he knows what she likes: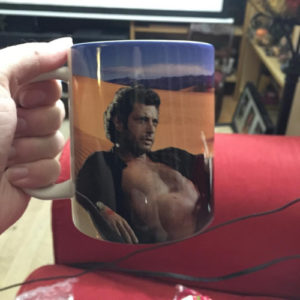 And some images from Over the Garden Wall: