Christine
---
Episodes about Christine :
Don't Read The Latin! Episode 62: Rock and Roll Horror!
[ 1:32:13 | 69.35 MB ]
Play in Popup
|
Download
Hello Don't Read the Latin fans!
Thank you for joining us for our latest episode ROCK AND ROLL HORROR! Where I promise not to call Stephen King an asshole but we will share at length all our favorite horror movies with a side of metal! This episode contains these guest stars: Jillian Venters of Gothic Charm School, Jeff Harris of Fanboy News Network, Handsome Boyfriend Jim of Fire When Ready, and last but absolutely not least, Rhias Hall of  The Villain Edit.
And like Lemmy said, "It's fast and it's aggressive and it's rebellious and their parents hate it, which has always been the mark of good rock and roll. If your parents don't like it, it's good."
DRtL Episode 43: John Carpenter!
[ 1:19:11 | 72.49 MB ]
Play in Popup
|
Download
Before you panic — no, he's not dead. I know, the last time we did an episode about the work of a single director was our Wes Craven Retrospective shortly after he passed, but this time we're just doing the episode because we just really, really like John Carpenter movies. Although not always the same ones! Listen to the episode to find out more.
We were partly inspired to do this episode by the John Carpenter Retrospective Tour, which will be in Seattle on June 14th! And may be coming soon to a city near you! Check out the tour page for details.
Standard Podcast
[ 1:19:20 | 36.31 MB ]
Play in Popup
|
Download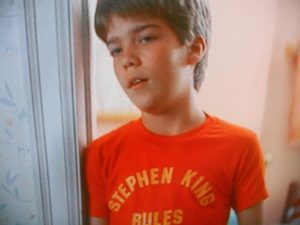 Hail to the King — namely, Stephen King, that household name of horror, the Maine Man himself! As any horror fan will tell you, Stephen King has had more than his fair share of movie adaptations, not all of them good. Well — maybe, most of them really not that good. But! We persevered here at DRtL, and dove right into our retrospective. We mostly remembered King's films as being fairly light, fun, popcorn movies — but join us as we realize how wrong we were, and just how many of the genuinely horrifying aspects of human nature are lurking under the surface of King's work, like a clown in a sewer.
Not to say we didn't have fun with the topic. See for yourself. Or, I guess, hear for yourself!