The Lords of Salem
---
Episodes about Lords of Salem :
Don't Read The Latin! Episode 61: Witches!
[ 1:21:23 | 82.26 MB ]
Play in Popup
|
Download
Welcome back! This episode marks a new, exciting time for Don't Read the Latin, as Michael Montoure has decided to step back from co-hosting for now as he has a lot on his plate at the moment. Jennifer Lovely is still happily here, though, discussing horror movies and her love of them, and each episode will have a rotating cast of co-hosts joining her. There will be many of the voices you've heard in previous episodes, and we can all look forward to some new ones joining the mix, too!
In this episode she is joined by Jillian Venters of Gothic Charm School (http://www.gothic-charm-school.com/) and they are discussing witches and witchcraft, although we know it's simply taboo!
Onward to an all-new era of Don't Read the Latin adventures!
DRtL Episode 36: What We Want To See In 2016!
[ 1:04:05 | 58.67 MB ]
Play in Popup
|
Download
Last episode, we took one last look at 2015, and this time out, we're looking ahead at the year to come, as we discuss new releases we're looking forward to (and some we're not.)
While we're at it, we also talk a little bit about what we'd like to see from horror movies in general, and we talk about other things we enjoyed in 2015 that didn't qualify for last episode's topic. Also, Jennifer talks about why she's not that crazy about Benedict Cumberbatch; Michael discusses his love of horror movies that clearly spell out a rigid set of rules, and oh so much more.
_____
Bonus Pictures
The Shirtless Jeff Goldblum mug that Michael bought Jennifer for Christmas, because he knows what she likes: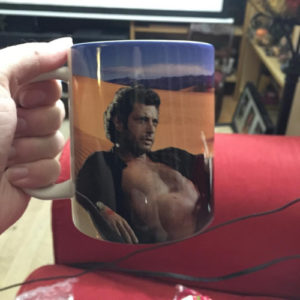 And some images from Over the Garden Wall:
DRtL Episode 22: Curses and Premonitions!
[ 1:14:02 | 33.89 MB ]
Play in Popup
|
Download
Welcome back — finally — to Don't Read the Latin! We're back after something like a solid month of not-podcasting, so let's see if we still remember how to do this! We would have had this episode done much sooner, but we were delayed by Michael's illness and then Jennifer's surgery, almost as if we were …. cursed. Hmmm.
Anyway! Join us as we wax rhapsodic about It Follows, visit Jen's Documentary Corner, and talk about the renaissance of excellent synthesizer-based horror soundtracks we've been getting lately. (And, not coincidentally, talk about Jen's love of collecting movie soundtracks on vinyl.)
_____
Music Bonus!
Here are a couple of links to the albums that Michael mentions this episode:
That second one is pay-what-you-want over at Bandcamp, so definitely check both of them out for retro synth-y goodness.
_____
Shout-Outs!
There are a couple of listeners we wanted to thank — first of all, thanks to commenter Kylie for her suggestion of Noroi: The Curse, which Michael watched based on her recommendation. Fun movie!
Secondly, many thanks to the listener who ran into Michael at Emerald City Comicon and told him this was her favorite podcast! Very, very cool. You made our month. (He didn't catch your name, though! Let us know who you are!)