Posts Tagged 'Alice Sweet Alice'
A new episode appears! Your hostesses Jennifer and Rhias discuss horror with a religious bent. While we've done shows on the devil and exorcisms, this covers the general topic more broadly, hitting things like pagan religions and angels.
On a technical note, I'd like to apologize for the sound quality on this one, I hit the wrong switch on the mic so it's really crackly. I did the best I could, but it's definitely not my best work. However, without further ado, here's the picture of Rhias, Jillian Venters, and me, Handsome FIANCE Jim as we ride the Haunted Mansion all alone.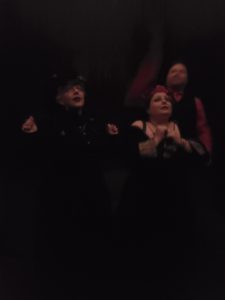 Podcast: Play in new window | Download
Subscribe: RSS
Welcome to the latest, almost hilariously overdue episode of Don't Read the Latin, with your hosts, shiftless ne'er-do-well Michael Montoure and Magical Girl Jennifer Lovely! I know we keep saying this, but we will, hell-or-high-water, be going back to our normal bi-weekly schedule following this, even if someone has to die. (Not one of us, ideally. It'll be no one you know, don't worry.)
This time out, grab your bell-bottoms and your disco shoes, because we're going back to the 70's! Even though the 70's are not our favorite horror movie decade (that would be the 80's), you could make a strong claim that it was the best, with a high number of standout classics. Give it a listen and let us know what you think.
Recommended! As far as new movies go, there are two we've seen lately that are both super, super-fun, and we highly suggest you give these two a watch ASAP: Tales of Halloween and The Final Girls. Four thumbs up. (That's two from each of us.)
Podcast: Play in new window | Download
Subscribe: RSS