Nosferatu
---
Episodes about Nosferatu :
Don't Read the Latin! Episode 60: Horror Movies 101!
[ 1:21:58 | 75.05 MB ]
Play in Popup
|
Download
If you're a regular listener of Don't Read the Latin, you're probably pretty well versed in horror movies — you know your classics backwards and forwards. But if you're a new listener, or if you have friends you would like to help get into horror, then we've got you covered with our latest episode — Horror Movies 101! Your horror hosts Jennifer Lovely and Michael Montoure walk you through the most significant movies in horror history to give you a solid grounding in all the basics. Check it out and let us know what you think! And be sure to let us know if there's anything you think we missed!
Don't Read the Latin! Episode 52: The Monstrous Feminine!
[ 1:46:21 | 97.37 MB ]
Play in Popup
|
Download
Welcome back! Joining us for another episode of Don't Read the Latin is Jillian Venters from Gothic Charm School! This time, in the wake of election results that are arguably more terrifying than any movie we've ever discussed, we decided to get our feminist rant on and sat down to talk about The Monstrous Feminine — the idea of women as monsters in horror movies and pop culture.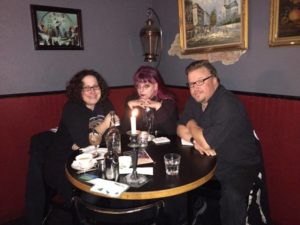 Along the way, we discuss Gothic romance novels, Halloween Horror Nights at Universal Studios, the role that Mad Max: Fury Road played in the beginning of Jen's relationship with Handsome Boyfriend Jim, and we wonder why the hell Marvel keeps burying pretty actors under way too much prosthetic makeup, and we wrap it all up with the topic of older women having a voice and taking up space in our society. We don't necessarily do a great job of sticking rigidly to our topic in this episode, but we sure hope you'll think it's an interesting conversation. Check it out.
_____
Bibliography
Books we mention in this episode:
_____
Mister Babadook
As mentioned in this episode, Jen's copy of the crowdfunded prop replica/movie tie-in book from The Babadook has finally arrived! Here are some pictures of just how gorgeous it is. Click to embiggen:
DRtL Episode 32: The 70's, Baby!
[ 1:20:11 | 36.71 MB ]
Play in Popup
|
Download
Welcome to the latest, almost hilariously overdue episode of Don't Read the Latin, with your hosts, shiftless ne'er-do-well Michael Montoure and Magical Girl Jennifer Lovely! I know we keep saying this, but we will, hell-or-high-water, be going back to our normal bi-weekly schedule following this, even if someone has to die. (Not one of us, ideally. It'll be no one you know, don't worry.)
This time out, grab your bell-bottoms and your disco shoes, because we're going back to the 70's! Even though the 70's are not our favorite horror movie decade (that would be the 80's), you could make a strong claim that it was the best, with a high number of standout classics. Give it a listen and let us know what you think.
Recommended! As far as new movies go, there are two we've seen lately that are both super, super-fun, and we highly suggest you give these two a watch ASAP: Tales of Halloween and The Final Girls. Four thumbs up. (That's two from each of us.)
DRTL Episode 12: Vampires!
[ 1:27:35 | 20.11 MB ]
Play in Popup
|
Download
Oh my God, you guys, you guys — Halloween is coming!
Or at least, it was when we recorded this episode, but now it's November 1st. A little anticlimactic, we realize.
This time out, we discuss those bloodsucking fiends, those children of the night, those stalwart standbys of the Halloween silver screen: vampires! From the good, the bad, to the ridiculous, we discuss all the vampires we have known and loved.