Posts Tagged 'Beauty and the Beast'
It's that time again, and Jennifer and Rhias are joined by Lisa (from the Noir! episode), and Jillian Venters of Gothic Charm School to talk about fairy tales: their horrifying origins, the stories of women they contain, and the movies that hold those things close to their celluloid hearts. Join them as they rip those hearts out and feast, including a few movies that you might not have thought of as fairy tales, then wind down with them as they discuss their own childhood stories and movies.
Handsome Boyfriend Jim note: At no point in this episode do they even mention "Hansel and Gretel: Witch Hunters" which I think is criminal, and Jen thinks I'm criminally tasteless for loving as much as I do. But I write these blurbs, so Hansel and Gretel gets its time in the sun!
Podcast: Play in new window | Download
Subscribe: RSS
If you're a regular listener of Don't Read the Latin, you're probably pretty well versed in horror movies — you know your classics backwards and forwards. But if you're a new listener, or if you have friends you would like to help get into horror, then we've got you covered with our latest episode — Horror Movies 101! Your horror hosts Jennifer Lovely and Michael Montoure walk you through the most significant movies in horror history to give you a solid grounding in all the basics. Check it out and let us know what you think! And be sure to let us know if there's anything you think we missed!
Podcast: Play in new window | Download
Subscribe: RSS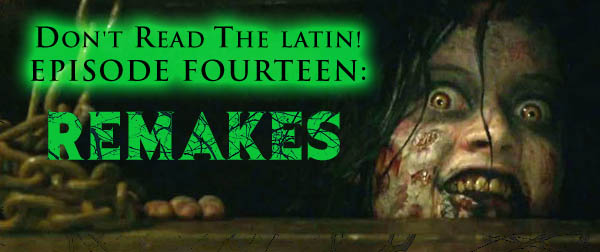 Whether you love them or hate them, the horror remake is here to stay. (Hollywood loves to feast on its own dead.) Join Jennifer and Michael as they delve into the best, the worst, and the most completely pointless.
Podcast: Play in new window | Download
Subscribe: RSS