Starry Eyes
---
Episodes about Starry Eyes :
Don't Read The Latin! Episode 61: Witches!
[ 1:21:23 | 82.26 MB ]
Play in Popup
|
Download
Welcome back! This episode marks a new, exciting time for Don't Read the Latin, as Michael Montoure has decided to step back from co-hosting for now as he has a lot on his plate at the moment. Jennifer Lovely is still happily here, though, discussing horror movies and her love of them, and each episode will have a rotating cast of co-hosts joining her. There will be many of the voices you've heard in previous episodes, and we can all look forward to some new ones joining the mix, too!
In this episode she is joined by Jillian Venters of Gothic Charm School (http://www.gothic-charm-school.com/) and they are discussing witches and witchcraft, although we know it's simply taboo!
Onward to an all-new era of Don't Read the Latin adventures!
DRtL Episode 55: Back From The Dead!
[ 56:38 | 51.85 MB ]
Play in Popup
|
Download
Hello, horror fiends! Did you have a good New Year's? And, uhhh, a good Martin Luther King Jr. Day, Chinese New Year, Groundhog Day, Valentine's Day, and Mardi Gras — ? So, yeah, it's been a little while since our last episode, is what we're saying, here. Between Michael being out of town a lot, and Jen losing her job, her house, and then her Grandmother in rapid succession, there's been a hell of a lot of so-called "real life" cutting into our podcasting time.
But now we're Back From The Dead, and what better way to celebrate that than with an episode about horror movies where people return from the grave? We're not talking ghosts, or vampires, or zombies — we'vddde done episodes on all of those already. We're talking all the other revenants of every type and description.
Along the way, we talk about Letterboxd, a site for keeping track of the movies you watch; the late, lamented iMDB message boards; the critical role of politics in the horror genre; and the online horror movie offerings of services like Shudder and Fandor. All that and more is waiting for you in the latest episode, so stuff it into your eager brainmeats, let us know what you think in the comments, and as always, be sure to rate and review us on iTunes to let your fellow horror fans know we're worth checking out. It's great to be back — thanks for listening, and we will be back in two weeks.
DRtL Episode FIFTY: Our Top Fifty Favorite Horror Movies!
[ 1:17:30 | 70.95 MB ]
Play in Popup
|
Download
"Let's make this bullshit happen!"
" …. Is that going to be our new motto from now on? Actually, that might look good on stickers, now that I think about it."
So hey, check us out! Fifty episodes! That's kind of a lot! And to celebrate, we are counting down the TOP FIFTY HORROR MOVIES OF ALL TIME!
Okay, well, no. We're not going to pretend that we're being at all objective. What we're actually doing is our Our Top Fifty Favorite Horror Movies! You're actually getting more than fifty, because Jennifer and Michael have each brought their own lists, so listen in as they compare the movies they love the most. (Presented in chronological order, so as not to descend into complete chaos.) Just in time for you to figure out what you want to watch for Halloween!
All this and more, as Jen tells us about a recent unpleasant incident in a movie theater, a documentary on the murder of Kitty Genovese, and completely spoils the ending of "The Changeling!"
We also talk about movies we've seen recently, including Blair Witch. If you just want to skip directly ahead to the Top Fifty goodness, you will find it at the 27-minutes-and-15-seconds mark.
Hope you enjoy this one!
_____
Please rate our podcast on iTunes!
The more reviews and ratings we have, the easier it is for people to find us. If you'd like to hear another fifty episodes of Don't Read the Latin and would like to help us reach more people, please click here to rate our podcast on iTunes and leave your comments. It will only take a few minutes out of your day, but your feedback can make a huge difference to us. Thanks for everything, you guys.
DRtL Episode 38: Horror Soundtracks!
[ 1:14:15 | 67.98 MB ]
Play in Popup
|
Download
Listen! What's that sound? Does that eerie pulsing synthesizer music mean that there's a killer lurking in the shadows? No — it's just the latest episode of Don't Read the Latin!
This time out, we're talking about horror soundtracks and scores that we love — even when they're from films we don't.
Montoure goes all film-school on us and starts talking about diegetic vs. non-diegetic music, Jennifer carefully side-steps around the subject of a mysterious competition in her youth, and so much more!
—
Stuff We Mentioned
At one point, Montoure mentions that the film He Never Died (he couldn't remember the title at the time, but that's the one) reminded him of a novel called Sandman Slim, by Richard Kadrey, so here's a link to that book on Amazon. (Or click on the cover image, here, if you're more visually inclined.) It's a fun read and you should check it out!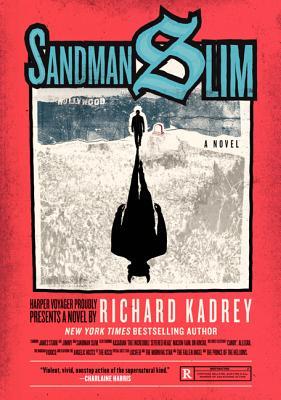 He also mentioned the unused soundtrack for Hellraiser by the band Coil, and said that the whole thing was probably on YouTube. It is! You can give it a listen here. It's very different from the soundtrack that actually got used!
And finally, he also also mentioned a haunting little comic by Ehud Lavski about a mysterious radio station. He reblogged that one on his Tumblr. You can click on the thumbnail below to read the whole comic.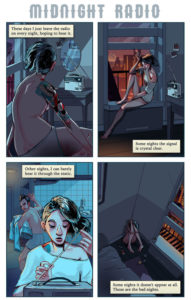 DRTL 027: Movies You May Have Missed!
[ 1:23:38 | 38.29 MB ]
Play in Popup
|
Download
Welcome back, fiends! This time, your horror hosts are taking a look back at the last ten years of horror films and trying to bring to light the movies that may have flown under your radar when they were released. A lot of top-notch recommendations this episode.
We're posting this slightly later in the day than usual due to some audio issues that we weren't quite able to completely resolve, so we apologize for the sound quality on this one. There's kind of a background echo to it all that sounds a little like robots gargling underwater, and it was present in the original recording, so we're going to be looking into improving our microphone setup in future. Hope it's not too distracting.
Questions, comments, things you'd like to hear in future episodes? Let us know! We'd love to read your feedback on the show. And as always, don't forget to share, reblog, rate us on iTunes, or just kidnap people off the street and force them to listen to the podcast while tied up in your basement. Enjoy!
Don't Read the Latin! Episode Sixteen: 2014 - The Year in Horror
[ 1:57:06 | 26.86 MB ]
Play in Popup
|
Download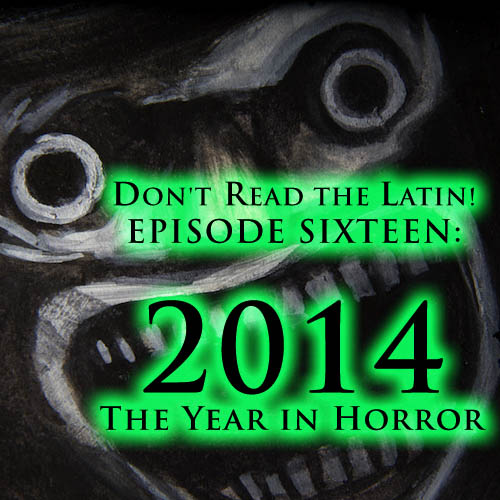 Happy New Year! 2014 was a great year for horror — if you were willing to dig for it. While there were only a mere handful of big studio releases — and they were uniformly disappointing — there were a lot of fantastic indie films out there, which generally received limited theatrical releases, assuming they didn't go straight to Netflix or VOD.
Jennifer and Michael walk you through the best this past year had to offer, with special guests Jeff Harris from Fanboy News Network and Jillian Venters from Gothic Charm School. Let us know what you think, and tell us if there are any gems we missed.
(We also recorded the "Geek Culture Review Of 2014″ episode of Fanboy News Network that day, in one long epic podcasting session. You should definitely check that out, too!)
Standard Podcast
[ 1:42:22 | 23.49 MB ]
Play in Popup
|
Download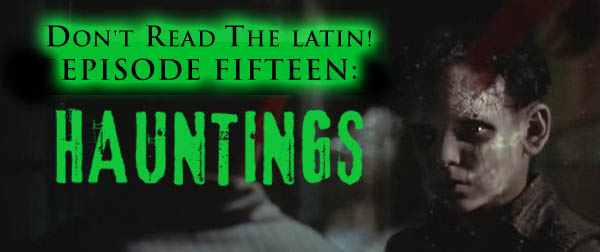 It's almost Christmas, and you know what that means — ghost stories! (Well, according to Charles Dickens, anyway.)
We already covered Haunted Houses back in Episode Nine, but this time we're getting out of the house and exploring haunted apartment buildings, orphanages, and more! Remember, kids, ghosts can strike anywhere at any time. Happy Holidays!
Standard Podcast
[ 1:44:29 | 23.98 MB ]
Play in Popup
|
Download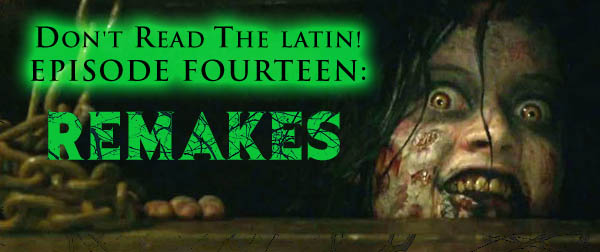 Whether you love them or hate them, the horror remake is here to stay. (Hollywood loves to feast on its own dead.) Join Jennifer and Michael as they delve into the best, the worst, and the most completely pointless.
Don't Read the Latin! Episode Thirteen: Creepy Dolls!
[ 1:38:07 | 22.52 MB ]
Play in Popup
|
Download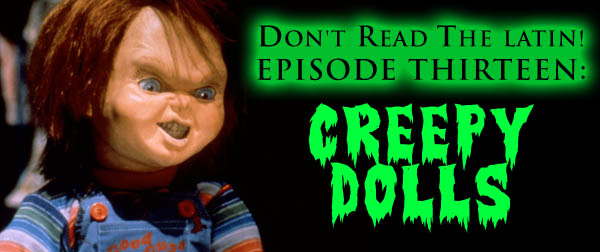 "That puppet he made – it fucking hates everybody and wants everybody to die. Good thing it's made entirely out of Nerf™."
Triskadekaphobiacs beware! This is our thirteenth episode! Spoooky!
Hopefully it won't be unlucky for you! It was a little unlucky for us, in that, for whatever reason, it took somewhat longer than normal to edit. (Around eight hours. Yes, really.) Which is why it didn't get posted last Friday. But it's finally here!
This time, we're talking about Creepy Dolls — everything from evil possessed dolls who will straight-up kill you, to simple inanimate objects someone has formed an unnatural attachment to, and everything in between.
---
Look At Our Shorts!
(Sorry, sorry. I'm twelve.) Here are the short films we mentioned over the course of the episode, for your viewing pleasure:
 Bonus Link!
All this and a bonus link? I know, we spoil you. Check out the radio dramas that Jennifer strongly recommended this episode: TALES FROM BEYOND THE PALE!