Posts Tagged 'Friday the 13th'
Hey there, and welcome back to Don't Read the Latin! We hope you're all safe and taking care of yourselves mentally and physically in these trying times.
This marks the first of our new direction where the guests rotate and we dive into what movie introduced them to horror, and which modern one reinforced that love. In this inaugural episode, Jen is joined by City of Geek and Ghoulish Tendencies co-host Kim Douthit for a discussion on feminism in horror, abuse, and… cat butts. No, really. Plus Maggie the podcat!
Black lives matter.
Podcast: Play in new window | Download
Subscribe: RSS
Jennifer Lovely was unable to make it to a recording session this week, since she is in the process of moving and is busy doing All the Things, so instead Michael Montoure is joined by horror movie aficionado Miranda Wolf! We've been meaning to have Miranda on the podcast for ages, and this seemed like a good time to do it.
We kind of flirt with the idea of having an overall theme for the episode, such as Slasher Movies, but it never quite happens. Join us as we talk instead about 80's slasher movies; Star Trek and Babylon 5 fans fighting in the streets; Montoure's literal scar from a science fiction convention; differences between the Hannibal TV series, books, and films; ideas for slasher movie role-playing games and the horror board game Betrayal at House on the Hill; puns about feet (so very, very many puns about feet); the literal and figurative horrors that are lurking within Miranda's Netflix queue; and so much more!
Podcast: Play in new window | Download
Subscribe: RSS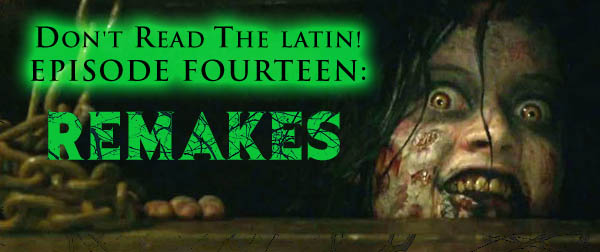 Whether you love them or hate them, the horror remake is here to stay. (Hollywood loves to feast on its own dead.) Join Jennifer and Michael as they delve into the best, the worst, and the most completely pointless.
Podcast: Play in new window | Download
Subscribe: RSS