Archive for November, 2014: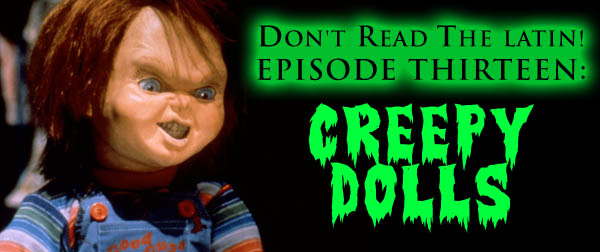 "That puppet he made – it fucking hates everybody and wants everybody to die. Good thing it's made entirely out of Nerf™."
Triskadekaphobiacs beware! This is our thirteenth episode! Spoooky!
Hopefully it won't be unlucky for you! It was a little unlucky for us, in that, for whatever reason, it took somewhat longer than normal to edit. (Around eight hours. Yes, really.) Which is why it didn't get posted last Friday. But it's finally here!
This time, we're talking about Creepy Dolls — everything from evil possessed dolls who will straight-up kill you, to simple inanimate objects someone has formed an unnatural attachment to, and everything in between.
---
Look At Our Shorts!
(Sorry, sorry. I'm twelve.) Here are the short films we mentioned over the course of the episode, for your viewing pleasure:
Bonus Link!
All this and a bonus link? I know, we spoil you. Check out the radio dramas that Jennifer strongly recommended this episode: TALES FROM BEYOND THE PALE!
Podcast: Play in new window | Download
Subscribe: RSS
Oh my God, you guys, you guys — Halloween is coming!
Or at least, it was when we recorded this episode, but now it's November 1st. A little anticlimactic, we realize.
This time out, we discuss those bloodsucking fiends, those children of the night, those stalwart standbys of the Halloween silver screen: vampires! From the good, the bad, to the ridiculous, we discuss all the vampires we have known and loved.
Podcast: Play in new window | Download
Subscribe: RSS