Posts Tagged 'The Call of Cthulhu'
With a punny title like that, I feel like the opening here should be, "Hello, kiddies, welcome to another episode of Tales From The Crypt Don't Read The Latin!"
This time, Jennifer Lovely and Rhias Hall are joined by Jillian Venters of Gothic Charm School to talk about their favorite books turned into movies. Spoiler: A fair number of them are vampire ones for some reason *cough*Jillian*cough*
And check out Rhias' and Jillian's podcast The Night Library for more book-related content!
(Note: the pun in the title wasn't me, for once. It was Rhias.)
Podcast: Play in new window | Download
Subscribe: RSS
Hey, Don't Read the Latin listeners, it's time for another episode, and this one's done in black and white. Maybe some grays and sepia, too.
This week's co-host is returning favorite Rhias Hall of The Villain Edit, and she and Jennifer drink habanero cider and talk classic colorless cinema they love. Enjoy!
Podcast: Play in new window | Download
Subscribe: RSS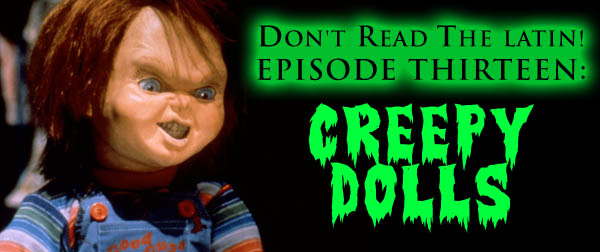 "That puppet he made – it fucking hates everybody and wants everybody to die. Good thing it's made entirely out of Nerf™."
Triskadekaphobiacs beware! This is our thirteenth episode! Spoooky!
Hopefully it won't be unlucky for you! It was a little unlucky for us, in that, for whatever reason, it took somewhat longer than normal to edit. (Around eight hours. Yes, really.) Which is why it didn't get posted last Friday. But it's finally here!
This time, we're talking about Creepy Dolls — everything from evil possessed dolls who will straight-up kill you, to simple inanimate objects someone has formed an unnatural attachment to, and everything in between.
---
Look At Our Shorts!
(Sorry, sorry. I'm twelve.) Here are the short films we mentioned over the course of the episode, for your viewing pleasure:
Bonus Link!
All this and a bonus link? I know, we spoil you. Check out the radio dramas that Jennifer strongly recommended this episode: TALES FROM BEYOND THE PALE!
Podcast: Play in new window | Download
Subscribe: RSS