Psycho
---
Episodes about Psycho :
Don't Read the Latin! Episode 60: Horror Movies 101!
[ 1:21:58 | 75.05 MB ]
Play in Popup
|
Download
If you're a regular listener of Don't Read the Latin, you're probably pretty well versed in horror movies — you know your classics backwards and forwards. But if you're a new listener, or if you have friends you would like to help get into horror, then we've got you covered with our latest episode — Horror Movies 101! Your horror hosts Jennifer Lovely and Michael Montoure walk you through the most significant movies in horror history to give you a solid grounding in all the basics. Check it out and let us know what you think! And be sure to let us know if there's anything you think we missed!
Standard Podcast
[ 1:22:10 | 75.22 MB ]
Play in Popup
|
Download
"I've never seen the 50's Vincent Price version . . . or, now that I stop to think about it, I don't think I've seen the 60's version, either . . . and I'm not sure I saw I Am Legend . . . . "
"Oh, my God — move on!"
Welcome to our only slightly late episode! This time, we're exploring that strange territory where the silver screen and your local bookstore collide. That's right, this episode is all about horror movies based on books! Bad movies based on good novels, good movies based on bad novels, and everything in between. Did we miss any of your favorites? Let us know!
Worthy of Note: Hopefully you will notice a big improvement in the sound quality over previous episodes. We're trying a totally new audio set-up, and we think it sounds a lot better. Let us know what you think of that, too. We're still experimenting and learning, and after two years of doing this, we're finally making a little progress! Eventually, we catch on.
Speaking of which, also Worthy of Note — we've missed it by just a few days, but May 9th was the second anniversary of our very first episode! I know, we can't believe it, either! For those who have been with us from the beginning, thank you so much for listening and for your comments and support, and for telling your friends about us. For those of you just joining — welcome! Grab some popcorn and settle in, because we're not going to stop watching horror movies any time soon. See you in two weeks!
DRtL Episode 38: Horror Soundtracks!
[ 1:14:15 | 67.98 MB ]
Play in Popup
|
Download
Listen! What's that sound? Does that eerie pulsing synthesizer music mean that there's a killer lurking in the shadows? No — it's just the latest episode of Don't Read the Latin!
This time out, we're talking about horror soundtracks and scores that we love — even when they're from films we don't.
Montoure goes all film-school on us and starts talking about diegetic vs. non-diegetic music, Jennifer carefully side-steps around the subject of a mysterious competition in her youth, and so much more!
—
Stuff We Mentioned
At one point, Montoure mentions that the film He Never Died (he couldn't remember the title at the time, but that's the one) reminded him of a novel called Sandman Slim, by Richard Kadrey, so here's a link to that book on Amazon. (Or click on the cover image, here, if you're more visually inclined.) It's a fun read and you should check it out!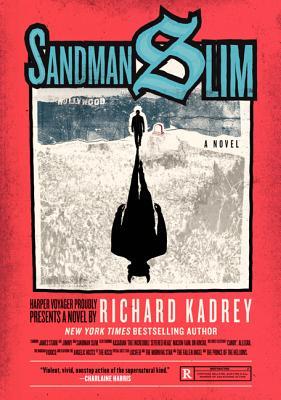 He also mentioned the unused soundtrack for Hellraiser by the band Coil, and said that the whole thing was probably on YouTube. It is! You can give it a listen here. It's very different from the soundtrack that actually got used!
And finally, he also also mentioned a haunting little comic by Ehud Lavski about a mysterious radio station. He reblogged that one on his Tumblr. You can click on the thumbnail below to read the whole comic.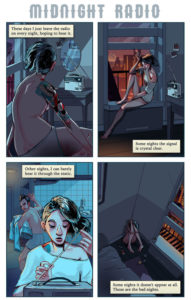 Standard Podcast
[ 1:44:29 | 23.98 MB ]
Play in Popup
|
Download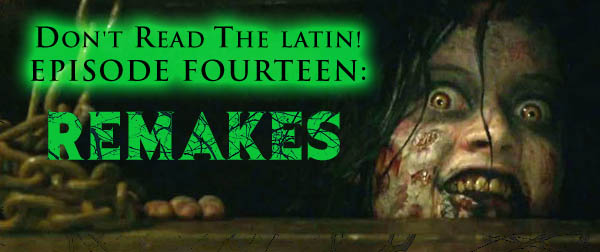 Whether you love them or hate them, the horror remake is here to stay. (Hollywood loves to feast on its own dead.) Join Jennifer and Michael as they delve into the best, the worst, and the most completely pointless.
Don't Read the Latin! Episode Thirteen: Creepy Dolls!
[ 1:38:07 | 22.52 MB ]
Play in Popup
|
Download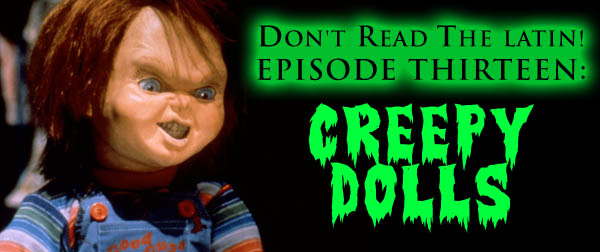 "That puppet he made – it fucking hates everybody and wants everybody to die. Good thing it's made entirely out of Nerf™."
Triskadekaphobiacs beware! This is our thirteenth episode! Spoooky!
Hopefully it won't be unlucky for you! It was a little unlucky for us, in that, for whatever reason, it took somewhat longer than normal to edit. (Around eight hours. Yes, really.) Which is why it didn't get posted last Friday. But it's finally here!
This time, we're talking about Creepy Dolls — everything from evil possessed dolls who will straight-up kill you, to simple inanimate objects someone has formed an unnatural attachment to, and everything in between.
---
Look At Our Shorts!
(Sorry, sorry. I'm twelve.) Here are the short films we mentioned over the course of the episode, for your viewing pleasure:
 Bonus Link!
All this and a bonus link? I know, we spoil you. Check out the radio dramas that Jennifer strongly recommended this episode: TALES FROM BEYOND THE PALE!
DRTL 002: What Is Horror, Anyway?
[ 1:15:52 | 34.79 MB ]
Play in Popup
|
Download
"Does everything fail to be a horror movie? Oh my God, nothing's actually horror!"
"Why do we even have this podcast — ? All right, folks, that's it, there's not going to be an episode three …."
_______
Welcome back to our second episode, where we decide to tackle a highly subjective and ultimately completely unanswerable question! What is horror? Because we don't shy away from the hard topics! (We're not smart enough to yet.)
Join us as we talk about:
Watching color films in black and white
The War of the Worlds TV series
Bleak endings, and when they're earned
Rob Zombie's learning curve as a director
… And something about taking off a dirty dress — ?
Movies on the border between thrillers and horror, and Montoure takes a stab at defining the distinction between the two
Montoure tries to remember what movie a terrifying scene he remembers from his childhood could possibly be from
Jennifer has never read the Internet creepypasta short story "Candle Cove"
When the suck fairy comes to visit movies you used to love
movies that take a gleeful fun-house approach to their mayhem
Horror comedies
Horror movie theme ringtones
Movies based on real-life horrors
Why people don't help when faced with real-life horrors
What movies we're looking forward to