The Wolf Man
---
Episodes about The Wolf Man :
Don't Read the Latin! Episode 60: Horror Movies 101!
[ 1:21:58 | 75.05 MB ]
Play in Popup
|
Download
If you're a regular listener of Don't Read the Latin, you're probably pretty well versed in horror movies — you know your classics backwards and forwards. But if you're a new listener, or if you have friends you would like to help get into horror, then we've got you covered with our latest episode — Horror Movies 101! Your horror hosts Jennifer Lovely and Michael Montoure walk you through the most significant movies in horror history to give you a solid grounding in all the basics. Check it out and let us know what you think! And be sure to let us know if there's anything you think we missed!
DrTL Episode 23: Werewolves!
[ 1:26:13 | 39.47 MB ]
Play in Popup
|
Download
Welcome back, and thanks for listening to one whole year of Don't Read the Latin! It seems like only yesterday that Episode One was lovingly streamed straight to your trembling ears, but it was  way back on May 9th, 2014. So we're celebrating our podcast-iversary! Join us! Have some cake and ice cream!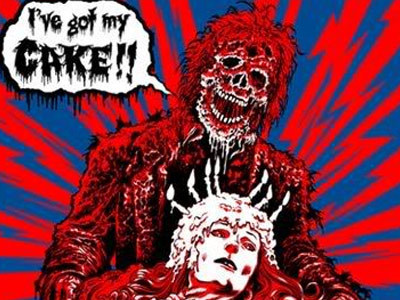 Ooookay, maybe — maybe just some ice cream.
Anyway! Yes! A new episode! We have one for you, and it didn't take a whole month this time! We are joined once again by Jeff Harris from Fanboy News Network, who practically insisted on coming along for the recording when he found out we were talking about werewolves, which turned out to be a good thing as Michael and Jennifer ended up realizing that, on the whole, they, uhhh, they don't really like werewolf movies that much. So, yeah.
But we still manage to have a good time with the subject, and Jennifer talks about rewatching The Walking Dead and about common werewolf tropes in urban fantasy, Michael tells us about a unique stage adaptation of Dr. Jekkyl and Mr. Hyde, Michael and Jeff talk about the history of werewolves in Marvel comics, and we wonder why more werewolf movies don't deal with pack dynamics.
In short, it's another fun episode, so press play above! Or download it. I mean, whatever you wanna do here. Knock yourself out.
DRtL Episode 22: Curses and Premonitions!
[ 1:14:02 | 33.89 MB ]
Play in Popup
|
Download
Welcome back — finally — to Don't Read the Latin! We're back after something like a solid month of not-podcasting, so let's see if we still remember how to do this! We would have had this episode done much sooner, but we were delayed by Michael's illness and then Jennifer's surgery, almost as if we were …. cursed. Hmmm.
Anyway! Join us as we wax rhapsodic about It Follows, visit Jen's Documentary Corner, and talk about the renaissance of excellent synthesizer-based horror soundtracks we've been getting lately. (And, not coincidentally, talk about Jen's love of collecting movie soundtracks on vinyl.)
_____
Music Bonus!
Here are a couple of links to the albums that Michael mentions this episode:
That second one is pay-what-you-want over at Bandcamp, so definitely check both of them out for retro synth-y goodness.
_____
Shout-Outs!
There are a couple of listeners we wanted to thank — first of all, thanks to commenter Kylie for her suggestion of Noroi: The Curse, which Michael watched based on her recommendation. Fun movie!
Secondly, many thanks to the listener who ran into Michael at Emerald City Comicon and told him this was her favorite podcast! Very, very cool. You made our month. (He didn't catch your name, though! Let us know who you are!)