The Exorcist
---
Episodes about The Exorcist :
Don't Read the Latin! Episode 60: Horror Movies 101!
[ 1:21:58 | 75.05 MB ]
Play in Popup
|
Download
If you're a regular listener of Don't Read the Latin, you're probably pretty well versed in horror movies — you know your classics backwards and forwards. But if you're a new listener, or if you have friends you would like to help get into horror, then we've got you covered with our latest episode — Horror Movies 101! Your horror hosts Jennifer Lovely and Michael Montoure walk you through the most significant movies in horror history to give you a solid grounding in all the basics. Check it out and let us know what you think! And be sure to let us know if there's anything you think we missed!
Don't Read the Latin! Episode 54: Our 2016 Review!
[ 1:53:29 | 103.9 MB ]
Play in Popup
|
Download
Well, 2016 has certainly been a year that most of us will be glad to put behind us, but there were some pretty damn fine horror movies that came out this year, and we're here to talk about them! Join your hosts Michael Montoure and Jennifer Lovely and their special guests Handsome Boyfriend Jim, Jeff Harris, and Jillian Venters as we run down our top ten lists for the year! (Well — not everyone had a top ten list, strictly speaking. But you'll see what we mean when you hear the episode.)
This was kind of a strange year for horror, as we had several good solid movies but no real stand-outs, and no real fun thrill-rides. But still, there are some gems you might have missed, and we'll walk you through them.
Thanks for listening in 2016, and many many thanks to our listeners who have rated our podcast on iTunes and left reviews! The more reviews and ratings we have, the easier it is for people to find us. If you enjoy listening to Don't Read the Latin and you haven't rated us yet, please take a minute to do so to help us reach more people in 2017 and beyond. Happy New Year!
Don't Read the Latin! Episode 52: The Monstrous Feminine!
[ 1:46:21 | 97.37 MB ]
Play in Popup
|
Download
Welcome back! Joining us for another episode of Don't Read the Latin is Jillian Venters from Gothic Charm School! This time, in the wake of election results that are arguably more terrifying than any movie we've ever discussed, we decided to get our feminist rant on and sat down to talk about The Monstrous Feminine — the idea of women as monsters in horror movies and pop culture.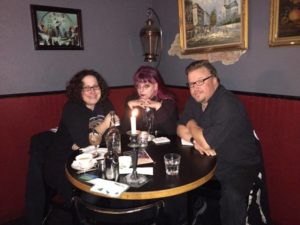 Along the way, we discuss Gothic romance novels, Halloween Horror Nights at Universal Studios, the role that Mad Max: Fury Road played in the beginning of Jen's relationship with Handsome Boyfriend Jim, and we wonder why the hell Marvel keeps burying pretty actors under way too much prosthetic makeup, and we wrap it all up with the topic of older women having a voice and taking up space in our society. We don't necessarily do a great job of sticking rigidly to our topic in this episode, but we sure hope you'll think it's an interesting conversation. Check it out.
_____
Bibliography
Books we mention in this episode:
_____
Mister Babadook
As mentioned in this episode, Jen's copy of the crowdfunded prop replica/movie tie-in book from The Babadook has finally arrived! Here are some pictures of just how gorgeous it is. Click to embiggen:
Standard Podcast
[ 1:07:41 | 61.97 MB ]
Play in Popup
|
Download
Happy Halloween, Latin Club! We're excited to get to bring you a new episode on our favorite holiday of the year. This time (ha! Get it?), we're talking about Time Loops and Time Travel! (And amazingly enough, Michael somehow gets through the entire episode without mentioning Doctor Who even once!) Also, Jen talks about taking the Scarecrow Video Psychotronic Challenge, and about Shudder, the curated Amazon Video horror-movie channel!
Spoiler Warnings — Usually, we try not to give away crucial plot elements of the movies we discuss on DRtL, but that was a little tricky with this episode — since with a lot of the films we mention here, the very fact that the plot does involve time-travel shenanigans is actually meant to be a surprise. So if you are particularly spoiler-sensitive, you might want to skip this episode, and you maybe shouldn't even look at the tags on the blog post. Sorry!
Alternately, if you encounter any spoilers you wish you hadn't heard — just go back in time and warn yourself not to listen! Problem solved.
(Looking for something a little more seasonally-themed? Hop in our time machine and travel all the way back to 2014's Episode 10: It Happened on Halloween! for an episode that's all about movies set on or around Halloween!)
_______
Please rate our podcast on iTunes!
The more reviews and ratings we have, the easier it is for people to find us. If you enjoy  listening to Don't Read the Latin and would like to help us reach more people, please click here to rate our podcast on iTunes and leave your comments. It will only take a few minutes out of your day, but your feedback can make a huge difference to us. Thanks for everything, and we hope you get nothing but the very best full-size candy bars in your trick-or-treat bags this year.