Posts Tagged 'The Conjuring 2'
After some minor technical difficulties, we are back, and this time around your hosts Rhias Hall and Jennifer Lovely talk about the movies they know are bad (or at least other people think they are), but love them anyway.
And as a side note, I, Handsome Fiance Jim, think that the Howling werewolves were terrifying with their too-long, weirdly jointed fingers, and that the Brendan Fraser Mummy was the bomb; it totally buckled my swash.
Podcast: Play in new window | Download
Well, 2016 has certainly been a year that most of us will be glad to put behind us, but there were some pretty damn fine horror movies that came out this year, and we're here to talk about them! Join your hosts Michael Montoure and Jennifer Lovely and their special guests Handsome Boyfriend Jim, Jeff Harris, and Jillian Venters as we run down our top ten lists for the year! (Well — not everyone had a top ten list, strictly speaking. But you'll see what we mean when you hear the episode.)
This was kind of a strange year for horror, as we had several good solid movies but no real stand-outs, and no real fun thrill-rides. But still, there are some gems you might have missed, and we'll walk you through them.
Thanks for listening in 2016, and many many thanks to our listeners who have rated our podcast on iTunes and left reviews! The more reviews and ratings we have, the easier it is for people to find us. If you enjoy listening to Don't Read the Latin and you haven't rated us yet, please take a minute to do so to help us reach more people in 2017 and beyond. Happy New Year!
Podcast: Play in new window | Download
Last episode, we took one last look at 2015, and this time out, we're looking ahead at the year to come, as we discuss new releases we're looking forward to (and some we're not.)
While we're at it, we also talk a little bit about what we'd like to see from horror movies in general, and we talk about other things we enjoyed in 2015 that didn't qualify for last episode's topic. Also, Jennifer talks about why she's not that crazy about Benedict Cumberbatch; Michael discusses his love of horror movies that clearly spell out a rigid set of rules, and oh so much more.
_____
Bonus Pictures
The Shirtless Jeff Goldblum mug that Michael bought Jennifer for Christmas, because he knows what she likes: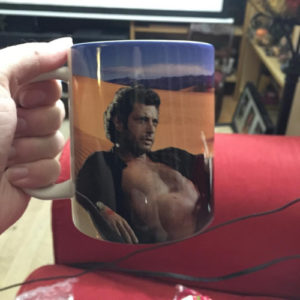 And some images from Over the Garden Wall:
Podcast: Play in new window | Download