Posts Tagged 'Josie and the Pussycats'
Last episode, we took one last look at 2015, and this time out, we're looking ahead at the year to come, as we discuss new releases we're looking forward to (and some we're not.)
While we're at it, we also talk a little bit about what we'd like to see from horror movies in general, and we talk about other things we enjoyed in 2015 that didn't qualify for last episode's topic. Also, Jennifer talks about why she's not that crazy about Benedict Cumberbatch; Michael discusses his love of horror movies that clearly spell out a rigid set of rules, and oh so much more.
_____
Bonus Pictures
The Shirtless Jeff Goldblum mug that Michael bought Jennifer for Christmas, because he knows what she likes: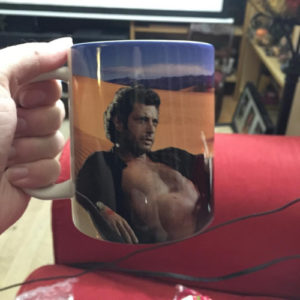 And some images from Over the Garden Wall:
Podcast: Play in new window | Download
Subscribe: RSS
You know what we're talking about — you're home for a sick day, or maybe you've just straight-up run out of fucks. In either case, it's time to crash on the couch with a pint of ice cream. Or maybe not — maybe it's just time to try to get something done around the house that you've been putting off, like tackling that mountain of laundry, and you just want a movie to put on that won't demand your full attention.
However it goes, you reach for a comfort movie — something you've already seen a zillion times, but just don't get tired of. The cinematic equivalent of comfort food. A big ol' audio-visual bowl of macaroni and cheese. Maybe with the emphasis on "cheese." (As such, this episode sometimes strays way, way far out of strict horror movie territory. We promise you'll be entertained anyway.)
We are joined this time by the always-charming Jillian Venters, the Lady of the Manners herself, from Gothic Charm School!
Podcast: Play in new window | Download
Subscribe: RSS