Jennifer's Body
---
Episodes about Jennifer's Body :
Don't Read The Latin! Episode 62: Rock and Roll Horror!
[ 1:32:13 | 69.35 MB ]
Play in Popup
|
Download
Hello Don't Read the Latin fans!
Thank you for joining us for our latest episode ROCK AND ROLL HORROR! Where I promise not to call Stephen King an asshole but we will share at length all our favorite horror movies with a side of metal! This episode contains these guest stars: Jillian Venters of Gothic Charm School, Jeff Harris of Fanboy News Network, Handsome Boyfriend Jim of Fire When Ready, and last but absolutely not least, Rhias Hall of  The Villain Edit.
And like Lemmy said, "It's fast and it's aggressive and it's rebellious and their parents hate it, which has always been the mark of good rock and roll. If your parents don't like it, it's good."
Don't Read The Latin! Episode 61: Witches!
[ 1:21:23 | 82.26 MB ]
Play in Popup
|
Download
Welcome back! This episode marks a new, exciting time for Don't Read the Latin, as Michael Montoure has decided to step back from co-hosting for now as he has a lot on his plate at the moment. Jennifer Lovely is still happily here, though, discussing horror movies and her love of them, and each episode will have a rotating cast of co-hosts joining her. There will be many of the voices you've heard in previous episodes, and we can all look forward to some new ones joining the mix, too!
In this episode she is joined by Jillian Venters of Gothic Charm School (http://www.gothic-charm-school.com/) and they are discussing witches and witchcraft, although we know it's simply taboo!
Onward to an all-new era of Don't Read the Latin adventures!
Don't Read the Latin! Episode 52: The Monstrous Feminine!
[ 1:46:21 | 97.37 MB ]
Play in Popup
|
Download
Welcome back! Joining us for another episode of Don't Read the Latin is Jillian Venters from Gothic Charm School! This time, in the wake of election results that are arguably more terrifying than any movie we've ever discussed, we decided to get our feminist rant on and sat down to talk about The Monstrous Feminine — the idea of women as monsters in horror movies and pop culture.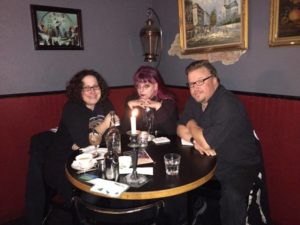 Along the way, we discuss Gothic romance novels, Halloween Horror Nights at Universal Studios, the role that Mad Max: Fury Road played in the beginning of Jen's relationship with Handsome Boyfriend Jim, and we wonder why the hell Marvel keeps burying pretty actors under way too much prosthetic makeup, and we wrap it all up with the topic of older women having a voice and taking up space in our society. We don't necessarily do a great job of sticking rigidly to our topic in this episode, but we sure hope you'll think it's an interesting conversation. Check it out.
_____
Bibliography
Books we mention in this episode:
_____
Mister Babadook
As mentioned in this episode, Jen's copy of the crowdfunded prop replica/movie tie-in book from The Babadook has finally arrived! Here are some pictures of just how gorgeous it is. Click to embiggen:
DRtL Episode 46: Horror Double Features!
[ 1:29:45 | 82.17 MB ]
Play in Popup
|
Download
If you're starting to plan your Halloween party — and if you're not, you'd better get on that, you only have 104 days left — we have totally got you covered this episode. Want to show your friends a couple of movies? This episode we talk about Horror Double Features and give our picks for what movies pair together well, like pairing cheeses and fine wines. While we're at it, we talk about just what exactly makes two movies go together well as a single viewing.
Spoiler Warnings
We discuss the endings of both 10 Cloverfield Lane and Ex Machina. If you don't want to hear the details, skip forward a couple of minutes when you hear us mention those titles.
Technical Notes:
We mention at the beginning of this episode that we were recording it on our laptop and on our new audio recorder, because Montoure didn't trust that the recording was actually, you know, recording. And it's a damn good thing he's paranoid, because it turns out that the recorder did not save a file at all. The quality the first time we used it was great, and it will be a fine tool to add to our podcasting arsenal if we can ever figure out how to use the damn thing.
The Bag of Fucks
We mention in passing The Bag of Fucks, which is an awesome hand-made creation by our friend Dmitri Arbacauskas at Tormented Artifacts. When you have just run out of fucks to give, here's the bag you could load some more into. (Or you can just open the bag if you want to show people that it is, indeed, empty.) You can get one of these beauties here if you are so inclined.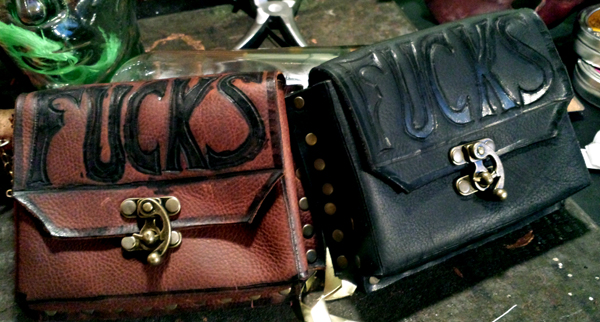 Other Podcasts
Jennifer mentions a few of her new favorites among the podcasts she listens to, so if you'd like to check those out, here they are:
In the News
Since we brought up Chopping Mall, a movie about security robots gone rogue in a shopping center, we naturally talked about a related story in the news recently, and in case you missed it, here it is: A mall security robot has knocked down and run over a toddler in Silicon Valley.
Thanks for Listening!
If you like the show, don't forgot to follow us and rate us on iTunes! You can also subscribe to the podcast on Stitcher, and you can follow us on Facebook, Twitter, and Tumblr. Remember that we love you and that we think you look adorable when you're sleeping.
Standard Podcast
[ 1:22:10 | 75.22 MB ]
Play in Popup
|
Download
"I've never seen the 50's Vincent Price version . . . or, now that I stop to think about it, I don't think I've seen the 60's version, either . . . and I'm not sure I saw I Am Legend . . . . "
"Oh, my God — move on!"
Welcome to our only slightly late episode! This time, we're exploring that strange territory where the silver screen and your local bookstore collide. That's right, this episode is all about horror movies based on books! Bad movies based on good novels, good movies based on bad novels, and everything in between. Did we miss any of your favorites? Let us know!
Worthy of Note: Hopefully you will notice a big improvement in the sound quality over previous episodes. We're trying a totally new audio set-up, and we think it sounds a lot better. Let us know what you think of that, too. We're still experimenting and learning, and after two years of doing this, we're finally making a little progress! Eventually, we catch on.
Speaking of which, also Worthy of Note — we've missed it by just a few days, but May 9th was the second anniversary of our very first episode! I know, we can't believe it, either! For those who have been with us from the beginning, thank you so much for listening and for your comments and support, and for telling your friends about us. For those of you just joining — welcome! Grab some popcorn and settle in, because we're not going to stop watching horror movies any time soon. See you in two weeks!
Don't Read the Latin Episode 28: Comfort Movies!
[ 1:25:21 | 39.07 MB ]
Play in Popup
|
Download
You know what we're talking about — you're home for a sick day, or maybe you've just straight-up run out of fucks. In either case, it's time to crash on the couch with a pint of ice cream. Or maybe not — maybe it's just time to try to get something done around the house that you've been putting off, like tackling that mountain of laundry, and you just want a movie to put on that won't demand your full attention.
However it goes, you reach for a comfort movie — something you've already seen a zillion times, but just don't get tired of. The cinematic equivalent of comfort food. A big ol' audio-visual bowl of macaroni and cheese. Maybe with the emphasis on "cheese." (As such, this episode sometimes strays way, way far out of strict horror movie territory. We promise you'll be entertained anyway.)
We are joined this time by the always-charming Jillian Venters, the Lady of the Manners herself, from Gothic Charm School!
Don't Read The Latin, Episode Four: Women Directing Horror
[ 1:05:08 | 29.88 MB ]
Play in Popup
|
Download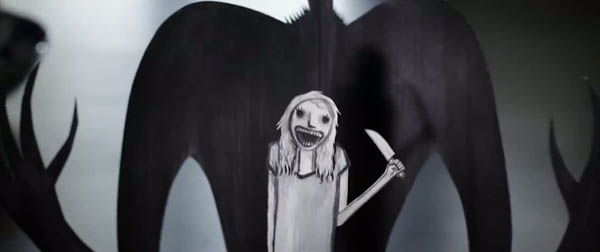 We're back, and we're talking about some of the best horror films you might not even know were directed by women! Join us again for all this and more:
We babble about The Babadook and examine Jennifer's Body. (What? Wait, no — not Jennifer's body, that would be an entirely different podcast …. )
Jennifer talks about what it was like to watch American Psycho for the first time recently
We declare our love for the 80's classic Near Dark and the 80's maybe-not-so-classic Freddy's Dead: The Final Nightmare
We talk about why we were disappointed in American Mary but still can't wait to see what's next from the Soska Sisters
Michael explains why he can't wait to show Jennifer Ravenous, and he finds out something he'd rather not know about one of the actors in it