Posts Tagged 'Creep'
Wait a minute, what's that? Peeking out from under the branches of the Christmas tree that's starting to drop needles onto your living room floor? Why, it looks like Satan — excuse me, I mean Santa — has left you one last Christmas present! And it's just what you wanted — a brand new episode of Don't Read the Latin! You must have been good this year.
This time out, we look back at 2015's crop of horror movies — what was great, what was terrible (although we don't waste much time talking about that), and which movies merely deserved our 2015 "You Tried" Participation Medal. Jennifer and Michael are joined by special guests Jeff Harris of Fanboy News Network and Jillian Venters of Gothic Charm School!
Special thanks to AFK Tavern for actually being open at the godforsaken hours of the procrastination-driven, insomnia-fueled editing of this episode!
And that's it for us for this year! We will talk to you all in 2016! Happy holidays!
____
P.S. For reference, here is the XXXenophile cover we talk about in the beginning of the episode. (Even though it's for an "adult" comic, the cover itself is more-or-less safe for work.) Click to embiggen.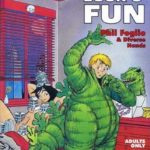 Podcast: Play in new window | Download
Subscribe: RSS
Welcome to the latest, almost hilariously overdue episode of Don't Read the Latin, with your hosts, shiftless ne'er-do-well Michael Montoure and Magical Girl Jennifer Lovely! I know we keep saying this, but we will, hell-or-high-water, be going back to our normal bi-weekly schedule following this, even if someone has to die. (Not one of us, ideally. It'll be no one you know, don't worry.)
This time out, grab your bell-bottoms and your disco shoes, because we're going back to the 70's! Even though the 70's are not our favorite horror movie decade (that would be the 80's), you could make a strong claim that it was the best, with a high number of standout classics. Give it a listen and let us know what you think.
Recommended! As far as new movies go, there are two we've seen lately that are both super, super-fun, and we highly suggest you give these two a watch ASAP: Tales of Halloween and The Final Girls. Four thumbs up. (That's two from each of us.)
Podcast: Play in new window | Download
Subscribe: RSS
You know what we're talking about — you're home for a sick day, or maybe you've just straight-up run out of fucks. In either case, it's time to crash on the couch with a pint of ice cream. Or maybe not — maybe it's just time to try to get something done around the house that you've been putting off, like tackling that mountain of laundry, and you just want a movie to put on that won't demand your full attention.
However it goes, you reach for a comfort movie — something you've already seen a zillion times, but just don't get tired of. The cinematic equivalent of comfort food. A big ol' audio-visual bowl of macaroni and cheese. Maybe with the emphasis on "cheese." (As such, this episode sometimes strays way, way far out of strict horror movie territory. We promise you'll be entertained anyway.)
We are joined this time by the always-charming Jillian Venters, the Lady of the Manners herself, from Gothic Charm School!
Podcast: Play in new window | Download
Subscribe: RSS