Krampus
---
Episodes about Krampus :
Don't Read the Latin! Episode 54: Our 2016 Review!
[ 1:53:29 | 103.9 MB ]
Play in Popup
|
Download
Well, 2016 has certainly been a year that most of us will be glad to put behind us, but there were some pretty damn fine horror movies that came out this year, and we're here to talk about them! Join your hosts Michael Montoure and Jennifer Lovely and their special guests Handsome Boyfriend Jim, Jeff Harris, and Jillian Venters as we run down our top ten lists for the year! (Well — not everyone had a top ten list, strictly speaking. But you'll see what we mean when you hear the episode.)
This was kind of a strange year for horror, as we had several good solid movies but no real stand-outs, and no real fun thrill-rides. But still, there are some gems you might have missed, and we'll walk you through them.
Thanks for listening in 2016, and many many thanks to our listeners who have rated our podcast on iTunes and left reviews! The more reviews and ratings we have, the easier it is for people to find us. If you enjoy listening to Don't Read the Latin and you haven't rated us yet, please take a minute to do so to help us reach more people in 2017 and beyond. Happy New Year!
Standard Podcast
[ 1:07:41 | 61.97 MB ]
Play in Popup
|
Download
Happy Halloween, Latin Club! We're excited to get to bring you a new episode on our favorite holiday of the year. This time (ha! Get it?), we're talking about Time Loops and Time Travel! (And amazingly enough, Michael somehow gets through the entire episode without mentioning Doctor Who even once!) Also, Jen talks about taking the Scarecrow Video Psychotronic Challenge, and about Shudder, the curated Amazon Video horror-movie channel!
Spoiler Warnings — Usually, we try not to give away crucial plot elements of the movies we discuss on DRtL, but that was a little tricky with this episode — since with a lot of the films we mention here, the very fact that the plot does involve time-travel shenanigans is actually meant to be a surprise. So if you are particularly spoiler-sensitive, you might want to skip this episode, and you maybe shouldn't even look at the tags on the blog post. Sorry!
Alternately, if you encounter any spoilers you wish you hadn't heard — just go back in time and warn yourself not to listen! Problem solved.
(Looking for something a little more seasonally-themed? Hop in our time machine and travel all the way back to 2014's Episode 10: It Happened on Halloween! for an episode that's all about movies set on or around Halloween!)
_______
Please rate our podcast on iTunes!
The more reviews and ratings we have, the easier it is for people to find us. If you enjoy  listening to Don't Read the Latin and would like to help us reach more people, please click here to rate our podcast on iTunes and leave your comments. It will only take a few minutes out of your day, but your feedback can make a huge difference to us. Thanks for everything, and we hope you get nothing but the very best full-size candy bars in your trick-or-treat bags this year.
DRtL Episode 37: Folklore and Fairy Tales!
[ 1:26:47 | 79.45 MB ]
Play in Popup
|
Download
Can you believe it? We've done thirty-seven episodes! ("In a row?")
This time out, we wander off into the woods to talk about horror movies inspired by fairy tales and folklore, or even just movies that have that fairy tale feel to them, and we delve into why horror movies are the direct modern descendant of these ancient tales. Before we get to the subject, though, we wander off the path a bit to talk about the recent loss of pop culture icons David Bowie and Alan Rickman.
(Note: Jennifer refers at one point to a movie called "Tooth Fairy." She was actually referring to "Darkness Falls," which features that mythical creature. "Tooth Fairy" is, in fact, a family-friendly 2010 comedy film starring Dwayne Johnson. DRtL regrets the error.)
This episode's bonus link: www.folkhorror.com
This episode's YouTube video: Here's the teaser trailer Michael talks about for the upcoming J.G. Ballard adaptation, "High-Rise":
DRtL Episode 36: What We Want To See In 2016!
[ 1:04:05 | 58.67 MB ]
Play in Popup
|
Download
Last episode, we took one last look at 2015, and this time out, we're looking ahead at the year to come, as we discuss new releases we're looking forward to (and some we're not.)
While we're at it, we also talk a little bit about what we'd like to see from horror movies in general, and we talk about other things we enjoyed in 2015 that didn't qualify for last episode's topic. Also, Jennifer talks about why she's not that crazy about Benedict Cumberbatch; Michael discusses his love of horror movies that clearly spell out a rigid set of rules, and oh so much more.
_____
Bonus Pictures
The Shirtless Jeff Goldblum mug that Michael bought Jennifer for Christmas, because he knows what she likes: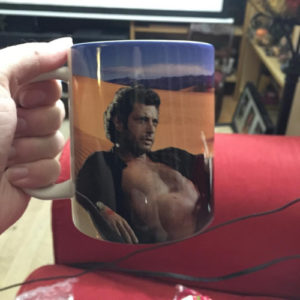 And some images from Over the Garden Wall:
DRtL Episode 35: The Best of 2015!
[ 1:28:37 | 81.13 MB ]
Play in Popup
|
Download
Wait a minute, what's that? Peeking out from under the branches of the Christmas tree that's starting to drop needles onto your living room floor? Why, it looks like Satan — excuse me, I mean Santa — has left you one last Christmas present! And it's just what you wanted — a brand new episode of Don't Read the Latin! You must have been good this year.
This time out, we look back at 2015's crop of horror movies — what was great, what was terrible (although we don't waste much time talking about that), and which movies merely deserved our 2015 "You Tried" Participation Medal. Jennifer and Michael are joined by special guests Jeff Harris of Fanboy News Network and Jillian Venters of Gothic Charm School!
Special thanks to AFK Tavern for actually being open at the godforsaken hours of the procrastination-driven, insomnia-fueled editing of this episode!
And that's it for us for this year! We will talk to you all in 2016! Happy holidays!
____
P.S. For reference, here is the XXXenophile cover we talk about in the beginning of the episode. (Even though it's for an "adult" comic, the cover itself is more-or-less safe for work.) Click to embiggen.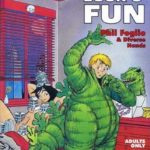 DRtL Episode 34: Winter Horror!
[ 1:10:47 | 48.6 MB ]
Play in Popup
|
Download
The weather outside isn't the only thing that's frightful! Better grab some blankets, make yourself some hot cocoa, light a fire in the fireplace — or, really, burn the whole damn house down, if you have to — because Don't Read the Latin is back, and this time we're talking Winter Horror. Christmas horror movies, snowbound horror movies, a few classics and a few not-so-classics that all have one thing in common — they have a few more chills than usual.
Jennifer reminisces about the late, lamented Vertigo Video, we once again sing the praises of Scarecrow Video, Michael talks Joe Hill's Christmassy horror novel NOS4A2, and so much more.
Feel like giving us an early Christmas present? Take a minute to rate us on iTunes and help other horror fans find us!