Posts Tagged 'Silent Hill'
Welcome back, sugar — won't you set down for a spell? There you are, settle right in, bless your heart. Thank you so much for joining us for a little Southern hospitality as we sit by the fire and talk about Southern Horror!
We will also be talking about the related-but-slightly-separate Southern Gothic genre, which Tennessee Williams described as writing fiction that captures "an intuition, of an underlying dreadfulness in modern experience." Which is something we can all relate to, don't you think?
Join us as we break down our favorite horror films that take place deep in the American South, including some that could only tenuously be said to take place in the South, including one that we were just straight up completely wrong about. (Michael brings up The Others, which, in fact, takes place in freakin' England. DRtL regrets the error.)
_______
Bonus Features
Jennifer talks about her subscription to Horror Block, Nerd Block's horror box subscription that provides her with hand-selected toys, T-shirts, and more surprises every month. (We are not affiliated with this site — Jennifer is just a happy customer.) You can sign up for Horror Block here, if you are so inclined.
We mention "Mama," the original short film that Guillermo del Toro helped turn into a . . . well, sadly-inferior feature film. But the original hasn't lost any of its intensity. You can watch it here:
Michael makes fun of the "Look at me, I'm burning" line from Silent Hill, because — well, just watch:
Finally, courtesy of Jim Cartwright, we have this article that's right up our allery: Report: Leading Cause Of Death Still Venturing Beyond The Pines.
Podcast: Play in new window | Download
Subscribe: RSS
The weather outside isn't the only thing that's frightful! Better grab some blankets, make yourself some hot cocoa, light a fire in the fireplace — or, really, burn the whole damn house down, if you have to — because Don't Read the Latin is back, and this time we're talking Winter Horror. Christmas horror movies, snowbound horror movies, a few classics and a few not-so-classics that all have one thing in common — they have a few more chills than usual.
Jennifer reminisces about the late, lamented Vertigo Video, we once again sing the praises of Scarecrow Video, Michael talks Joe Hill's Christmassy horror novel NOS4A2, and so much more.
Feel like giving us an early Christmas present? Take a minute to rate us on iTunes and help other horror fans find us!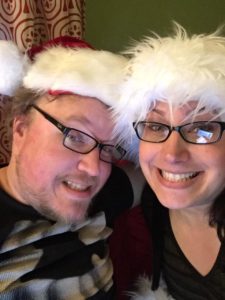 Podcast: Play in new window | Download
Subscribe: RSS
First, a word of warning. At one point during this episode, we propose a drinking game — that you drink every time we say something to the effect of, "This is not a good movie." Do not do this. You will die.
That said — join Michael and Jennifer as we drag our secret stash of schlock out from the back of our video collections into the light. First we define just exactly what it is we mean when we call something a "guilty pleasure," and then we're off and running! Expect lots of giggling in this episode.
Podcast: Play in new window | Download
Subscribe: RSS