Maximum Overdrive
---
Episodes about Maximum Overdrive :
Don't Read The Latin! Episode 62: Rock and Roll Horror!
[ 1:32:13 | 69.35 MB ]
Play in Popup
|
Download
Hello Don't Read the Latin fans!
Thank you for joining us for our latest episode ROCK AND ROLL HORROR! Where I promise not to call Stephen King an asshole but we will share at length all our favorite horror movies with a side of metal! This episode contains these guest stars: Jillian Venters of Gothic Charm School, Jeff Harris of Fanboy News Network, Handsome Boyfriend Jim of Fire When Ready, and last but absolutely not least, Rhias Hall of  The Villain Edit.
And like Lemmy said, "It's fast and it's aggressive and it's rebellious and their parents hate it, which has always been the mark of good rock and roll. If your parents don't like it, it's good."
DRtL Episode 46: Horror Double Features!
[ 1:29:45 | 82.17 MB ]
Play in Popup
|
Download
If you're starting to plan your Halloween party — and if you're not, you'd better get on that, you only have 104 days left — we have totally got you covered this episode. Want to show your friends a couple of movies? This episode we talk about Horror Double Features and give our picks for what movies pair together well, like pairing cheeses and fine wines. While we're at it, we talk about just what exactly makes two movies go together well as a single viewing.
Spoiler Warnings
We discuss the endings of both 10 Cloverfield Lane and Ex Machina. If you don't want to hear the details, skip forward a couple of minutes when you hear us mention those titles.
Technical Notes:
We mention at the beginning of this episode that we were recording it on our laptop and on our new audio recorder, because Montoure didn't trust that the recording was actually, you know, recording. And it's a damn good thing he's paranoid, because it turns out that the recorder did not save a file at all. The quality the first time we used it was great, and it will be a fine tool to add to our podcasting arsenal if we can ever figure out how to use the damn thing.
The Bag of Fucks
We mention in passing The Bag of Fucks, which is an awesome hand-made creation by our friend Dmitri Arbacauskas at Tormented Artifacts. When you have just run out of fucks to give, here's the bag you could load some more into. (Or you can just open the bag if you want to show people that it is, indeed, empty.) You can get one of these beauties here if you are so inclined.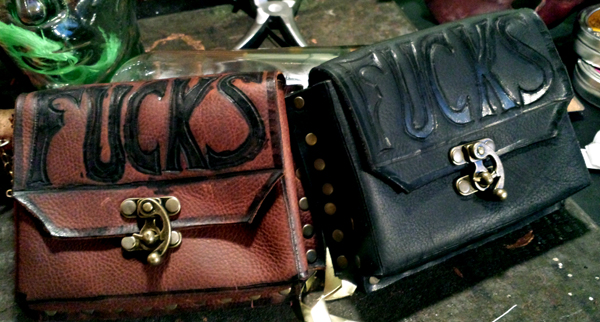 Other Podcasts
Jennifer mentions a few of her new favorites among the podcasts she listens to, so if you'd like to check those out, here they are:
In the News
Since we brought up Chopping Mall, a movie about security robots gone rogue in a shopping center, we naturally talked about a related story in the news recently, and in case you missed it, here it is: A mall security robot has knocked down and run over a toddler in Silicon Valley.
Thanks for Listening!
If you like the show, don't forgot to follow us and rate us on iTunes! You can also subscribe to the podcast on Stitcher, and you can follow us on Facebook, Twitter, and Tumblr. Remember that we love you and that we think you look adorable when you're sleeping.
DRtL Episode 40: Southern Horror!
[ 1:19:04 | 72.39 MB ]
Play in Popup
|
Download
Welcome back, sugar — won't you set down for a spell? There you are, settle right in, bless your heart. Thank you so much for joining us for a little Southern hospitality as we sit by the fire and talk about Southern Horror!
We will also be talking about the related-but-slightly-separate Southern Gothic genre, which Tennessee Williams described as writing fiction that captures "an intuition, of an underlying dreadfulness in modern experience." Which is something we can all relate to, don't you think?
Join us as we break down our favorite horror films that take place deep in the American South, including some that could only tenuously be said to take place in the South, including one that we were just straight up completely wrong about. (Michael brings up The Others, which, in fact, takes place in freakin' England. DRtL regrets the error.)
_______
Bonus Features
Jennifer talks about her subscription to Horror Block, Nerd Block's horror box subscription that provides her with hand-selected toys, T-shirts, and more surprises every month. (We are not affiliated with this site — Jennifer is just a happy customer.) You can sign up for Horror Block here, if you are so inclined.
We mention "Mama," the original short film that Guillermo del Toro helped turn into a . . . well, sadly-inferior feature film. But the original hasn't lost any of its intensity. You can watch it here:
Michael makes fun of the "Look at me, I'm burning" line from Silent Hill, because — well, just watch:
Finally, courtesy of Jim Cartwright, we have this article that's right up our allery: Report: Leading Cause Of Death Still Venturing Beyond The Pines.
Standard Podcast
[ 1:19:20 | 36.31 MB ]
Play in Popup
|
Download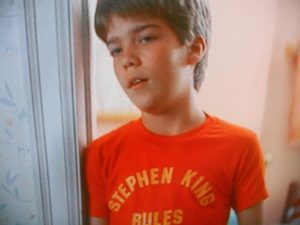 Hail to the King — namely, Stephen King, that household name of horror, the Maine Man himself! As any horror fan will tell you, Stephen King has had more than his fair share of movie adaptations, not all of them good. Well — maybe, most of them really not that good. But! We persevered here at DRtL, and dove right into our retrospective. We mostly remembered King's films as being fairly light, fun, popcorn movies — but join us as we realize how wrong we were, and just how many of the genuinely horrifying aspects of human nature are lurking under the surface of King's work, like a clown in a sewer.
Not to say we didn't have fun with the topic. See for yourself. Or, I guess, hear for yourself!
Don't Read The Latin! Episode 20: Guilty Pleasures!
[ 1:39:11 | 45.4 MB ]
Play in Popup
|
Download
First, a word of warning. At one point during this episode, we propose a drinking game — that you drink every time we say something to the effect of, "This is not a good movie." Do not do this. You will die.
That said — join Michael and Jennifer as we drag our secret stash of schlock out from the back of our video collections into the light. First we define just exactly what it is we mean when we call something a "guilty pleasure," and then we're off and running! Expect lots of giggling in this episode.
DRTL! Episode Nineteen: When Aliens Attack!
[ 1:23:08 | 38.12 MB ]
Play in Popup
|
Download
"Two possibilities exist: either we are alone in the Universe or we are not. Both are equally terrifying." ― Arthur C. Clarke
Lock all your windows, grab your tinfoil hats and your shotguns, and get ready to hide in your closets, because they're almost here! The aliens are coming!
…. Okay, well, no. Probably not. But the latest episode of Don't Read the Latin! is here, and that's almost as scary! You can put your shotgun down, but you might want to hold on to that tinfoil hat.
Join Jennifer and Michael as they talk about their favorite alien horrors, a heaping handful of guilty pleasures, and a few movies that just didn't work for them. And stick around for the end, for a discussion of just why movies about aliens scare us so much, and for a few words about Michael's experiences with UFOs in his childhood!
Put on the headphones, lean back, and try to ignore the strange tall figures and the blinding bright light — the experiment is about to begin ….
Don't Read The Latin, Episode Four: Women Directing Horror
[ 1:05:08 | 29.88 MB ]
Play in Popup
|
Download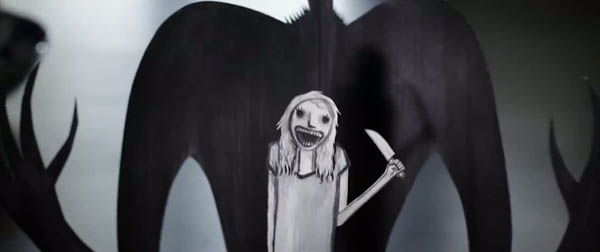 We're back, and we're talking about some of the best horror films you might not even know were directed by women! Join us again for all this and more:
We babble about The Babadook and examine Jennifer's Body. (What? Wait, no — not Jennifer's body, that would be an entirely different podcast …. )
Jennifer talks about what it was like to watch American Psycho for the first time recently
We declare our love for the 80's classic Near Dark and the 80's maybe-not-so-classic Freddy's Dead: The Final Nightmare
We talk about why we were disappointed in American Mary but still can't wait to see what's next from the Soska Sisters
Michael explains why he can't wait to show Jennifer Ravenous, and he finds out something he'd rather not know about one of the actors in it
Standard Podcast
[ 1:05:31 | 30.06 MB ]
Play in Popup
|
Download
Ever had a horror movie that you watched and hated, only to watch it again later and discover that it's actually pretty good? Or, worse, you watch a movie you once liked and now you realize it's terrible? Well, that's what Episode Three is all about! Join us as we also talk about the season finale of Hannibal (don't worry, no spoilers!), why we like Japanese horror films until they get too damn weird, why Jennifer doesn't like to do negative reviews, and her changing opinion of Woody Harrelson and Matthew McConaughey. Don't miss it!