Alien
---
Episodes about Alien :
Don't Read the Latin! Episode 60: Horror Movies 101!
[ 1:21:58 | 75.05 MB ]
Play in Popup
|
Download
If you're a regular listener of Don't Read the Latin, you're probably pretty well versed in horror movies — you know your classics backwards and forwards. But if you're a new listener, or if you have friends you would like to help get into horror, then we've got you covered with our latest episode — Horror Movies 101! Your horror hosts Jennifer Lovely and Michael Montoure walk you through the most significant movies in horror history to give you a solid grounding in all the basics. Check it out and let us know what you think! And be sure to let us know if there's anything you think we missed!
Don't Read the Latin! Episode 52: The Monstrous Feminine!
[ 1:46:21 | 97.37 MB ]
Play in Popup
|
Download
Welcome back! Joining us for another episode of Don't Read the Latin is Jillian Venters from Gothic Charm School! This time, in the wake of election results that are arguably more terrifying than any movie we've ever discussed, we decided to get our feminist rant on and sat down to talk about The Monstrous Feminine — the idea of women as monsters in horror movies and pop culture.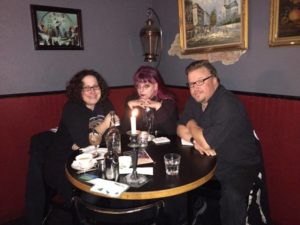 Along the way, we discuss Gothic romance novels, Halloween Horror Nights at Universal Studios, the role that Mad Max: Fury Road played in the beginning of Jen's relationship with Handsome Boyfriend Jim, and we wonder why the hell Marvel keeps burying pretty actors under way too much prosthetic makeup, and we wrap it all up with the topic of older women having a voice and taking up space in our society. We don't necessarily do a great job of sticking rigidly to our topic in this episode, but we sure hope you'll think it's an interesting conversation. Check it out.
_____
Bibliography
Books we mention in this episode:
_____
Mister Babadook
As mentioned in this episode, Jen's copy of the crowdfunded prop replica/movie tie-in book from The Babadook has finally arrived! Here are some pictures of just how gorgeous it is. Click to embiggen:
DRtL Episode FIFTY: Our Top Fifty Favorite Horror Movies!
[ 1:17:30 | 70.95 MB ]
Play in Popup
|
Download
"Let's make this bullshit happen!"
" …. Is that going to be our new motto from now on? Actually, that might look good on stickers, now that I think about it."
So hey, check us out! Fifty episodes! That's kind of a lot! And to celebrate, we are counting down the TOP FIFTY HORROR MOVIES OF ALL TIME!
Okay, well, no. We're not going to pretend that we're being at all objective. What we're actually doing is our Our Top Fifty Favorite Horror Movies! You're actually getting more than fifty, because Jennifer and Michael have each brought their own lists, so listen in as they compare the movies they love the most. (Presented in chronological order, so as not to descend into complete chaos.) Just in time for you to figure out what you want to watch for Halloween!
All this and more, as Jen tells us about a recent unpleasant incident in a movie theater, a documentary on the murder of Kitty Genovese, and completely spoils the ending of "The Changeling!"
We also talk about movies we've seen recently, including Blair Witch. If you just want to skip directly ahead to the Top Fifty goodness, you will find it at the 27-minutes-and-15-seconds mark.
Hope you enjoy this one!
_____
Please rate our podcast on iTunes!
The more reviews and ratings we have, the easier it is for people to find us. If you'd like to hear another fifty episodes of Don't Read the Latin and would like to help us reach more people, please click here to rate our podcast on iTunes and leave your comments. It will only take a few minutes out of your day, but your feedback can make a huge difference to us. Thanks for everything, you guys.
Standard Podcast
[ 1:09:09 | 63.31 MB ]
Play in Popup
|
Download
…. And once again after slightly too long a hiatus, we return once more with another episode of Don't Read the Latin!
This time out, we're talking about heroines in horror. Horror movies tend to have more female protagonists than practically any other genre, which is something we both love about them. At some point, we plan on having a Feminism in Horror episode where we'll delve into why we think that is and examine just how horror treats its female characters. But for now, we just want to talk about some scream queens we've known and loved, from our favorite classic final girls all the way to, well, The Final Girls. Give it a listen, tell your friends, and as always, we look forward to your comments.
DRtL Episode 32: The 70's, Baby!
[ 1:20:11 | 36.71 MB ]
Play in Popup
|
Download
Welcome to the latest, almost hilariously overdue episode of Don't Read the Latin, with your hosts, shiftless ne'er-do-well Michael Montoure and Magical Girl Jennifer Lovely! I know we keep saying this, but we will, hell-or-high-water, be going back to our normal bi-weekly schedule following this, even if someone has to die. (Not one of us, ideally. It'll be no one you know, don't worry.)
This time out, grab your bell-bottoms and your disco shoes, because we're going back to the 70's! Even though the 70's are not our favorite horror movie decade (that would be the 80's), you could make a strong claim that it was the best, with a high number of standout classics. Give it a listen and let us know what you think.
Recommended! As far as new movies go, there are two we've seen lately that are both super, super-fun, and we highly suggest you give these two a watch ASAP: Tales of Halloween and The Final Girls. Four thumbs up. (That's two from each of us.)
DRtL Episode 30: Wes Craven Retrospective
[ 1:33:41 | 64.33 MB ]
Play in Popup
|
Download
Apologies for the delay with this episode — it's even later than we said it was going to be when we said it was going to be late.
We needed a little extra time to pull this one together. We were both saddened to learn of the recent passing of Wes Craven, who pretty much single-handedly reinvented the horror movie genre over the course of his career — not just once, but three times.
Montoure talks about movies that make you feel unsafe, Jennifer talks about getting to meet Robert Englund, and so much more.
______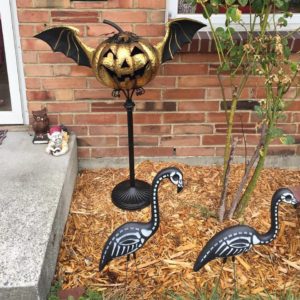 Guest Cat: Abby, Jennifer's grumpy old lady kitty
Official Drink of this Episode: Woodchuck Fall Harvest Hard Cider with cinnamon whiskey. It's ridiculously good. You should try it.
Pumpkin Bat: Pumpkin Bat! Here's a picture, as promised.
DRTL! Episode Nineteen: When Aliens Attack!
[ 1:23:08 | 38.12 MB ]
Play in Popup
|
Download
"Two possibilities exist: either we are alone in the Universe or we are not. Both are equally terrifying." ― Arthur C. Clarke
Lock all your windows, grab your tinfoil hats and your shotguns, and get ready to hide in your closets, because they're almost here! The aliens are coming!
…. Okay, well, no. Probably not. But the latest episode of Don't Read the Latin! is here, and that's almost as scary! You can put your shotgun down, but you might want to hold on to that tinfoil hat.
Join Jennifer and Michael as they talk about their favorite alien horrors, a heaping handful of guilty pleasures, and a few movies that just didn't work for them. And stick around for the end, for a discussion of just why movies about aliens scare us so much, and for a few words about Michael's experiences with UFOs in his childhood!
Put on the headphones, lean back, and try to ignore the strange tall figures and the blinding bright light — the experiment is about to begin ….