Posts Tagged 'Audrey Rose'
"I've never seen the 50's Vincent Price version . . . or, now that I stop to think about it, I don't think I've seen the 60's version, either . . . and I'm not sure I saw I Am Legend . . . . "
"Oh, my God — move on!"
Welcome to our only slightly late episode! This time, we're exploring that strange territory where the silver screen and your local bookstore collide. That's right, this episode is all about horror movies based on books! Bad movies based on good novels, good movies based on bad novels, and everything in between. Did we miss any of your favorites? Let us know!
Worthy of Note: Hopefully you will notice a big improvement in the sound quality over previous episodes. We're trying a totally new audio set-up, and we think it sounds a lot better. Let us know what you think of that, too. We're still experimenting and learning, and after two years of doing this, we're finally making a little progress! Eventually, we catch on.
Speaking of which, also Worthy of Note — we've missed it by just a few days, but May 9th was the second anniversary of our very first episode! I know, we can't believe it, either! For those who have been with us from the beginning, thank you so much for listening and for your comments and support, and for telling your friends about us. For those of you just joining — welcome! Grab some popcorn and settle in, because we're not going to stop watching horror movies any time soon. See you in two weeks!
Podcast: Play in new window | Download
Subscribe: RSS
Welcome to the latest, almost hilariously overdue episode of Don't Read the Latin, with your hosts, shiftless ne'er-do-well Michael Montoure and Magical Girl Jennifer Lovely! I know we keep saying this, but we will, hell-or-high-water, be going back to our normal bi-weekly schedule following this, even if someone has to die. (Not one of us, ideally. It'll be no one you know, don't worry.)
This time out, grab your bell-bottoms and your disco shoes, because we're going back to the 70's! Even though the 70's are not our favorite horror movie decade (that would be the 80's), you could make a strong claim that it was the best, with a high number of standout classics. Give it a listen and let us know what you think.
Recommended! As far as new movies go, there are two we've seen lately that are both super, super-fun, and we highly suggest you give these two a watch ASAP: Tales of Halloween and The Final Girls. Four thumbs up. (That's two from each of us.)
Podcast: Play in new window | Download
Subscribe: RSS
Hey, everyone! Join us as we delve into the occult reaches of a subject that …. it turns out we don't really know a lot about! (I resisted the urge to say, a hell of a lot about. Don't you admire my restraint?) This time, the subject on deck is Demons, Devils, and Possession, and while that idea sounded good when we first discussed it, our research soon showed that there were approximately one million films on this subject in the 50's, 60's, and 70's that we just flat-out have not seen.
Regardless, we soldiered on, and we talked about some of the best — and worst! — devilry we've witnessed on the silver screen. Enjoy! As always, tell your friends, reblog and retweet the hell out of this episode (sorry — my restraint only goes so far), and if you would be so kind, rate us on iTunes! Thanks much. See you in two weeks!
Other Stuff We Talked About
Here's the new review Michael mentioned for his novel: Still Life – Michael Montoure | The Reader In the Tower.
And here's a picture of the Exorcist III art print that Jennifer mentioned. Click the image to view it full-sized. The artist is Slippery Jack, and that link goes to his Big Cartel page if you'd like to pick up a print of your own.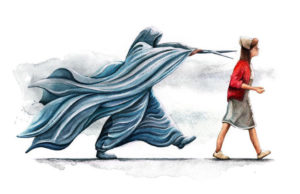 Finally, when we talked about Rosemary's Baby in this episode, we discussed whether or not you ever see the baby's eyes. Michael thought we didn't, and Jennifer was pretty sure that we at least saw a flash of them. Here's the scene in question, and we do see a quick flash of inhuman yellow eyes — but Michael thinks it looks more like it might be a flashback to the face of the devil seen during the baby's freaky, dreamlike conception scene. Compare the two, decide for yourself, and let us know what you think in the comments below.
Podcast: Play in new window | Download
Subscribe: RSS