Posts Tagged 'Deadly Friend'
Apologies for the delay with this episode — it's even later than we said it was going to be when we said it was going to be late.
We needed a little extra time to pull this one together. We were both saddened to learn of the recent passing of Wes Craven, who pretty much single-handedly reinvented the horror movie genre over the course of his career — not just once, but three times.
Montoure talks about movies that make you feel unsafe, Jennifer talks about getting to meet Robert Englund, and so much more.
______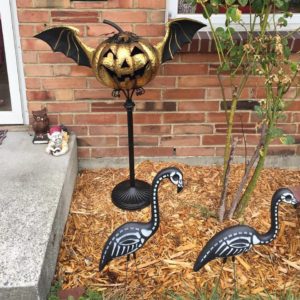 Guest Cat: Abby, Jennifer's grumpy old lady kitty
Official Drink of this Episode: Woodchuck Fall Harvest Hard Cider with cinnamon whiskey. It's ridiculously good. You should try it.
Pumpkin Bat: Pumpkin Bat! Here's a picture, as promised.
Podcast: Play in new window | Download
Subscribe: RSS
Hey, everyone! Join us as we delve into the occult reaches of a subject that …. it turns out we don't really know a lot about! (I resisted the urge to say, a hell of a lot about. Don't you admire my restraint?) This time, the subject on deck is Demons, Devils, and Possession, and while that idea sounded good when we first discussed it, our research soon showed that there were approximately one million films on this subject in the 50's, 60's, and 70's that we just flat-out have not seen.
Regardless, we soldiered on, and we talked about some of the best — and worst! — devilry we've witnessed on the silver screen. Enjoy! As always, tell your friends, reblog and retweet the hell out of this episode (sorry — my restraint only goes so far), and if you would be so kind, rate us on iTunes! Thanks much. See you in two weeks!
Other Stuff We Talked About
Here's the new review Michael mentioned for his novel: Still Life – Michael Montoure | The Reader In the Tower.
And here's a picture of the Exorcist III art print that Jennifer mentioned. Click the image to view it full-sized. The artist is Slippery Jack, and that link goes to his Big Cartel page if you'd like to pick up a print of your own.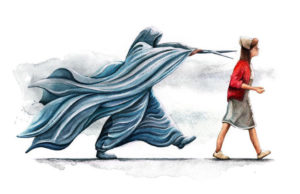 Finally, when we talked about Rosemary's Baby in this episode, we discussed whether or not you ever see the baby's eyes. Michael thought we didn't, and Jennifer was pretty sure that we at least saw a flash of them. Here's the scene in question, and we do see a quick flash of inhuman yellow eyes — but Michael thinks it looks more like it might be a flashback to the face of the devil seen during the baby's freaky, dreamlike conception scene. Compare the two, decide for yourself, and let us know what you think in the comments below.
Podcast: Play in new window | Download
Subscribe: RSS