Shocker
---
Episodes about Shocker :
Don't Read The Latin! Episode 62: Rock and Roll Horror!
[ 1:32:13 | 69.35 MB ]
Play in Popup
|
Download
Hello Don't Read the Latin fans!
Thank you for joining us for our latest episode ROCK AND ROLL HORROR! Where I promise not to call Stephen King an asshole but we will share at length all our favorite horror movies with a side of metal! This episode contains these guest stars: Jillian Venters of Gothic Charm School, Jeff Harris of Fanboy News Network, Handsome Boyfriend Jim of Fire When Ready, and last but absolutely not least, Rhias Hall of  The Villain Edit.
And like Lemmy said, "It's fast and it's aggressive and it's rebellious and their parents hate it, which has always been the mark of good rock and roll. If your parents don't like it, it's good."
DRtL Episode 55: Back From The Dead!
[ 56:38 | 51.85 MB ]
Play in Popup
|
Download
Hello, horror fiends! Did you have a good New Year's? And, uhhh, a good Martin Luther King Jr. Day, Chinese New Year, Groundhog Day, Valentine's Day, and Mardi Gras — ? So, yeah, it's been a little while since our last episode, is what we're saying, here. Between Michael being out of town a lot, and Jen losing her job, her house, and then her Grandmother in rapid succession, there's been a hell of a lot of so-called "real life" cutting into our podcasting time.
But now we're Back From The Dead, and what better way to celebrate that than with an episode about horror movies where people return from the grave? We're not talking ghosts, or vampires, or zombies — we'vddde done episodes on all of those already. We're talking all the other revenants of every type and description.
Along the way, we talk about Letterboxd, a site for keeping track of the movies you watch; the late, lamented iMDB message boards; the critical role of politics in the horror genre; and the online horror movie offerings of services like Shudder and Fandor. All that and more is waiting for you in the latest episode, so stuff it into your eager brainmeats, let us know what you think in the comments, and as always, be sure to rate and review us on iTunes to let your fellow horror fans know we're worth checking out. It's great to be back — thanks for listening, and we will be back in two weeks.
DRtL Episode 38: Horror Soundtracks!
[ 1:14:15 | 67.98 MB ]
Play in Popup
|
Download
Listen! What's that sound? Does that eerie pulsing synthesizer music mean that there's a killer lurking in the shadows? No — it's just the latest episode of Don't Read the Latin!
This time out, we're talking about horror soundtracks and scores that we love — even when they're from films we don't.
Montoure goes all film-school on us and starts talking about diegetic vs. non-diegetic music, Jennifer carefully side-steps around the subject of a mysterious competition in her youth, and so much more!
—
Stuff We Mentioned
At one point, Montoure mentions that the film He Never Died (he couldn't remember the title at the time, but that's the one) reminded him of a novel called Sandman Slim, by Richard Kadrey, so here's a link to that book on Amazon. (Or click on the cover image, here, if you're more visually inclined.) It's a fun read and you should check it out!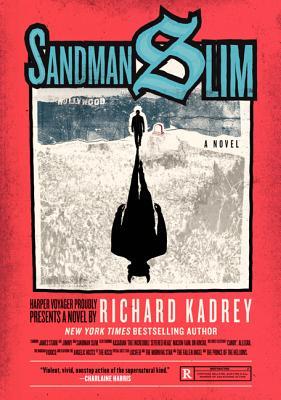 He also mentioned the unused soundtrack for Hellraiser by the band Coil, and said that the whole thing was probably on YouTube. It is! You can give it a listen here. It's very different from the soundtrack that actually got used!
And finally, he also also mentioned a haunting little comic by Ehud Lavski about a mysterious radio station. He reblogged that one on his Tumblr. You can click on the thumbnail below to read the whole comic.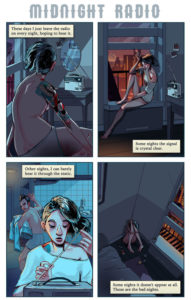 DRtL Episode 30: Wes Craven Retrospective
[ 1:33:41 | 64.33 MB ]
Play in Popup
|
Download
Apologies for the delay with this episode — it's even later than we said it was going to be when we said it was going to be late.
We needed a little extra time to pull this one together. We were both saddened to learn of the recent passing of Wes Craven, who pretty much single-handedly reinvented the horror movie genre over the course of his career — not just once, but three times.
Montoure talks about movies that make you feel unsafe, Jennifer talks about getting to meet Robert Englund, and so much more.
______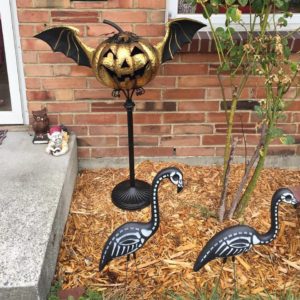 Guest Cat: Abby, Jennifer's grumpy old lady kitty
Official Drink of this Episode: Woodchuck Fall Harvest Hard Cider with cinnamon whiskey. It's ridiculously good. You should try it.
Pumpkin Bat: Pumpkin Bat! Here's a picture, as promised.
Don't Read The Latin! Episode 20: Guilty Pleasures!
[ 1:39:11 | 45.4 MB ]
Play in Popup
|
Download
First, a word of warning. At one point during this episode, we propose a drinking game — that you drink every time we say something to the effect of, "This is not a good movie." Do not do this. You will die.
That said — join Michael and Jennifer as we drag our secret stash of schlock out from the back of our video collections into the light. First we define just exactly what it is we mean when we call something a "guilty pleasure," and then we're off and running! Expect lots of giggling in this episode.