Posts Tagged 'Midnight Ballad for Ghost Theater'
Hello Don't Read the Latin fans!
Thank you for joining us for our latest episode ROCK AND ROLL HORROR! Where I promise not to call Stephen King an asshole but we will share at length all our favorite horror movies with a side of metal! This episode contains these guest stars: Jillian Venters of Gothic Charm School, Jeff Harris of Fanboy News Network, Handsome Boyfriend Jim of Fire When Ready, and last but absolutely not least, Rhias Hall of The Villain Edit.
And like Lemmy said, "It's fast and it's aggressive and it's rebellious and their parents hate it, which has always been the mark of good rock and roll. If your parents don't like it, it's good."
Podcast: Play in new window | Download
Subscribe: RSS
…. And once again after slightly too long a hiatus, we return once more with another episode of Don't Read the Latin!
This time out, we're talking about heroines in horror. Horror movies tend to have more female protagonists than practically any other genre, which is something we both love about them. At some point, we plan on having a Feminism in Horror episode where we'll delve into why we think that is and examine just how horror treats its female characters. But for now, we just want to talk about some scream queens we've known and loved, from our favorite classic final girls all the way to, well, The Final Girls. Give it a listen, tell your friends, and as always, we look forward to your comments.
Podcast: Play in new window | Download
Subscribe: RSS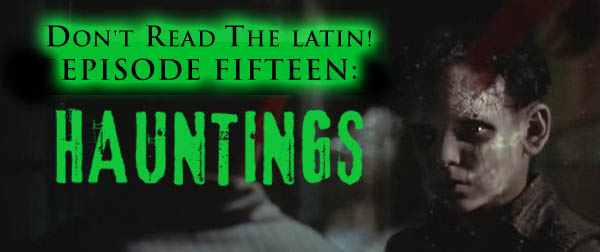 It's almost Christmas, and you know what that means — ghost stories! (Well, according to Charles Dickens, anyway.)
We already covered Haunted Houses back in Episode Nine, but this time we're getting out of the house and exploring haunted apartment buildings, orphanages, and more! Remember, kids, ghosts can strike anywhere at any time. Happy Holidays!
Podcast: Play in new window | Download
Subscribe: RSS