The Orphanage
---
Episodes about The Orphanage :
DRtL Episode 56: Horror En Español!
[ 1:19:37 | 72.9 MB ]
Play in Popup
|
Download
¡Hola! ¿Cómo te va todo? Welcome to the latest episode of Don't Read the Latin, where we talk about horror movies in Spanish! (And a handful of movies that are in English, but were made in Spain.) Get ready to turn on your subtitles and explore some of the best horror that the Spanish language has to offer.
Also, Jen tells us about some of the additional channels available on Amazon Prime Video, including Shudder and the British television channel Acorn TV, and about her days back when she worked in a video store! All this, the return of Jen's Documentary Corner, and much, much more.
As always, let us know what you think in the comments, and please take a minute to rate and review us on iTunes to let your fellow horror fans know we're worth checking out. Thanks!
DRTL 027: Movies You May Have Missed!
[ 1:23:38 | 38.29 MB ]
Play in Popup
|
Download
Welcome back, fiends! This time, your horror hosts are taking a look back at the last ten years of horror films and trying to bring to light the movies that may have flown under your radar when they were released. A lot of top-notch recommendations this episode.
We're posting this slightly later in the day than usual due to some audio issues that we weren't quite able to completely resolve, so we apologize for the sound quality on this one. There's kind of a background echo to it all that sounds a little like robots gargling underwater, and it was present in the original recording, so we're going to be looking into improving our microphone setup in future. Hope it's not too distracting.
Questions, comments, things you'd like to hear in future episodes? Let us know! We'd love to read your feedback on the show. And as always, don't forget to share, reblog, rate us on iTunes, or just kidnap people off the street and force them to listen to the podcast while tied up in your basement. Enjoy!
Standard Podcast
[ 1:09:46 | 31.94 MB ]
Play in Popup
|
Download
We're back from Crypticon! We had a pretty great time, and we're here to tell you about it. And Montoure has some selections from this year's Seattle International Film Festival! All of which turns out to be a good thing, because the topic we had chosen for this episode turns out to be a little thin on the ground. It sure seemed like creepy orphans and orphanages were a staple of the horror genre, but we ended up having to kind of stretch our definitions to find enough to talk about ….
Standard Podcast
[ 1:42:22 | 23.49 MB ]
Play in Popup
|
Download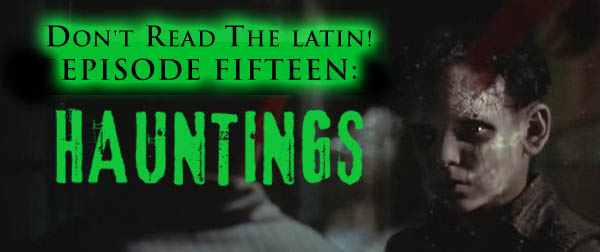 It's almost Christmas, and you know what that means — ghost stories! (Well, according to Charles Dickens, anyway.)
We already covered Haunted Houses back in Episode Nine, but this time we're getting out of the house and exploring haunted apartment buildings, orphanages, and more! Remember, kids, ghosts can strike anywhere at any time. Happy Holidays!