The Battery
---
Episodes about The Battery :
Don't Read The Latin! Episode 64: Asylums!
[ 1:03:14 | 51.07 MB ]
Play in Popup
|
Download
Hello, Don't Read the Latineers! This episode is about horror movies set in asylums: open or closed, haunted or populated. Joining me this time once again is Rhias Hall of The Villain Edit. It's one of my favorite genres of horror movies!
(A note from Handsome Boyfriend Jim: The video game they misidentify as "Homecoming" and "Home Again" is "Gone Home". For some reason Jen can never, ever remember the title of it.)
Don't Read the Latin! Episode 60: Horror Movies 101!
[ 1:21:58 | 75.05 MB ]
Play in Popup
|
Download
If you're a regular listener of Don't Read the Latin, you're probably pretty well versed in horror movies — you know your classics backwards and forwards. But if you're a new listener, or if you have friends you would like to help get into horror, then we've got you covered with our latest episode — Horror Movies 101! Your horror hosts Jennifer Lovely and Michael Montoure walk you through the most significant movies in horror history to give you a solid grounding in all the basics. Check it out and let us know what you think! And be sure to let us know if there's anything you think we missed!
DRtL Episode FIFTY: Our Top Fifty Favorite Horror Movies!
[ 1:17:30 | 70.95 MB ]
Play in Popup
|
Download
"Let's make this bullshit happen!"
" …. Is that going to be our new motto from now on? Actually, that might look good on stickers, now that I think about it."
So hey, check us out! Fifty episodes! That's kind of a lot! And to celebrate, we are counting down the TOP FIFTY HORROR MOVIES OF ALL TIME!
Okay, well, no. We're not going to pretend that we're being at all objective. What we're actually doing is our Our Top Fifty Favorite Horror Movies! You're actually getting more than fifty, because Jennifer and Michael have each brought their own lists, so listen in as they compare the movies they love the most. (Presented in chronological order, so as not to descend into complete chaos.) Just in time for you to figure out what you want to watch for Halloween!
All this and more, as Jen tells us about a recent unpleasant incident in a movie theater, a documentary on the murder of Kitty Genovese, and completely spoils the ending of "The Changeling!"
We also talk about movies we've seen recently, including Blair Witch. If you just want to skip directly ahead to the Top Fifty goodness, you will find it at the 27-minutes-and-15-seconds mark.
Hope you enjoy this one!
_____
Please rate our podcast on iTunes!
The more reviews and ratings we have, the easier it is for people to find us. If you'd like to hear another fifty episodes of Don't Read the Latin and would like to help us reach more people, please click here to rate our podcast on iTunes and leave your comments. It will only take a few minutes out of your day, but your feedback can make a huge difference to us. Thanks for everything, you guys.
DRtL Episode 38: Horror Soundtracks!
[ 1:14:15 | 67.98 MB ]
Play in Popup
|
Download
Listen! What's that sound? Does that eerie pulsing synthesizer music mean that there's a killer lurking in the shadows? No — it's just the latest episode of Don't Read the Latin!
This time out, we're talking about horror soundtracks and scores that we love — even when they're from films we don't.
Montoure goes all film-school on us and starts talking about diegetic vs. non-diegetic music, Jennifer carefully side-steps around the subject of a mysterious competition in her youth, and so much more!
—
Stuff We Mentioned
At one point, Montoure mentions that the film He Never Died (he couldn't remember the title at the time, but that's the one) reminded him of a novel called Sandman Slim, by Richard Kadrey, so here's a link to that book on Amazon. (Or click on the cover image, here, if you're more visually inclined.) It's a fun read and you should check it out!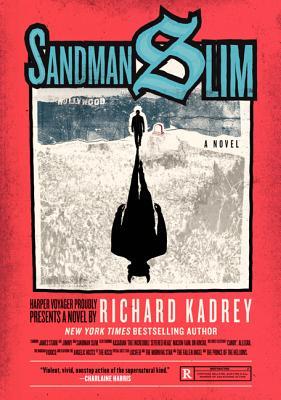 He also mentioned the unused soundtrack for Hellraiser by the band Coil, and said that the whole thing was probably on YouTube. It is! You can give it a listen here. It's very different from the soundtrack that actually got used!
And finally, he also also mentioned a haunting little comic by Ehud Lavski about a mysterious radio station. He reblogged that one on his Tumblr. You can click on the thumbnail below to read the whole comic.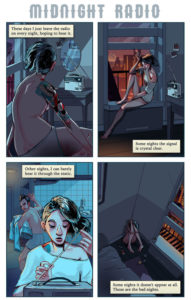 DRTL 027: Movies You May Have Missed!
[ 1:23:38 | 38.29 MB ]
Play in Popup
|
Download
Welcome back, fiends! This time, your horror hosts are taking a look back at the last ten years of horror films and trying to bring to light the movies that may have flown under your radar when they were released. A lot of top-notch recommendations this episode.
We're posting this slightly later in the day than usual due to some audio issues that we weren't quite able to completely resolve, so we apologize for the sound quality on this one. There's kind of a background echo to it all that sounds a little like robots gargling underwater, and it was present in the original recording, so we're going to be looking into improving our microphone setup in future. Hope it's not too distracting.
Questions, comments, things you'd like to hear in future episodes? Let us know! We'd love to read your feedback on the show. And as always, don't forget to share, reblog, rate us on iTunes, or just kidnap people off the street and force them to listen to the podcast while tied up in your basement. Enjoy!
DRtL Episode 26: Brains! I Mean, Zombies!
[ 1:22:53 | 37.94 MB ]
Play in Popup
|
Download
Welcome back to Don't Read the Latin, the podcast that brings you horror movie news, reviews, and opinions every two weeks! Or three weeks. Or thereabouts. (I'd swear we used to be better at this.)
Anyway, join us as we come lurching back from the grave to discuss zombies! Even though neither Michael nor Jen consider ourselves zombie fans, per se, it turns out there are a ton of zombie films we really like. A whole horde of them, you might say. Although it turns out we have our disagreements as to just what, exactly, constitutes a zombie film ….
Look At Our Shorts!
Curious about the zombie kangaroo short film Michael mentions? Well, of course you are, right? Here it is — WATERBORNE:
Also, just to round things out, here's another short film that we didn't remember to mention during the podcast, but a couple of listeners had recommended it to us and it's pretty damn awesome — THRESHER.
_____
Spread the Word!
A zombie outbreak spreads pretty quickly. But word-of-mouth about a podcast doesn't go quite so far and wide. If you love Don't Read the Latin — and we sure hope you do — won't you take a minute to help other horror fans find us by clicking one of the social sharing buttons below, or leave us a review on iTunes? It means the world to us. Thanks!
Standard Podcast
[ 1:44:29 | 23.98 MB ]
Play in Popup
|
Download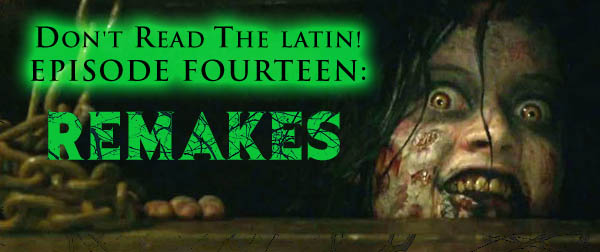 Whether you love them or hate them, the horror remake is here to stay. (Hollywood loves to feast on its own dead.) Join Jennifer and Michael as they delve into the best, the worst, and the most completely pointless.
Don't Read The Latin! Episode Eight: Found Footage
[ 1:11:34 | 32.83 MB ]
Play in Popup
|
Download
"It's not like [Rob Zombie] is out there strong-arming small children for their candy money."
"Although — you can kinda picture that, can't you?"
"I kinda can, yeah."
Felicitations, fright fans! Are you ready to face a fantastic festival of fearsome found footage films?
…. All right, that's enough alliteration for one post. Welcome to another episode with your hosts Jennifer Lovely and Michael Montoure, as we bring you the skinny on horror cinema's fastest-growing sub-genre, and discuss its strengths and limitations.
Expect chills, thrills, and more:
Why found footage films don't try to emulate Blair Witch's improvised scenes
Scooby Doo as a gateway drug to horror
Our guilty fondness for the recent Scooby Doo: Mystery Incorporated series
How The Blair Witch Project lead the way for small-budget productions like The Battery and Jug Face
Jennifer rants entertainingly about Rob Zombie, Amanda Palmer, and crowdfunding
A blink-and-you'll-miss-it LMFAO reference, and a mention of Christian Bale's spectacular on-set meltdown
Montoure has this episode's "Fuck This Noise" moment, with the indie horror feature "All Cheerleaders Die"
Let us know what you think, and thanks for listening!
DRTL 002: What Is Horror, Anyway?
[ 1:15:52 | 34.79 MB ]
Play in Popup
|
Download
"Does everything fail to be a horror movie? Oh my God, nothing's actually horror!"
"Why do we even have this podcast — ? All right, folks, that's it, there's not going to be an episode three …."
_______
Welcome back to our second episode, where we decide to tackle a highly subjective and ultimately completely unanswerable question! What is horror? Because we don't shy away from the hard topics! (We're not smart enough to yet.)
Join us as we talk about:
Watching color films in black and white
The War of the Worlds TV series
Bleak endings, and when they're earned
Rob Zombie's learning curve as a director
… And something about taking off a dirty dress — ?
Movies on the border between thrillers and horror, and Montoure takes a stab at defining the distinction between the two
Montoure tries to remember what movie a terrifying scene he remembers from his childhood could possibly be from
Jennifer has never read the Internet creepypasta short story "Candle Cove"
When the suck fairy comes to visit movies you used to love
movies that take a gleeful fun-house approach to their mayhem
Horror comedies
Horror movie theme ringtones
Movies based on real-life horrors
Why people don't help when faced with real-life horrors
What movies we're looking forward to