Posts Tagged 'Night of the Living Dead (1990)'
…. And once again after slightly too long a hiatus, we return once more with another episode of Don't Read the Latin!
This time out, we're talking about heroines in horror. Horror movies tend to have more female protagonists than practically any other genre, which is something we both love about them. At some point, we plan on having a Feminism in Horror episode where we'll delve into why we think that is and examine just how horror treats its female characters. But for now, we just want to talk about some scream queens we've known and loved, from our favorite classic final girls all the way to, well, The Final Girls. Give it a listen, tell your friends, and as always, we look forward to your comments.
Podcast: Play in new window | Download
Subscribe: RSS
Welcome back to Don't Read the Latin, the podcast that brings you horror movie news, reviews, and opinions every two weeks! Or three weeks. Or thereabouts. (I'd swear we used to be better at this.)
Anyway, join us as we come lurching back from the grave to discuss zombies! Even though neither Michael nor Jen consider ourselves zombie fans, per se, it turns out there are a ton of zombie films we really like. A whole horde of them, you might say. Although it turns out we have our disagreements as to just what, exactly, constitutes a zombie film ….
Look At Our Shorts!
Curious about the zombie kangaroo short film Michael mentions? Well, of course you are, right? Here it is — WATERBORNE:
Also, just to round things out, here's another short film that we didn't remember to mention during the podcast, but a couple of listeners had recommended it to us and it's pretty damn awesome — THRESHER.
_____
Spread the Word!
A zombie outbreak spreads pretty quickly. But word-of-mouth about a podcast doesn't go quite so far and wide. If you love Don't Read the Latin — and we sure hope you do — won't you take a minute to help other horror fans find us by clicking one of the social sharing buttons below, or leave us a review on iTunes? It means the world to us. Thanks!
Podcast: Play in new window | Download
Subscribe: RSS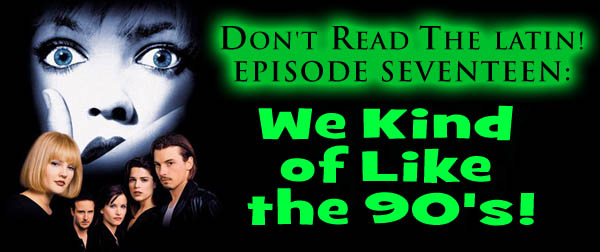 Hello, boys and ghouls, welcome back once again to another episode of Don't Read the Latin! This time, after our in-depth two-part episode on the 80's, we're going to dive into a, well, slightly less-loved decade, but one that still has more than a few gems in it. Join us, won't you? You'll learn more about Jennifer's seemingly random Hollywood crushes, the too-cool-for-film-school pretentiousness of The Addiction and The Prophecy, and which movie features Billy Zane at his Billy Zaniest!
Bonus YouTube Videos!
In our discussion of Stigmata (oh, Stigmata, you're not a good movie, but we kind of like you anyway), Jennifer brings up a Chumbawumba song from the soundtrack that's really kind of awesome. If you've only ever heard that "I get knocked down" drinking song of theirs, you really need to put this in your ear-holes.
https://www.youtube.com/watch?v=__YHRv5VuDI
Finally, here's the channel introduction for Count Jackula, the horror review show that we mention:
Podcast: Play in new window | Download
Subscribe: RSS