Archive for September, 2015:
Apologies for the delay with this episode — it's even later than we said it was going to be when we said it was going to be late.
We needed a little extra time to pull this one together. We were both saddened to learn of the recent passing of Wes Craven, who pretty much single-handedly reinvented the horror movie genre over the course of his career — not just once, but three times.
Montoure talks about movies that make you feel unsafe, Jennifer talks about getting to meet Robert Englund, and so much more.
______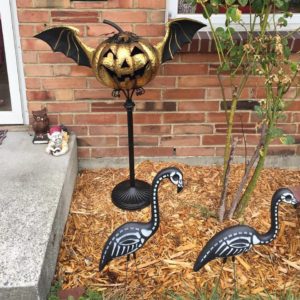 Guest Cat: Abby, Jennifer's grumpy old lady kitty
Official Drink of this Episode: Woodchuck Fall Harvest Hard Cider with cinnamon whiskey. It's ridiculously good. You should try it.
Pumpkin Bat: Pumpkin Bat! Here's a picture, as promised.
Podcast: Play in new window | Download
Subscribe: RSS
Just a quick note to let you know that there is no new episode this week. Your horror hosts are bogged down in more domestic concerns — Jennifer is busy settling into her new house, and Michael is out of town housesitting for his sister. Regular service will resume next Monday. Happy Labor Day, everyone!