Posts Tagged 'New Nightmare'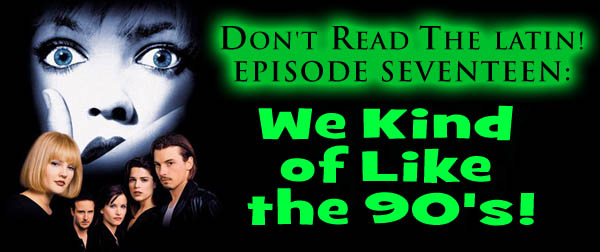 Hello, boys and ghouls, welcome back once again to another episode of Don't Read the Latin! This time, after our in-depth two-part episode on the 80's, we're going to dive into a, well, slightly less-loved decade, but one that still has more than a few gems in it. Join us, won't you? You'll learn more about Jennifer's seemingly random Hollywood crushes, the too-cool-for-film-school pretentiousness of The Addiction and The Prophecy, and which movie features Billy Zane at his Billy Zaniest!
Bonus YouTube Videos!
In our discussion of Stigmata (oh, Stigmata, you're not a good movie, but we kind of like you anyway), Jennifer brings up a Chumbawumba song from the soundtrack that's really kind of awesome. If you've only ever heard that "I get knocked down" drinking song of theirs, you really need to put this in your ear-holes.
https://www.youtube.com/watch?v=__YHRv5VuDI
Finally, here's the channel introduction for Count Jackula, the horror review show that we mention:
Podcast: Play in new window | Download
Subscribe: RSS
Welcome back, fellow fear fanatics! This time, we've got a special crossover episode for you with Jeff Harris from our sibling podcast, Fanboy News Network!
Since we're already halfway through 2014, we sit down and take a few minutes (seventy-six of them, to be exact) to talk about what the first half of the year has brought us in horror.
Join us as we debate the merits of watching horror movies in the theatre vs. watching them in more intimate settings, find out why Montoure enjoys going to preview screenings most of all, and as we praise theatre/restaurant/bar combos like Cinebarre. We talk about the renaissance of short films, and how they can be the new calling card for up-and-coming directors.
Aside from our usual horror movie fare, we talk about the recent proliferation of horror on television, including Hannibal, True Detective, Sleepy Hollow, American Horror Story, Dexter, Penny Dreadful, and The Strain! And finally, we touch briefly on immersive real-world horror events such as The Great Horror Campout (which you couldn't pay us enough to go to, honestly) and Halloween Horror Nights!
Sit back and enjoy the episode that nearly caused Fanboy News Network's first use of the explicit tag! "We love swearing!"
Podcast: Play in new window | Download
Subscribe: RSS