Posts Tagged 'Red State'
…. And once again after slightly too long a hiatus, we return once more with another episode of Don't Read the Latin!
This time out, we're talking about heroines in horror. Horror movies tend to have more female protagonists than practically any other genre, which is something we both love about them. At some point, we plan on having a Feminism in Horror episode where we'll delve into why we think that is and examine just how horror treats its female characters. But for now, we just want to talk about some scream queens we've known and loved, from our favorite classic final girls all the way to, well, The Final Girls. Give it a listen, tell your friends, and as always, we look forward to your comments.
Podcast: Play in new window | Download
Subscribe: RSS
Welcome back, fiends! This time, your horror hosts are taking a look back at the last ten years of horror films and trying to bring to light the movies that may have flown under your radar when they were released. A lot of top-notch recommendations this episode.
We're posting this slightly later in the day than usual due to some audio issues that we weren't quite able to completely resolve, so we apologize for the sound quality on this one. There's kind of a background echo to it all that sounds a little like robots gargling underwater, and it was present in the original recording, so we're going to be looking into improving our microphone setup in future. Hope it's not too distracting.
Questions, comments, things you'd like to hear in future episodes? Let us know! We'd love to read your feedback on the show. And as always, don't forget to share, reblog, rate us on iTunes, or just kidnap people off the street and force them to listen to the podcast while tied up in your basement. Enjoy!
Podcast: Play in new window | Download
Subscribe: RSS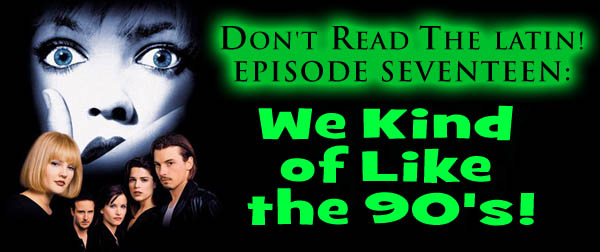 Hello, boys and ghouls, welcome back once again to another episode of Don't Read the Latin! This time, after our in-depth two-part episode on the 80's, we're going to dive into a, well, slightly less-loved decade, but one that still has more than a few gems in it. Join us, won't you? You'll learn more about Jennifer's seemingly random Hollywood crushes, the too-cool-for-film-school pretentiousness of The Addiction and The Prophecy, and which movie features Billy Zane at his Billy Zaniest!
Bonus YouTube Videos!
In our discussion of Stigmata (oh, Stigmata, you're not a good movie, but we kind of like you anyway), Jennifer brings up a Chumbawumba song from the soundtrack that's really kind of awesome. If you've only ever heard that "I get knocked down" drinking song of theirs, you really need to put this in your ear-holes.
https://www.youtube.com/watch?v=__YHRv5VuDI
Finally, here's the channel introduction for Count Jackula, the horror review show that we mention:
Podcast: Play in new window | Download
Subscribe: RSS